2015-16 Upper Deck Black Hockey marks the return of a hobby favorite
When you click on links to various merchants on this site, like eBay, and make a purchase, this can result in this site earning a commission.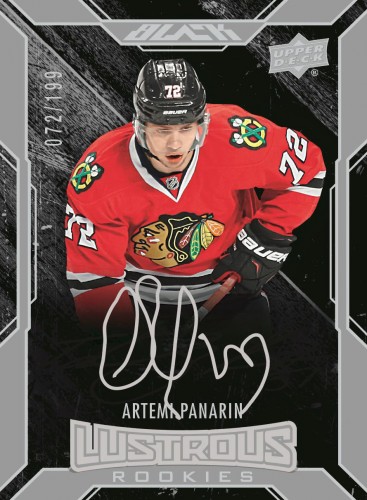 By Stephen Laroche | Beckett Hockey Editor
A familiar name is back with 2015-16 Upper Deck Black Hockey and at a first glance, it is certainly striving to be better than ever with visually striking rookie and autograph content.
2015-16 Upper Deck Black Hockey yields one base card and a Lustrous Rookies card along with four more autograph or memorabilia hits in each box. If that was not compelling enough, every card in this product will be hard-signed.
Base Set
With just 35 cards, the 2015-16 Upper Deck Black Hockey set is a small one, but it will probably pack a bit of a punch when it comes to player selection. Each card is numbered to 349, but there are parallels in the form of Gold Spectrum (/25) and Black & Blue Spectrum (one-of-one) that could be chased by player collectors.

Autographs
The big draw for many to 2015-16 Upper Deck Black Hockey are the Lustrous Rookies, which are autographed inserts from 50 different NHL freshmen. Split into tiers that are limited to either 199 or 299 copies, its parallels echo the same Gold Spectrum and Black & Blue Spectrum theme and numbering as the base set.
There is even more youth content with Signature Rookies which is divided into three levels of scarcity. The easiest tier sees 249 copies available while Tier 2 (149) and Tier 3 (/49) provide more of a challenge. Those cards do have similar parallels to the Lustrous Rookies but the Gold Spectrums are numbered to 25, 15, or 5, based on tier.
New to 2015-16 Upper Deck Black Hockey is Pro Penmanship, which have a single-signed version inserted once in every four packs. Upper Deck made sure to also create Pro Penmanship cards with two, three, or four autographs on them as well (varied numbering) and strong combinations could command strong secondary market attention. Their parallels are a little different with Silver Spectrums instead of gold, but the Black & Blues are still one-of-ones.
Other limited autograph hits found in this product include Black Ice Signatures and Lustrous INK. Returning to Upper Deck after being on a small hiatus, these acetate cards could be hot out of the gate with regular autographed versions to go along with signed dual jerseys and dual patches.

Memorabilia
While it is not yet known if Pride of a Nation and Cup Coronations are autograph or memorabilia cards, Upper Deck has presented details about some of the hits which may capture the imagination of collectors.
At this point in the season, we are already expecting to see plenty of swatches from the freshman class and Upper Deck delivers with Rookie Coverage Relics and Rookie Trademarks Relics (both 1:3 packs). For those that appreciate a chase, there are Premium Relic parallels (/5) plus autographed editions that have normal (/60) and high-end (/15) swatches. As a counterpoint to this rookie craziness, the are Star Coverage Relics and Star Trademarks Relics (both 1:4) with similar parallels.
Upper Deck takes advantage of their involvement in the 2015 NHLPA Rookie Showcase here as well. Showcase Relics have six levels of scarcity and are loaded up with patch pieces. The regular version is numbered to 25, but collectors can look for Chest Patch (/15), Autograph Patch (/15), Autograph Chest Patch (/10), Brand Logo Patch (varied numbering), and Diamond Club Patch (/2) cards of their favorite rookies that participated in the event.
Rounding out the memorabilia program for 2015-16 Upper Deck Black Hockey are the surprisingly easy to pull Sixes Relic Booklets (1:4) that has a premium version and the one-of-one Black Tie Affair which gives collectors the laced area of a player's jersey.
2015-16 Upper Deck Black Hockey at a glance:
Packs per box: 1
Cards per pack: 6
Boxes per case: 4 per inner shipper
Set size: 35 base set cards
Release date: August 3, 2016
What to expect in a hobby box:
– one base card
– one Lustrous Rookies autograph card
– four autograph or memorabilia cards
Stephen Laroche is the editor of Beckett Hockey, Beckett Basketball, and Beckett Sports Card Monthly magazines. Have a comment, question or idea? Send an e-mail to him at slaroche@beckett.com or follow him on Twitter @Stephen_Laroche.