Cam Newton Rookie Card Countdown
Good luck collecting every Cam Newton card from his rookie year. Including inserts, parallels and everything in between there are well over 1,000 to choose from. But when you stick to just the main Cam Newton Rookie Card lineup, as in those found in a base sets, it's closer to 30. While still a big number, it's a much more manageable than four figures. And more realistic to collect for those that are so inclined.
Ever since he broke into the NFL, he's been a player to watch in the hobby. Ups and downs have followed him, but there have been lots of big moments, numbers and a Super Bowl appearance.
Newton also gets people's attention. Not everyone is a fan, but he's talked about. He's interesting.
His Rookie Cards are all over the place when it comes to styles and secondary market prices. There are your basic cards that don't have much going on other than a photo and his name. From there they move into autographs, memorabilia and other rarities.
So what is the most valuable Cam Newton Rookie Card and what makes them different? We've listed them all and broken them down.
Most Valuable Cam Newton Rookie Cards
Rankings are based on the Beckett Football Card Price Guide. It sticks with cards that have the RC label in the guide and doesn't include inserts, college and prospect cards. Actual values are available to subscribers. Cards with the same book values have been grouped together.
31. 2011 Score Cam Newton RC #315
It's Score. There's not much to it and there are plenty of them out there. While the base version won't ever be worth a lot, there are a couple of variation versions that are harder to track down. The basic design is the same, but these use different photos.
Buy on:

30. 2011 Topps Rising Rookies Cam Newton RC #130
2011 Topps Rising Rookies was a one-and-done product, meaning it made one appearance as a brand and disappeared. Their first product of the year, it was intended to come out as quickly after the draft as possible. This means somewhat of a generic look, even with the inclusion of team names and logos, and not a lot of value.
Buy on: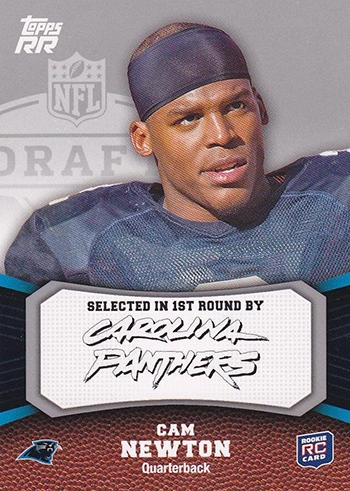 29. 2011 Topps Prime Retail Cam Newton RC #50
2011 Topps Prime Football came with separate versions for retail and hobby. The retail version uses thinner card stock and doesn't have quite the same quality as the slightly more upscale hobby take. That said, the general design, which is largely full-bleed, remains the same. So unless you have both cards in front of you, you probably won't notice the difference.
Buy on: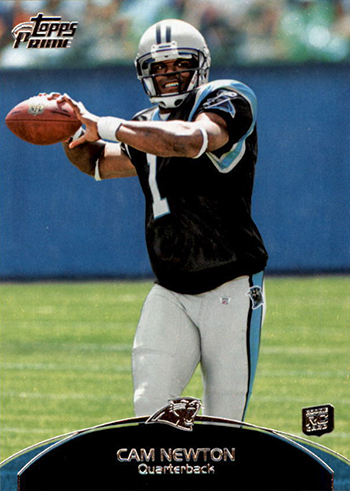 28. 2011 Topps Cam Newton RC #200
Like his Score rookie, this one is one of the easiest Cam Newton rookie cards to find. It's also very affordable. If it has any perk over the Score card, it's the reach of the base Topps brand. It doesn't make it worth much, but there's a lot more history behind the brand. Newton also has a variation short print with a slightly different photo.
Buy on: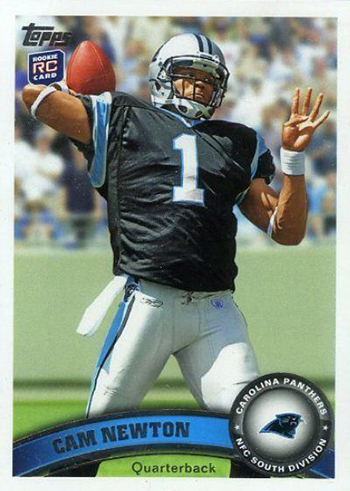 27. 2011 Adrenalyn XL Cam Newton RC #41
2011 Adrenalyn XL doubles as a gaming card. Panini had high hopes for the line, releasing it for football, basketball and hockey. However, it failed to catch on in North American. 2011 was its second, and final, year for the NFL. This gives the Cam Newton a bit of a twist over his other rookies but that hasn't translated into big values.
Buy on: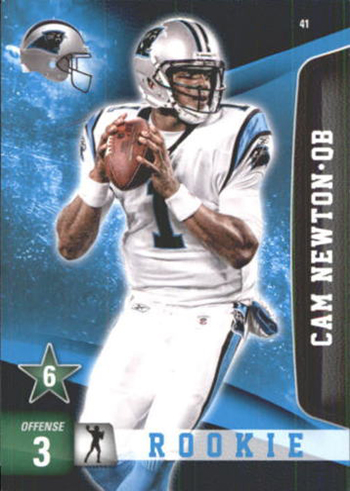 26. 2011 Prestige Cam Newton RC #214
Similar to 2011 Topps Rising Rookies, this was one of the first Cam Newton rookie card on the market. Released not long after the draft, the quarterback looks somewhat generic given the lack of marks on his gear. His team and draft spot are noted, but it's in the text rather than the photo itself. It comes with a couple of variations. The first has a Draft Day photo with him holding up his Panthers jersey. The second has blue in the Carolina Panthers text on the front much more vibrant.
Buy on: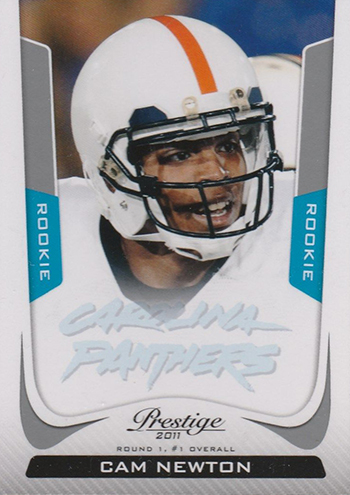 25. 2011 Finest Cam Newton RC #125
Now we're getting into the realm of cards that look a little more upscale but still don't run very much. As usual for the brand, 2011 Finest takes a busier approach to chromium stock. The card has plenty of rarer Refractor parallels to go with it.
Buy on: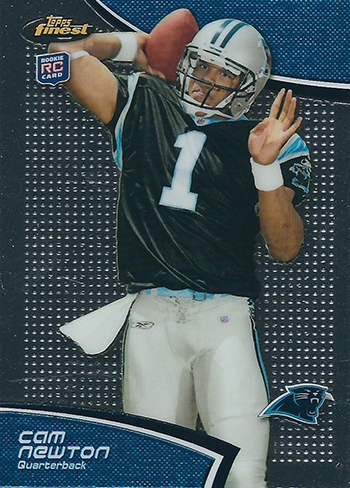 24. 2011 Topps Legends Cam Newton RC #75
The fact that 2011 Topps Legends Football was the only year for the brand should give you an idea of how the overall product was received. That said, if your preference is clean, minimal designs without much cost, this one has them all.
Buy on: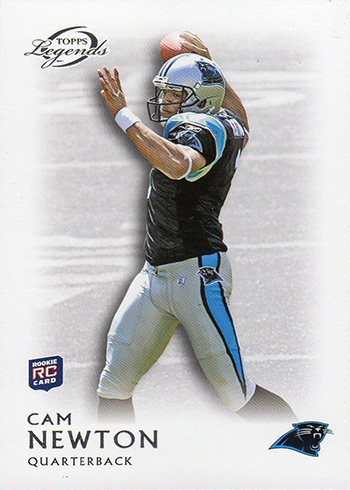 23. 2011 Topps Platinum Cam Newton RC #1
As a whole, Topps Platinum focuses primarily on delivering autographs and memorabilia in quantity while keep prices accessible to most collectors. The base Cam Newton rookie card falls into line with Finest and Topps Chrome under the category of shiny but not expensive.
Buy on: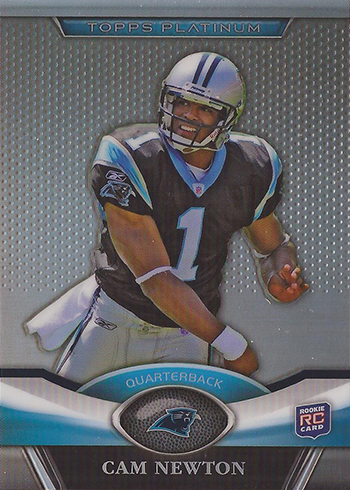 22. 2011 Topps Prime Cam Newton RC #50
Look familiar? The only difference, other than a slight price increase, between the hobby and retail versions is the quality. Hobby has a slightly more premium feel to it with thicker card stock.
Buy on: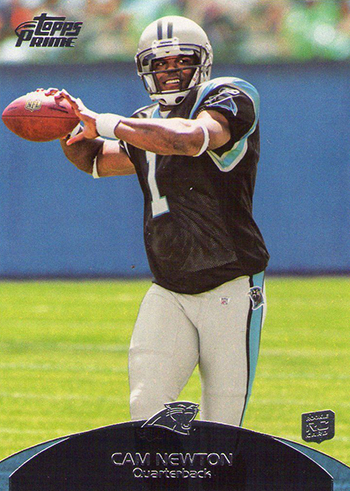 21. 2011 Topps Chrome Cam Newton RC #1
When it comes to sheer volume, Topps Chrome is one of the top sets each year. And while that doesn't lead to be values for many of the base cards, they're usually some of the most popular given how readily they can change hands. Although an insert, the 2011 Topps Chrome Cam Newton autographs is one of the year's best cards.
Buy on: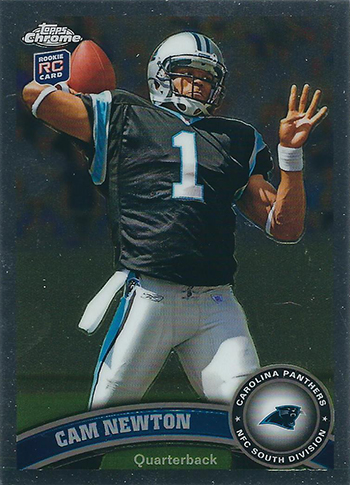 20. 2011 Bowman Sterling Cam Newton RC #BSRCN Jersey
Yes, it has a jersey swatch and comes from an expensive product, but that doesn't mean you're going to have to spend a ton to get one. It's not serial numbered and the swatch on the base version is nothing that you can't find on hundreds of other cards featuring the quarterback. That said, it's a high-quality card that has a distinct spin for an affordable price compared to other Cam Newton rookie cards.
Buy on: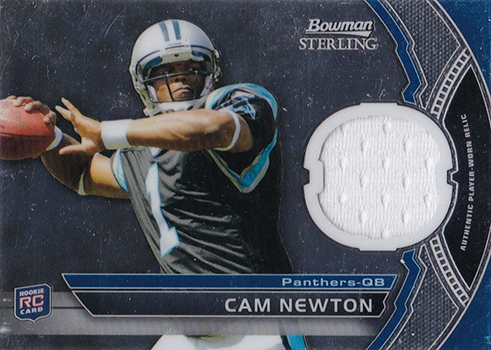 19. 2011 Topps Supreme Cam Newton RC #92 /429
2011 marked the second season for the hits-driven Supreme line. However, there are base cards in them thar boxes. And despite not being exceptionally rare or lacking in any sort of signature, they look good. And if you're looking for a bargain on a Cam Newton rookie card, this might be the place to start. With 429 copies, it's not exactly plentiful, especially now that we're years after the fact and much of the product has been absorbed into personal collections.
Buy on: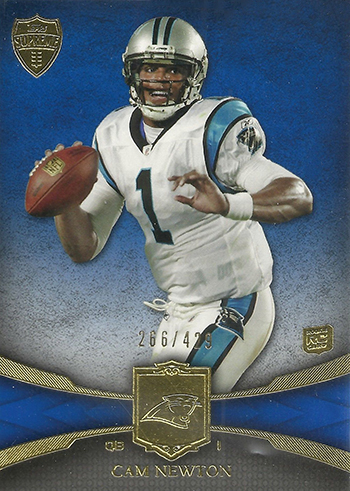 18. 2011 Donruss Elite Cam Newton RC #115 /999
There's a lot of history with the Elite name in the modern hobby. And plenty of foil. This one has a somewhat large print run but, even still, that serial number helps it standout against many of Newton's other basic rookie cards.
Buy on: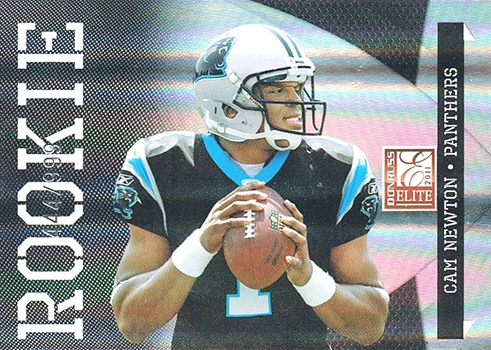 17. 2011 Timeless Treasures Cam Newton RC #142 Autograph /163
With a print run of 163, Timeless Treasures ranks among the rarest Cam Newton rookie cards. And while it also has a signature, it's still one of his cheapest autograph cards. The reason? Just look at the picture. A piece of ball material was used for the signature surface. While it adds some texture and makes it distinct, they're not holding up well. Many of the cards can be found with fading signatures, which detracts from the overall appeal and values.
Buy on: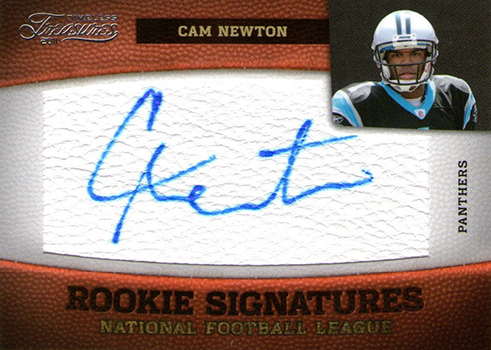 16. 2011 Panini Plates and Patches Cam Newton RC #201 Auto Jersey /299
The 2011 Panini Plates and Patches Cam Newton rookie card is kind of like Five Star Light. While there are differences in design, the basic layout is similar. So is the balance of an on-card autograph, memorabilia swatch (usually multi-color) and foil accents. However, Plates and Patches comes in noticeably cheaper. It has 100 more copies versus Five Star and it wasn't marketed in the same high-end category either. What it breaks down to is one of the more reasonably priced autographed Cam Newton rookies.
Buy on: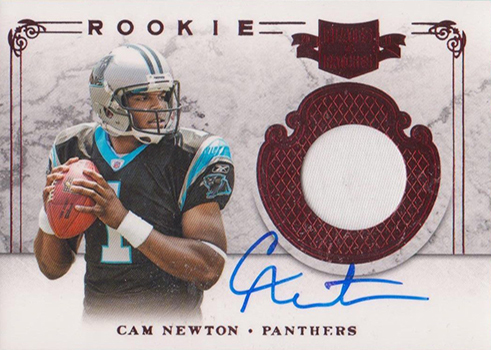 15. 2011 Totally Certified Cam Newton RC #207 Auto Jersey /299
A lot of sets usually means a lot of variety in card styles, even when most of the attributes are the same. For this one, it has the same autograph and memorabilia combo as several other Cam Newton rookie cards and yet it's in a league by itself. Simply put, there's nothing simple about this card. It's bold and it's bright. And there's no mistaking that Newton was a rookie when the card was issued thanks to the memorabilia window.
Buy on: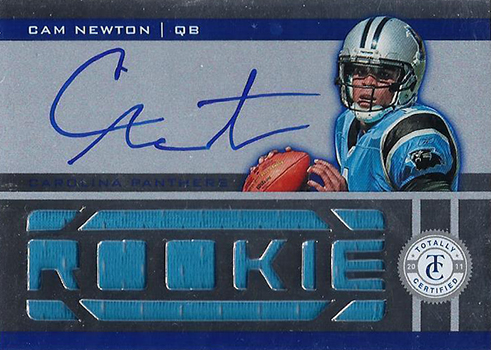 14. 2011 Panini Gridiron Gear Cam Newton RC #R30 Auto Jersey /204
At first glance, you might be wondering what's going on with the card and where half of Newton's signature went. But that's the card's gimmick. The jersey swatch, which is signed, slides out. It makes for something much more tactile, although getting the full feel for it while on display is more difficult. The Newton card can be found with both white and black swatches.
Buy on: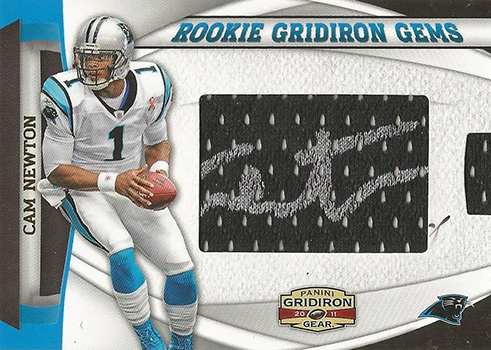 13. 2011 Panini Gold Standard Cam Newton RC #251 Auto Jersey /325
It has a slightly higher print run, but 2011 Panini Gold Standard rookie cards have a couple of things that make them distinct. Most noticeable is the silver ink. Although it can really pop against the black signing area, the ink works a little differently and can easily lead to some imperfections. Multi-colored swatches are common for the card.
Buy on: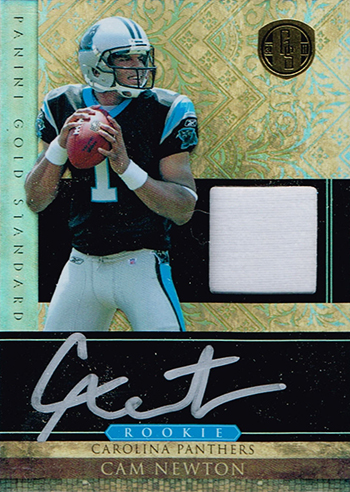 12. 2011 Absolute Memorabilia Cam Newton RC #202 Auto Jersey /199
Keeping with the same sort of foil theme that ran through a lot of Panini's football products that year, the 2011 Absolute Memorabilia Cam Newton also has three different types of memorabilia swatches and an on-card autograph. The print run of 199 puts it in the top tier of Newton's rookies when it comes to rarity.
Buy on: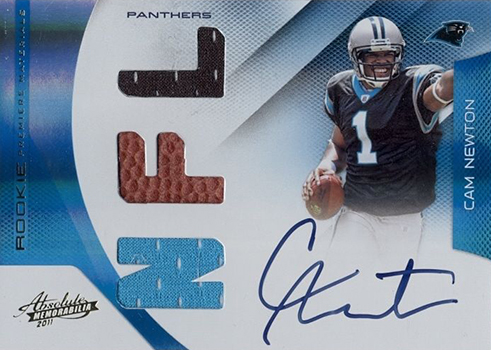 11. 2011 Limited Cam Newton RC #201 Auto Jersey /199
For Limited, it's in the same territory as Totally Certified only with a different type of foil, "Panthers" replacing "Rookie" for the big memorabilia window and a print run that's 100 cards less.
Buy on: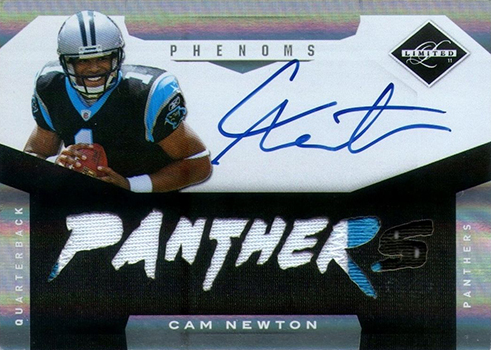 10. 2011 Panini Threads Cam Newton RC #255 Autograph /300
The 2011 Panini Threads Cam Newton rookies are done in the form of signed jersey letters. If you want a full run with variations, there's one for each letter in his last name. There are a couple of things to consider with this card. First, these are manufactured letters made to look like they're like the ones on a game-used jersey. Also, signatures on some of these look better than others. Over time, the ink may bleed out. It doesn't look to be as bad as his Timeless Treasures autograph, but it's definitely something to watch for.
Buy on: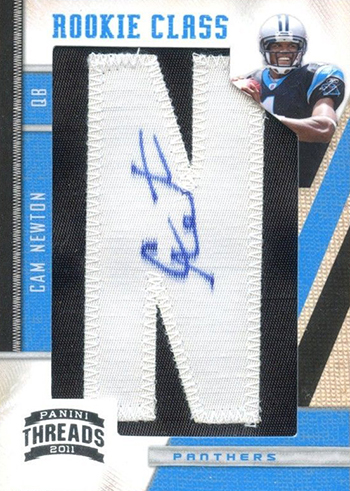 9. 2011 Rookies and Stars Cam Newton RC #251 Autograph /299
Here's another card that takes a textured approach for the autograph. The bulk of the card front is taken up by a piece of material that has a manufactured Panthers patch. Rather than on the card itself, the autograph is done on the material. Like a lot of similar fabric signatures, be sure to look closely at how well the ink is holding up.
Buy on: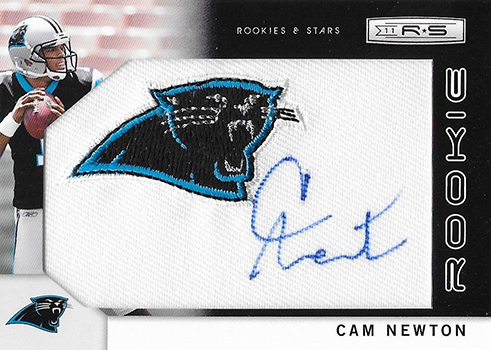 8. 2011 Topps Triple Threads Cam Newton RC #110 Auto Jersey /99
With 99 copies, this ties National Treasures as the rarest of the Cam Newton rookie cards. The rarity, autograph and memorabilia are all nice, but it's definitely not in the same league as National Treasures, both in presentation and value.
Buy on: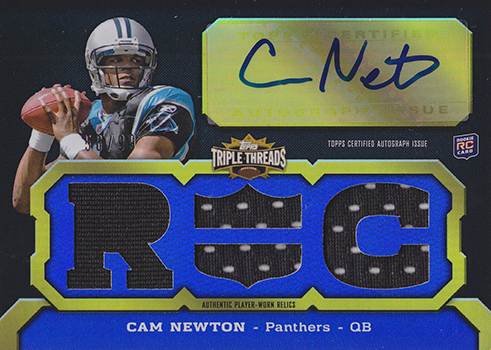 7. 2011 Certified Cam Newton RC #252 Auto Jersey /299
Given the fact that there's an autograph and two pieces of memorabilia, the 2011 Certified Cam Newton has a lot of empty space. It's another card from Panini that uses foil for the card stock.
Buy on: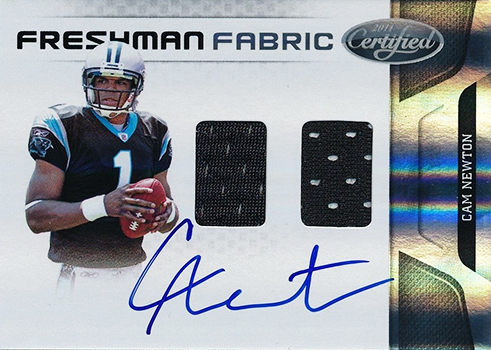 6. 2011 Crown Royale Cam Newton RC #228 Auto Jersey /199
The standout here is the use of the Rookies Silhouettes design. A large patch swatch sits below a die-cut image and leaving plenty of space for Newton's signature. The Silhouettes subset has emerged as one of the most popular in the sport over the past few years and definitely carries a lot of recognition.
Buy on: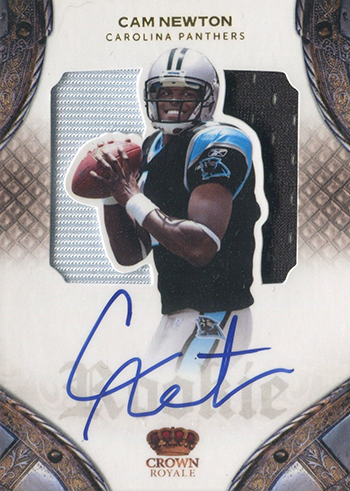 5. 2011 Prime Signatures Cam Newton RC #232 /199
Sometimes less is more. You could take this card's print run into account, but it's popularity is more about it's simplicity. The majority of Panini's high-end Cam Newton rookie cards have a lot going on. 2011 Prime Signatures takes the opposite approach with a clean look that's highlighted by lots of white space. The autograph helps, too.
Buy on: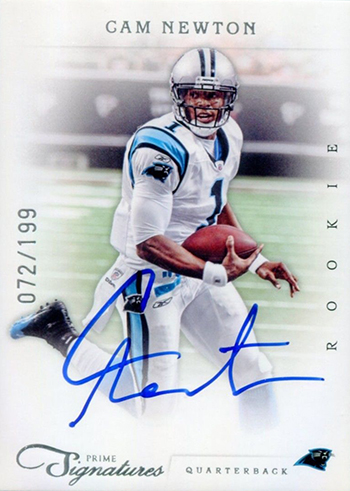 4. 2011 Panini Playbook Cam Newton RC #107 Auto Jersey Book /299
Book cards weren't exactly new when 2011 Panini Playbook Football came out. But it does mark the first product to include them in the base set. For Newton's, that means an autograph, a large patch and several photos. The double-sized format isn't for everyone but there's no other Cam Newton rookie card like it.
Buy on:

3. 2011 Topps Five Star Cam Newton RC #170 Auto Patch /199
Cam Newton came into 2011 as the rookie to watch. It's normal for top-tier rookies to have fewer autographs in a lot of products. For 2011 Topps Five Star, Newton is the exception. His rookie card in the set, which also has a patch piece, is one of the most common in the product. Topps' answer to National Treasures, Five Star hasn't quite caught on the same. Part of that has to be the fact that the patch is so small and comparable to several other — less expensive — sets. Even still, this is easily one of the most valuable Cam Newton rookie cards.
Buy on: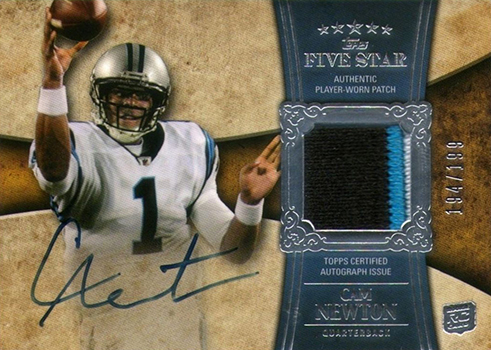 2. 2011 Playoff Contenders Cam Newton RC #228 Autograph
This is further proof that sometimes you don't need all the bells and whistles to make for a popular rookie card that's worth a lot. The 2011 Playoff Contenders Cam Newton rookie is autographed. But you're not going to find a serial number or any sort of memorabilia. What you will find is a brand name and theme that has lots of followers beyond just rookie card collectors.
Buy on: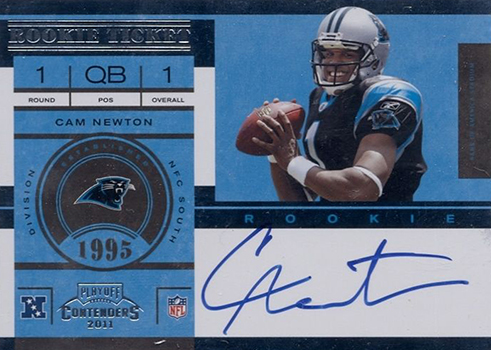 1. 2011 Playoff National Treasures Cam Newton RC #328 Auto Patch /99
The 2011 Playoff National Treasures Cam Newton rookie card isn't only his most valuable but it's also the most volatile. As far as prices go, this one is in another place alongside his other base set rookies. Simply put, it's not even close. And like a lot of things, people like to chase things perceived to be the best, which explains part of the card's lasting popularity. But it's also deserved. Elegant design, large patch, on-card autograph, lowest print run, brand affinity — this one has it all.
Buy on: