AT THE NATIONAL: Upper Deck rewards casebreakers with prizes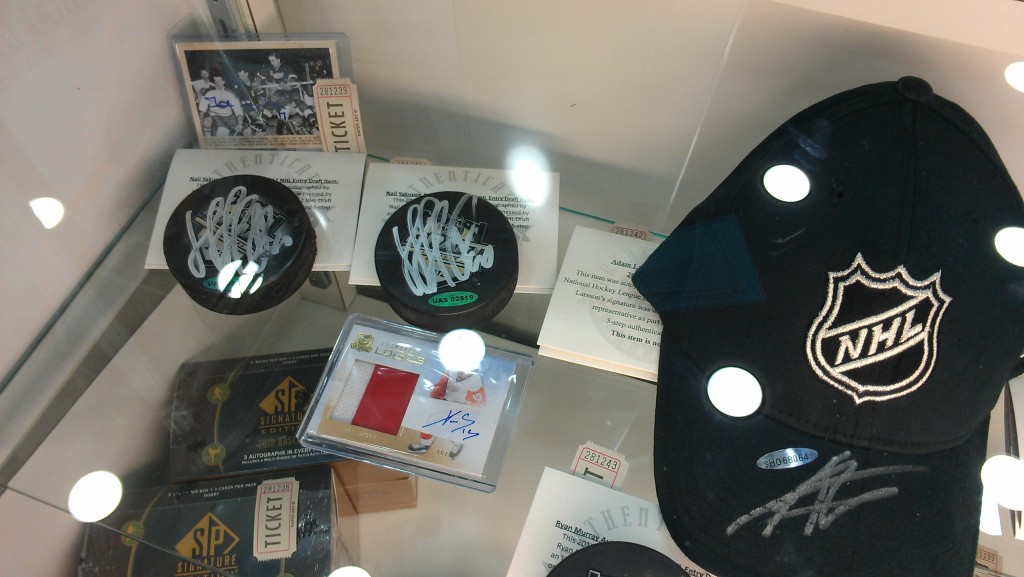 By Susan Lulgjuraj | Beckett Sports Card Monthly Editor
BALTIMORE – Casebreakers are big fans of the 2012 National Sports Collectors Convention. They get their fair share of redemption packs with the amount of product they open.
Upper Deck is making redemptions worthwhile for these big spenders by giving away prizes for collectors breaking select 2012 Upper Deck cases.
Prizes range from autograph cards and memorabilia to hobby boxes of 2012 products.
"We should be out of prizes by mid-Saturday," Upper Deck's Chris Carlin said. "There are always people here opening cases of products. So, we wanted to do something for these buyers.
By Thursday afternoon, Upper Deck had about five collectors open a case at its booth. Besides pulling good hits from their cases, they also received prizes that included autographed hats of Nail Yakupov, the NHL's 2012 No. 1 draft pick.
Others can get autographed sticks or pucks from other soon-to-be rookies from the NHL Draft as well.
But the giveaways weren't just for casebreakers. The wrapper redemptions were popular at the Upper Deck booth. Collectors ripped select packs for a chance to get an autograph from guys such as Michael Jordan or Wayne Gretzky.
"Folks want to get the stuff we have out here," said Upper Deck's Diane Hatley, a Lead Account Executive for Hobby Sales. "We also have cards out there of things that aren't even live yet. So, you get to see fresh products."
Susan Lulgjuraj is the editor of Becket magazines. You can email Susan here with ideas, comments and questions. Follow her on Twitter here.