UD, Sanders catch up at NSCC to sign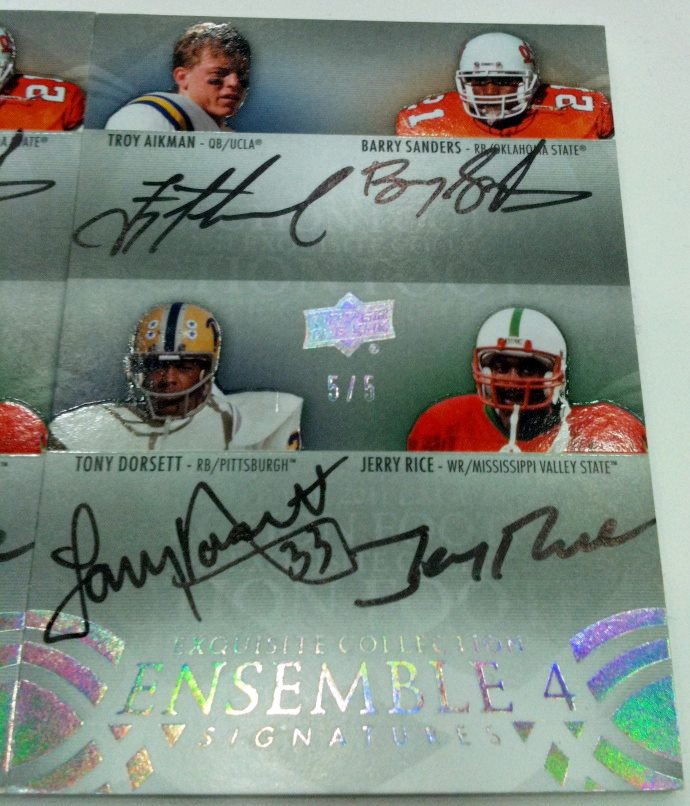 By Susan Lulgjuraj | Beckett Football Editor
There are drawbacks when it comes to getting autographs on card, but collectors far and wide would rather have signed cards than autograph stickers.
With 2011 Exquisite Football coming out in a few days, Upper Deck still waited on one of the best running backs in history to fulfill his deal.
How was going UD going to get Barry Sanders to finally sign its cards? Well, as coincidence would have it, UD and Sanders were in Baltimore last weekend for the National Sports Collectors Convention. Upper Deck just happened to have the Exquisite cards with it.
Some of the cards Sanders signed were quad signatures with all-time greats. One of the cards has Sanders, Troy Aikman, Tony Dorsett and Jerry Rice. These cards feature athletes in their college uniforms and are numbered to just five.
These cards are going to be released shortly as Upper Deck is packing out them out now. The crew is actually doing it by hand.
"We package this product by hand to ensure there is value in each pack and case," an Upper Deck representative wrote on its Facebook page. "Also to make sure there is little to no damage to the cards as that can occur with a mechanized pack out process. It is a lot of work for our team, but it is worth it when we see collectors opening the packs and happy with what they receive!"
While the players can only appear in college uniforms with Upper Deck's CLC license, the checklist is filled with many popular players. Some of last year's rookies include Cam Newton, A.J. Green, Julio Jones, along with veterans such as John Elway, Dan Marino and Gale Sayers.
For more information on 2011 Exquisite, check out Beckett's product preview and a photo gallery below.
By the way, if you check out the pictures, you'll see UD Black Signatures is back.
Susan Lulgjuraj is an editor of Beckett Football magazine. You can email Susan here with ideas, comments and questions. Follow her on Twitter here.