First look: 2013-14 SP Game Used Hockey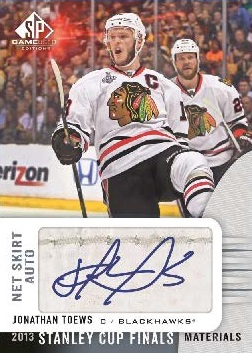 By Susan Lulgjuraj | Beckett Hockey Editor
Upper Deck is showing off memorabilia from the 2012 NHL Winter Classic and 2012-13 NHL Stanley Cup Finals in 2013-14 SP Game Used Hockey.
Yep, this should be a fun product for Chicago Blackhawks fans.
SP Game Used will include just about anything it can from the events, including net skirts, net cords, game pucks and more – some event signed by the players.
The five-pack product won't be forgetting about the rookies, however, with plenty of Rookie Cards to collect. Each five-card pack will come with one hit and there will be at least one autograph in every box.
Rookie Cards will be numbered to the player's jersey number with 1-of-1 signed versions.
More than just jerseys, collectors will be able to find sticks, gloves, skates and Draft Day Marks.
Upper Deck will include Tandem Twigs (dual stick cards), Game Gear cards (four swatches of memorabilia) Inked Rookie Sweaters (with patch parallels) Authentic Fabric starting with two players and going all the way up to eight.
There will be 100 cards in the base set.
SP Game Used is scheduled for a January 2014 release.