Upper Deck signs Mike Tyson to autograph and memorabilia deal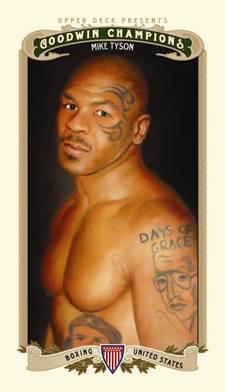 By Susan Lulgjuraj | Contributing Editor
Mike Tyson is getting in the ring with Upper Deck.
The California-based card company has signed the famous boxer to an autograph and memorabilia deal. Tyson will appear in upcoming trading card releases, making his debut in 2012 Goodwin Champions.
"Having the opportunity to partner with Mike Tyson provides Upper Deck the chance to bring the boxing community innovative and quality collectibles the likes of which they have never seen," said Jason Masherah, Upper Deck's vice president of Marketing and Business Development. "Collectors will get quite a thrill when they pull an autograph card of 'Iron' Mike from new Upper Deck packs. Our Upper Deck Authenticated team is thrilled about developing signed memorabilia for Tyson that will become the primary talking piece for any room they are displayed in."
One of the other sets it seems Tyson will appear in will be All-Time Greats. Upper Deck created a mock up of a potential card. Tyson is pictured holding up his hands in what seems like after a boxing match during his glory days – pre-face tattoo.
The gold ink signature makes the autograph pop off the card.
Upper Deck will have a signing soon with Tyson and will release pictures from the session afterward.
One of the company's most anticipated items will be a "Tegata" signed piece, which will not only have Tyson's autograph, but an ink hand print as well. Upper Deck has used this design with Michael Jordan and LeBron James in the past.
Tyson's autograph cards first appeared in 2006 Topps Allen & Ginter. He has since signed for Sportskings, Ringside Boxing and Leaf.
Susan Lulgjuraj is a contributing editor for Beckett Media. You can email Susan here. Follow her on Twitter here.