First Look: 2010-11 Panini Totally Certified — aka where Panini HRX video cards make their debut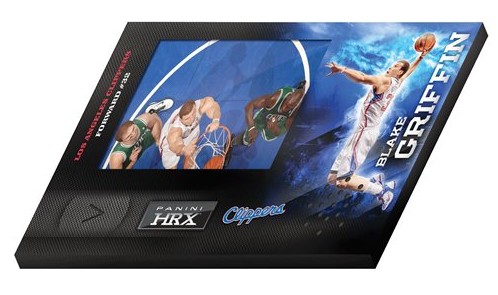 By Chris Olds | Basketball Editor
Panini America isn't done with announcements regarding its Highlight Reel Xperience, or HRX, HD video trading cards, and the further proof of that came Wednesday evening as it unveiled 2010-11 Totally Certified, the product that arrives in June packing the first HRXs.
But, first and foremost, there was additional information on HRX released on Wednesday as well. There will be just 240 total HRX cards made in this inaugural run — 51 per player for Kobe Bryant, Blake Griffin, Kevin Durant and John Wall. There will be 40 standard cards, 10 signed cards and one 14-karat gold-coated autographed card made for each player.
Yep, you read that right … the Golden Ticket hunt just went multimedia.
So, not only do we get the world's first NBA video cards in Certified …  we get the world's first NBA video card parallels. (Shocking? Nah … ) So, that also should mean that there should be differing footage between the versions of the cards since autograph documentation has been promised by Panini on the cards since their unveiling.
Each six-pack box of Totally Certified will include 30 cards — six autograph or memorabilia cards — along with two Mirror Red parallels and four extra inserts. Each five-card pack carries a $20 suggested retail price.
The base set will consist of 185 cards, including 35 rookies limited to just 599 copies. However, the set will be paralleled five times with Totally Gold cards (25 copies), Totally Green (five) and Totally Black (1/1s) to be found. There also will be autographed tiers to chase as well.
In all, the product will include more than 500 1/1 cards and on-card autographs for all of the Rookies found inside. Of course, the one that will get them talking — love 'em or hate 'em — will be the video cards.
Chris Olds is the editor of Beckett Basketball. Have a comment, question or idea? Send an e-mail to him at colds@beckett.com. Follow him on Twitter by clicking here.