A buggy surprise: Upper Deck reveals short-prints for Entomology cards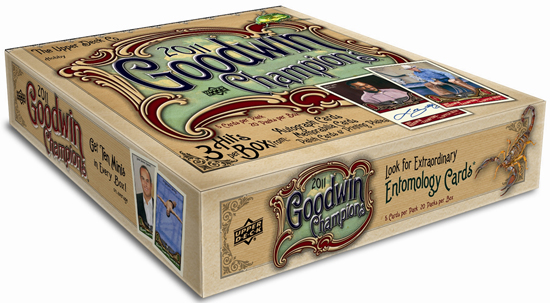 By Susan Lulgjuraj | Contributing Editor
As Halloween draws near, so many things can give you creepy crawlies. How about a bunch of bugs?
Just in time for the holiday, Upper Deck revealed the Entomology short-prints from 2011 Goodwin Champions.
The entomology cards have been shipping out recently, so collectors can start expecting these buggy guys in their mailboxes.
Some of the more common cards are the Snakehead Silk Moth or the Silky Owl Butterfly or the Sunset Moth. Those bug cards in addition to eight others collectors can expect a 1:2 shot at getting them.
The odds on which critters you will receive come in five different groups and range from 1:2 all the way to 1:44.
The rarest of the cards are the Toothed Warrior Beetle, Ruddy Daggerwing and Giant Water Bug.
These cards come in shadowboxes that display the bug listed in the bottom of the "card."
Here's a complete list of bugs, odds and extra info. Upper Deck said on its blog this is as much information it going to release. There will be no production info given out for the cards, but there are no 1/1 in the set.
Card Description Group Odds Size of Card
ENT-7 Toothed Warrior Beetle A 1:44 Redemption Cards 2.5 x 3.5
ENT-11 Ruddy Daggerwing A 1:44 Redemption Cards 2.5 x 3.5
ENT-20 Giant Water Bug A 1:44 Redemption Cards 4 x 6
ENT-9 Zebra Nymph Butterfly B 1:28 Redemption Cards 2.5 x 3.5
ENT-18 Giraffe Stag Beetle B 1:28 Redemption Cards 4 x 6
ENT-19 Giant African Emperor Scorpion B 1:28 Redemption Cards 4 x 6
ENT-12 Malachite C 1:13 Redemption Cards 4 x 6
ENT-17 Fiesta Cicada C 1:13 Redemption Cards 4 x 6
ENT-23 Sapphire Damselfly C 1:13 Redemption Cards 4 x 6
ENT-27 Peanut Head Lanternfly C 1:13 Redemption Cards 5 x 7
ENT-30 Flashing Walking Stick C 1:13 Redemption Cards 5 x 7
ENT-1 Frog-Legged Beetle D 1:4 Redemption Cards 2.5 x 3.5
ENT-6 Rainbow Jewel Beetle D 1:4 Redemption Cards 2.5 x 3.5
ENT-8 Blue Striped Weevil D 1:4 Redemption Cards 2.5 x 3.5
ENT-14 Teueros Birdwing Butterfly D 1:4 Redemption Cards 4 x 6
ENT-15 Red Winged Grasshopper D 1:4 Redemption Cards 4 x 6
ENT-16 Luna Moth D 1:4 Redemption Cards 4 x 6
ENT-26 Harlequin Beetle D 1:4 Redemption Cards 5 x 7
ENT-28 Grand Owl Butterfly D 1:4 Redemption Cards 5 x 7
ENT-2 Fork Horned Rhino Beetle E 1:2 Redemption Cards 2.5 x 3.5
ENT-3 Blue Violet Jungle Glories E 1:2 Redemption Cards 2.5 x 3.5
ENT-4 Silky Owl Butterfly E 1:2 Redemption Cards 2.5 x 3.5
ENT-5 Painted Jay E 1:2 Redemption Cards 2.5 x 3.5
ENT-10 Umbrella Horned Rhino Beetle E 1:2 Redemption Cards 2.5 x 3.5
ENT-13 Fantsy Click Beetle E 1:2 Redemption Cards 4 x 6
ENT-21 Giant Rice Paper Butterfly  E 1:2 Redemption Cards 4 x 6
ENT-22 Rusty Lace Wing Butterfly E 1:2 Redemption Cards 4 x 6
ENT-24 Dead Leaf Butterfly E 1:2 Redemption Cards 4 x 6
ENT-25 Sunset Moth E 1:2 Redemption Cards 4 x 6
ENT-29 Snakehead Silk Moth E 1:2 Redemption Cards 5 x 7