Bryce Harper's autograph evolves with time, volume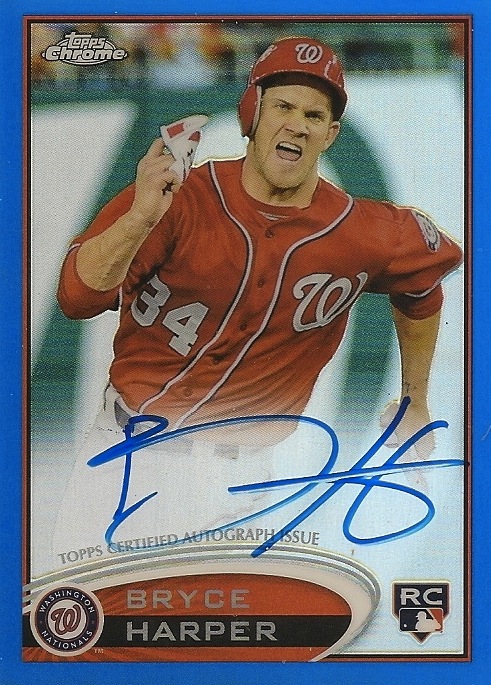 By Chris Olds | Beckett Baseball Editor | Commentary
When collectors rip into their newest Topps packs and find an autograph of Bryce Harper they're not only finding one of the more in-demand Rookie Cards of the most-hyped prospect in MLB history.
They're also finding a perfect example of how a player's autograph changes over time.
The Washington Nationals rookie is no stranger to signing autographs, and the demands for his ink have inevitably become time-consuming as his signature has become dramatically different in just the two newest releases from Topps — 2012 Topps Chrome (the latest, above) and 2012 Finest. His signature essentially has become an abbreviated "BH" — something different than the older autograph stickers the company presently is using on some of his cards and even more different than many of his other past releases.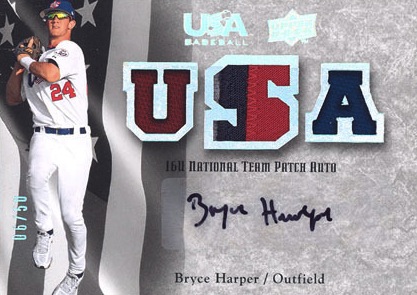 Because nearly all of Harper's 160 different autographed cards have been issued with serial-numbering, it's easy to total just how many individual cards that the 19-year-old has signed since his signature debut in the 2008-09 USA Baseball boxed set that featured a full, nearly printed signature as seen above. (Of course, he signed just 55 cards for that product.)
Only 17 of his cards lack serial-numbering (one of those, from 2012 Tier One, will have numbering when it actually arrives via a redemption), meaning it's easy to total his number of certified autographs. It's 9,363 total autographs since 2008 between Topps, where he is now an exclusive, and three other companies. (Need a Harper checklist or OPG? Click here.)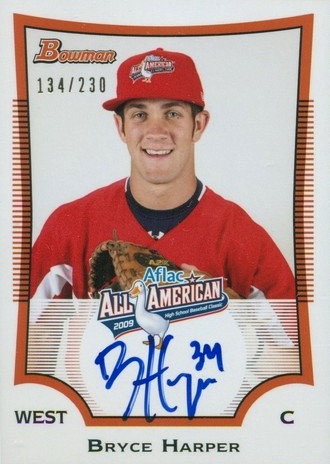 Harper's earliest autographs feature the full signature seen on the USA card, while most presently available to collectors are of the "BHarper" variety. His 2010 Bowman Draft Aflac autos (above) have a smaller, less flashy signature signed while he was still a high-schooler back in August 2009.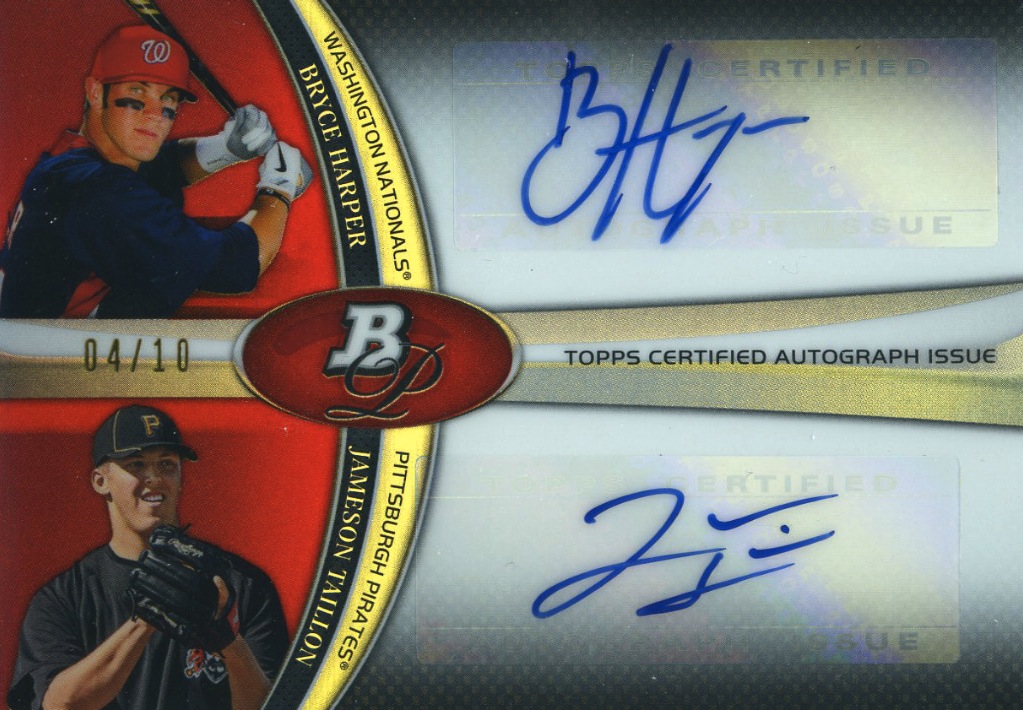 His Aflac sigs, along with his 2009-10 USA autographs, bridge the gap between his earliest autographs and his sigs signed as a professional. His sticker autographs, like this 2011 Bowman Platinum card signed along with Jameson Taillon, are a slightly flashier than his Aflac cards (though they can sometimes be much grungier than this example as he clearly doesn't like signing on a smaller space) version of his full sig before its latest incarnation.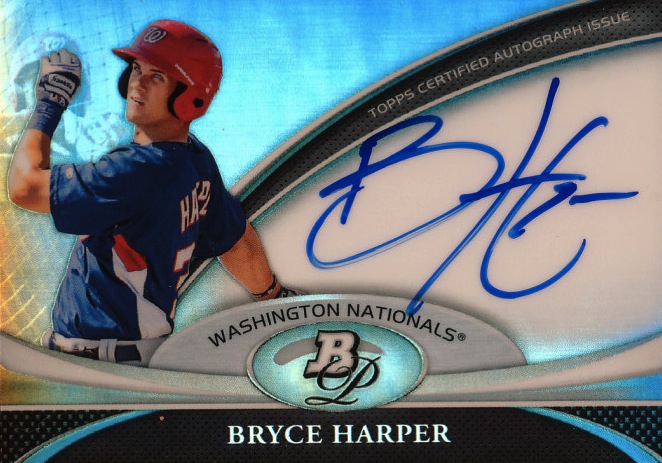 The non-sticker autographs signed in the "BHarper" style are often clean — but not always. Those more-hurried cards (unlike this Bowman Platinum card) are perhaps a sign that some of the larger quantities of autographs signed (of the non-numbered cards) are found in places such as 2011 Bowman. That would make sense as those are products likely with larger print runs than hobby-only releases and Harper was a big presence in that line. Some of his stickers can be very hurried and have less aesthetically pleasing sigs as well, though the split between on-card and sticker signatures, over his cardboard career, is essentially 50-50.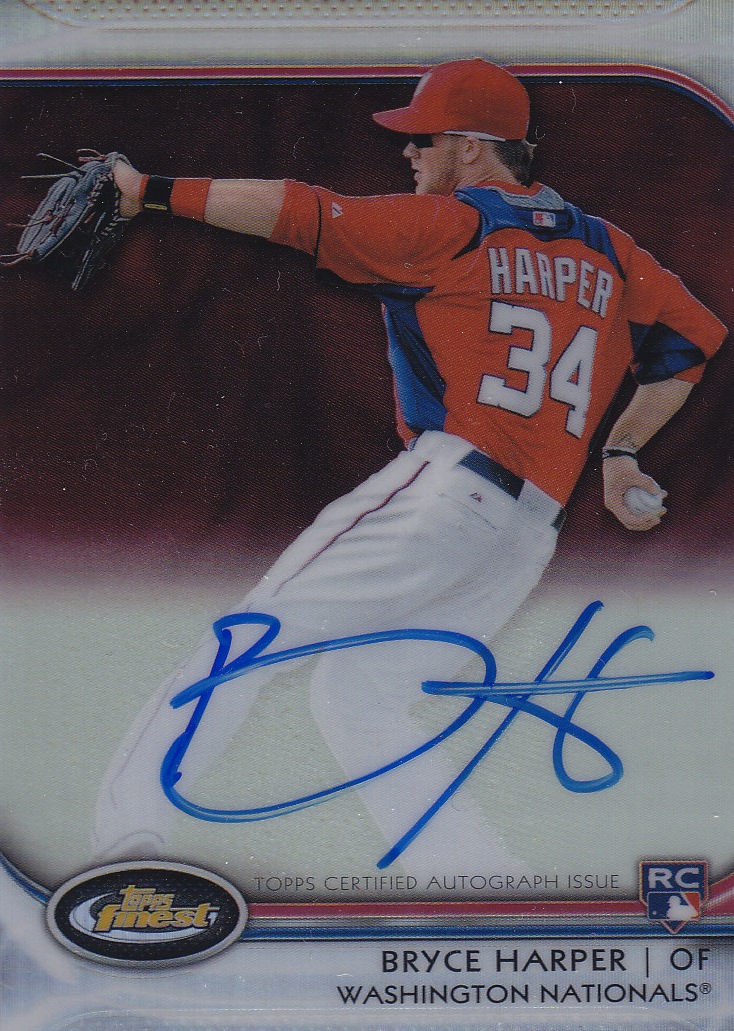 With the arrival of the hobby-only Finest product earlier this month came the first "BH" autographs, though some cards from last year and some recently fulfilled redemptions this year showed hints of this style just with an additional line or two following the "H." Aesthetically, the card is a bit more disappointing but with plenty of demand for his ink it's probably not going to have much effect. (Autograph quality never seems to come into play with elite-level athletes — either in what they have already achieved or what they might accomplish.)
Conservatively, Harper likely appears on somewhere in the ballpark of 11,000 to 13,000 certified autograph cards with more arriving with each new product (Chrome alone included 998 serial-numbered sigs and an unnumbered card).
Meanwhile, while that may seem like plenty of signatures for Harper, it's nowhere in the ballpark of prospects during the 1990s autograph boom. As a minor-leaguer, for example, Derek Jeter signed a total of 10,650 cards for a single product in 1994 alone (Signature Rookies). Today, Jeter appears on more than 1,050 certified autograph cards — many with ridiculously small print runs — and his overall number is one that could be higher if he had signed an autograph deal elsewhere after years with Upper Deck.
Overall, it will be interesting to see how Harper's autograph continues to appear — and whether he continues with signing for companies after his Topps deal expires in the future. Consider that these autographs aren't the only signatures he's signed since that Sports Illustrated cover back in June 2009.
With that thought alone, it's perhaps surprising that the changes in how his signature looks didn't come even sooner.
Chris Olds is the editor of Beckett Baseball magazine. Have a comment, question or idea? Send an email to him at colds@beckett.com. Follow him on Twitter by clicking here.