Rare Wagner and Plank T206 hit auction block on Tuesday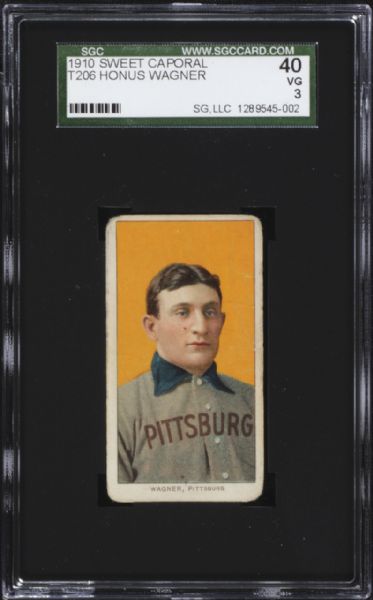 By Susan Lulgjuraj | Contributing Editor
Another famous Honus Wagner cards is hitting the auction block on Tuesday.
The card – along with several others from the T-206 set – is being sold by a Houston businessman, who didn't want to be identified, the St. Louis Dispatch reports.
A St. Louis collectibles dealer is handling the auction and he expects the card to bring in more than $1 million. However, it's not the only card in the exhibit. The card is being auctioned off with a huge collection of T206 cards in individual lots.
"I believe it will bring between $1.2 million and $1.5 million," Bill Goodwin, who runs Goodwin & Co., told the newspaper.
The T206 Honus Wagner tobacco card is the most iconic baseball card in history. A PSA 8 sold for $2.8 million in 2007 to Arizona Diamondbacks owner Ken Kendrick, the card that sparked a book being written about it.
While Goodwin doesn't expect this card to reach those heights, his sights are pretty high.
Goodwin is starting the bidding on the Wagner at $300,000 on his website. The auction runs through April 19.
This isn't just a shabby Wagner card. It apparently has one of the highest grades ever seen. Sportscard Guaranteed Corp. (SGC) has given it a "VG-3," which Goodwin says only five other Wagners have ever received a better grade.
"This is probably going to be the highlight of Goodwin & Co.," said Goodwin. "You dream of doing this, selling a Wagner in this condition."
And, yet, there are still so many interesting cards in this auction, specifically an Eddie Plank from the same set. But what makes the Plank special is the Piedmont back, – graded EX+ 5.5 – which Goodwin states there are only three in known existence.
"I think the Plank card is a real sleeper," Goodwin said in the report.
"Boasting a virtually never seen Piedmont 150 reverse, this Plank example is the only Piedmont 150 believed to have actually seen the inside of a cigarette pack, with the only other known examples coming from a printer's sheet," Goodwin added on his auction website.
Goodwin thinks this card could fetch about $500,000, and is starting the bidding at $50,000.
There are several other auctions in the collection for cheaper. Other T206 cards have starting prices of around $100.
Susan Lulgjuraj is a contributing editor for Beckett Media. You can email Susan here. Follow her on Twitter here.