First Look: 2014-15 Upper Deck Masterpieces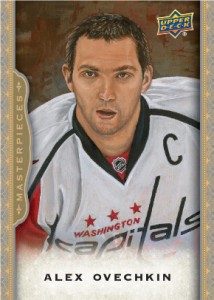 By Stephen Laroche | Beckett Hockey Editor
Slated to be hitting your local card store in April, 2014-15 Upper Deck Masterpieces marks the return of a hobby favorite that many feared had become a one-hit wonder since it had not returned since its impressive 2008-09 debut. The original issue was lauded for its strong selection of autographs and eye-catching parallels and collectors were expecting it to become a regular part of the company's roster of releases.
Now loaded up with plenty of original artwork and the guarantee that every autograph is signed on-card and each memorabilia piece is game-used, Masterpieces has the potential to be a major hit.
What will collectors find in 2014-15 Upper Deck Masterpieces? Find out after the jump.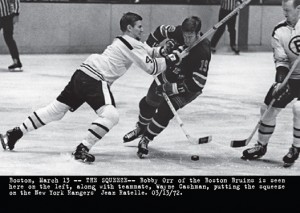 The extensive base set will utilize 180 different pieces of original artwork that will depict today's top stars along with retired legends and 15 of this season's brightest rookies. Some of these cards will be shortprinted and are found at a rate of 10 per box in addition to two to three Rookie Cards and the same amount of Black & White Portraits. Rounding out the collection are 60 Wire Photos (five per box), which were first seen in the 2011-12 Parkhurst Champions product and gathered a major following due to their unique retro look.
Parallels will be a major part of this collection and they run the gamut from regular cards to including autographs and game-used memorabilia. Many of the base cards will have a Red Framed Cloth (#'d to 100) and a Black Framed Leather (#'d to 50) version that will chased, but there will also be Autos seeded at varying ratios that have Red Framed Cloth (#d to 30 or less) and Black Framed Leather (#'d to 15) editions. Memorabilia enthusiasts will not only be after the regular game-used cards, but their parallels will be a bit more plentiful with 85 or less Red Framed Cloth and 65 or less Black Framed Leather that will contain prime swatches of hockey history.
The toughest pulls of all, however, will be the Masterpiece Portraits. Upper Deck commissioned work of 20 different players and these hand-painted cards will be hand-numbered to 10.
Each 15-pack box of Masterpieces is expected to yield at least one autograph and one game-used memorabilia card plus an additional hit from either category. There will also be one or more Cloth or Leather parallel per box. Case breakers will find an average of one Autographed Wire Photo, two Framed Cloth or Leather autographs, four Cloth memorabilia cards and one or two Framed Leather Prime Memorabilia cards.
Stephen Laroche is the editor of Beckett Hockey and Beckett Basketball magazines. Have a comment, question or idea? Send an e-mail to him at SLaroche@beckett.com. Follow him on Twitter @Stephen_Laroche.