Top 20 Contenders Football Rookie Ticket Autographs
Contenders Football Rookie Ticket Autographs are some of the most popular Rookie Cards every year. On some levels, they may not appear as fancy as some super-premium sets, yet they usually end up being some of the players' most coveted early cards. Usually, they're not numbered. But put them up against an autographed patch or something with a relatively low print run and the Contenders Rookie Ticket Autograph will usually win out if you're going strictly by values.
Rookie Ticket Autographs have a rich history. They're connected with a shift towards premium enhancements and helped usher in an era of signed Rookie Cards. Although that evolution continued with the addition memorabilia, by that time Contenders had already established itself and found its voice.
This is a line that has broad appeal. The RC angle is the obvious one and gives the brand its biggest base. But Contenders is also popular among set builders. This means elevated interest in key cards as well as extreme short prints.
Since their debut in 1998, plenty of Contenders Football Rookie Ticket Autographs have emerged as being some of the most valuable in the modern hobby. Here's a breakdown of the very best released between 1998 and 2019.
20 Most Valuable Contenders Football Rookie Ticket Autographs, 1998-2019
This list includes Contenders Football Rookie Ticket Autographs included in base sets from 1998 to 2019. Variations and parallels are not included. Rankings are based on values from the Beckett Football Card Price Guide as of the end of January, 2021.
20. 2018 Panini Contenders Baker Mayfield #101
For Browns fans, the journey has been a long and often painful one. But it looks like the team finally has its star quarterback. At the very least, barring injury, they've found some stability at the position in the 2017 Heisman Trophy winner. There have already been several peaks and valleys for this card.
Buy on: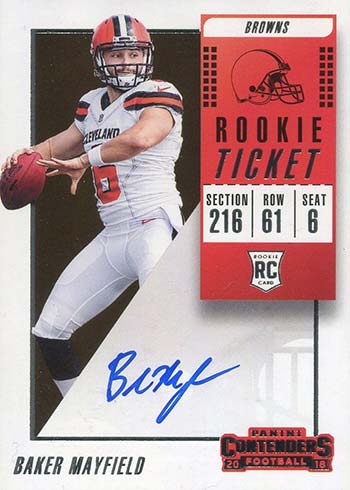 19. 2009 Playoff Contenders Aaron Kelly #136
Contenders often has one of the biggest checklists when it comes to rookie autographs. With that depth comes the caveat that some of those players don't amount to much in their NFL careers. Like Aaron Kelly. He never played a game for the Atlanta Falcons and eventually ended up in the CFL for a few years.
And yet, here he is among the top tier of Rookie Ticket Autographs. The reason? It has just 21 copies, making it a key for those putting together sets.
Buy on: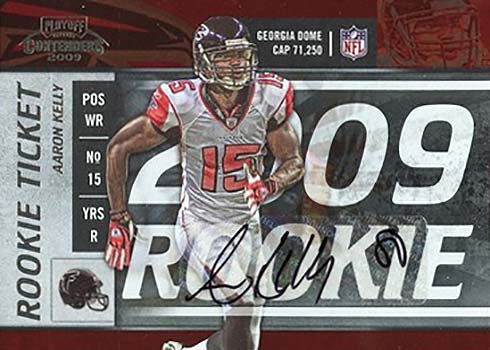 18. 2019 Panini Contenders Daniel Jones #102
Daniel Jones spent much of 2019 as the hot football rookie in the hobby. Not only was he playing well, but he was bringing hope to New York. In 2020, with Eli Manning retired, big things were expected from Jones who was now the permanent QB for the Giants. Jones' numbers dropped. And while there's still strong interest in his Contenders RC, it'll be one that should be watched closely depending on the path the quarterback's career takes.
Buy on: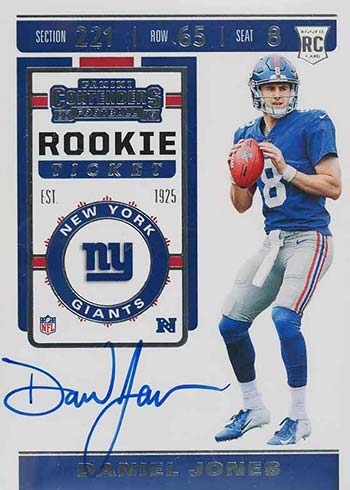 17. 2008 Playoff Contenders Matt Ryan #179
Matt Ryan is a great quarterback. He's also a streaky quarterback. The collecting world can be up on him one year and in the doghouse the next. It's a cycle that's repeated itself a couple of times and caused a fair bit of volatility with this card.
One plus is the print run. At 246 copies, it's a low number for a name quarterback when it comes to Contenders Football Rookie Ticket Autographs.
Buy on: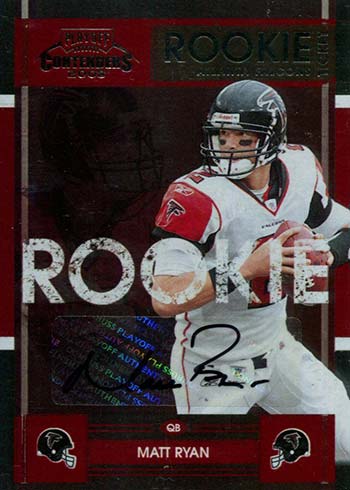 16. 2004 Playoff Contenders Philip Rivers #162
For more than a decade, Philip Rivers was one of football's most consistent passers. Although he finishes among the all-time leaders in passing yards and touchdowns, Rivers' path through the hobby might qualify him for overlooked status. His cards have always done well, but they're not in the league of several of his peers like Tom Brady and Aaron Rodgers. One of the big differences is the fact that Rivers doesn't have the rings. His Contenders Rookie Ticket Autograph comes from a strong 2004 set. It has 556 copies.
Buy on: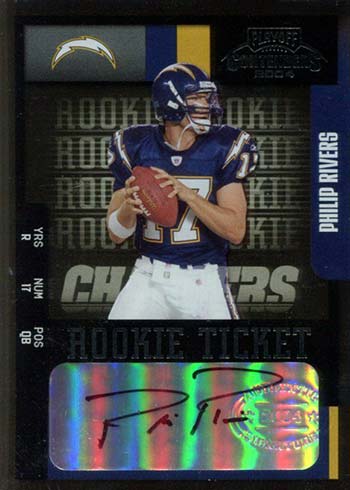 15. 2002 Playoff Contenders Julius Peppers #142
Being an all-time defensive great doesn't generally mean a ton in the hobby. But being an all-time defensive great with a scarce Contenders Rookie Card can bring some strong prices. With just 40 copies, Peppers' Rookie Ticket Autograph extremely tough to find today. It's not quite unicorn tough, but it's red panda level.
Buy on: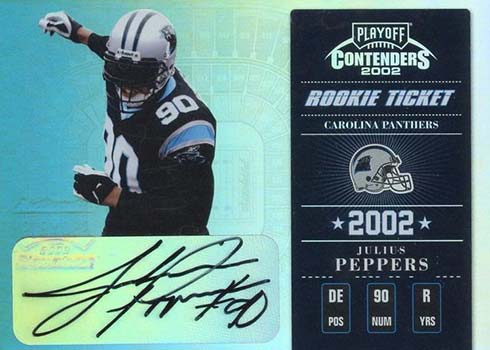 14. 2019 Panini Contenders Kyler Murray #101
Kyler Murray cards are still in the speculation phase. While he's been solid thus far, a significant portion of his Contenders RC's value is still in the 'What if?' realm of possibilities. That comes with the territory of being both a first overall pick and Heisman winner. So far, so good. The Arizona quarterback raised his offensive numbers from his rookie season to his sophomore year. If Murray breaks out and makes the Cardinals contenders, this will be one of his RCs that surges first.
Buy on: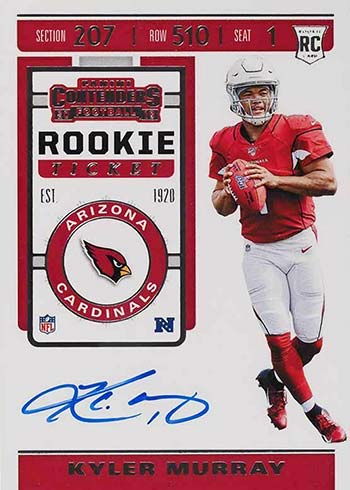 13. 2018 Panini Contenders Josh Allen #105
It took a couple of years for Josh Allen to stake his claim in the hobby, but he has arrived. Being the third quarterback taken in the 2018 draft, Allen actually flew a little under the radar in his first couple of seasons. That changed in 2020 when he emerged as one of the most exciting quarterbacks in the league.
Buy on: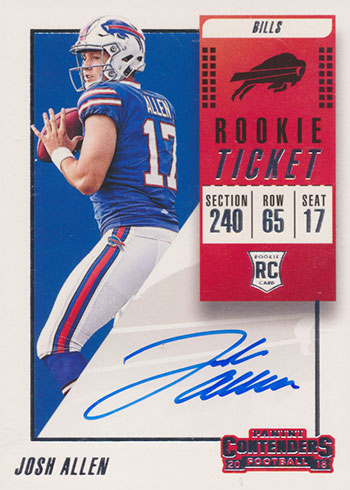 12. 2011 Playoff Contenders Tyron Smith
Tyron Smith is a perennial Pro Bowl pick who has spent his entire career with the Dallas Cowboys. But he's not exactly a hobby superstar. With just 23 copies of his 2011 Contenders Rookie Card, there are enough set builders to keep interest high.
Buy on: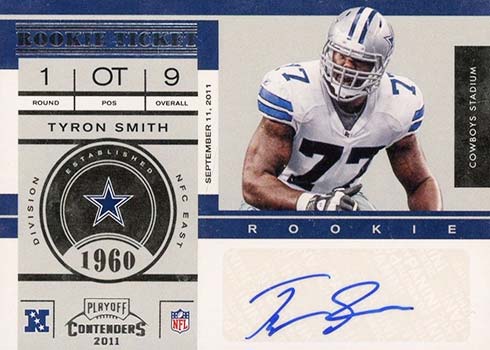 11. 2004 Playoff Contenders Ben Roethlisberger #106
Another big quarterback, Roethlisberger also benefits from being on one of football's most storied teams. While he does have his detractors, "Big Ben" still has a lot of fans. A couple of Super Bowls certainly helps, too.
The 2004 Playoff Contenders Ben Roethlisberger RC has 541 copies.
Buy on: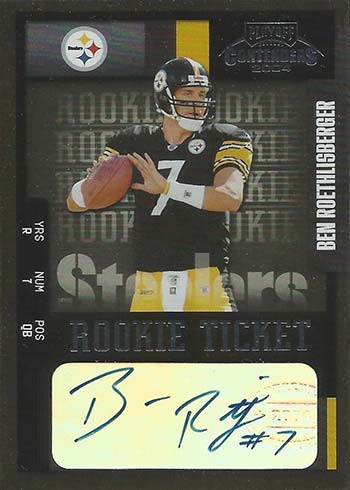 10. 1998 Playoff Contenders Randy Moss #92
Another Hall of Famer from the debut collection of Rookie Ticket Autographs, the 1998 Playoff Contenders Randy Moss might not be quite as iconic as the Manning, but it's still pretty good for one in the shadows. At his peak, Moss was one of the most electric players in the NFL. He also had one of the biggest personalities.
It has a stated print run of 300 copies. However, there is something to watch for. The signature has faded on many of the cards. It appears that the pen didn't stick to the card's surface well in the first place with plenty showing signs of beading. With less ink to begin with, the signature is now hard to see on a lot of copies. So finding one with a solid signature certainly commands added attention.
Buy on: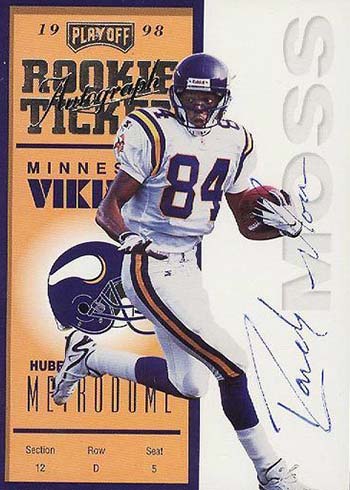 9. 2017 Panini Contenders Deshaun Watson #302
Thus far, Deshaun Watson's NFL journey has seen plenty of peaks and valleys. On the one hand, the quarterback has shown he can compete at an elite level. However, injuries and some less-than-stellar Texan teams have been bumps along the way. Expect more volatility with this one for at least a couple more years as Watson looks for a fresh start and, hopefully, some better tools around him.
Buy on: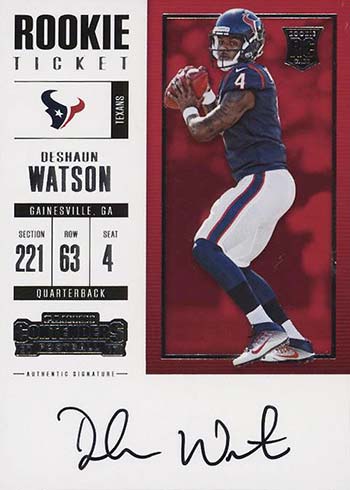 8. 2004 Playoff Contenders Larry Fitzgerald #151
Yes, Larry Fitzgerald is a great receiver — one of the best ever. But that's not the sole reason why he's so high on this list. Remember that this is a line that has a dedicated core of set builders. Contenders is notorious for its Rookie Ticket Autograph short prints. With just 50 copies, Fitzgerald is certainly one of them. This created a chase from the beginning.
To someone plugging away at the set, it's the base card that matters. Parallels are secondary.
Further adding to this card's intrigue is the fact that Fitzgerald doesn't sign a lot of autograph cards. He has only recently started signing again.
Buy on: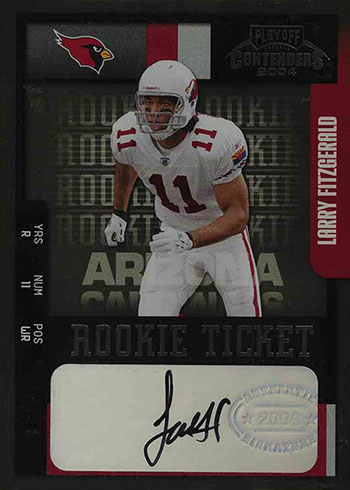 7. 2005 Playoff Contenders Aaron Rodgers #101
Rodgers is still one of the best on the field and a proven winner. But he also has a lot of personality that gives him an x-factor of sorts. There's also that legendary Green Bay uniform that he's worn for his entire career.
Like a lot of Rookie Ticket Autographs, the 2005 Playoff Contenders Aaron Rodgers is serial numbered. However, it does have a confirmed production run of 530 copies.
Buy on: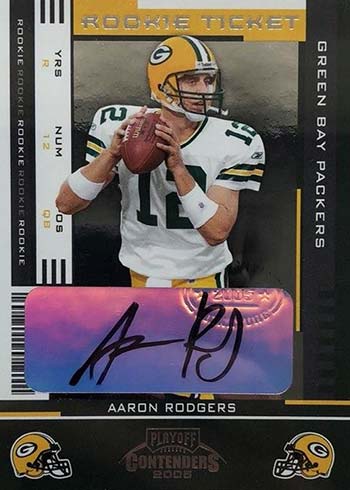 6. 2018 Panini Contenders Lamar Jackson #112
It has been a bit of an up and down journey for Lamar Jackson's 2018 Panini Contenders Rookie Ticket Autograph. The 2019 NFL MVP has a dynamic skill set that makes him a danger to defenses on the ground and in the air. Another thing this card has going for it is its rarity. The base version has just 90 copies.
Buy on: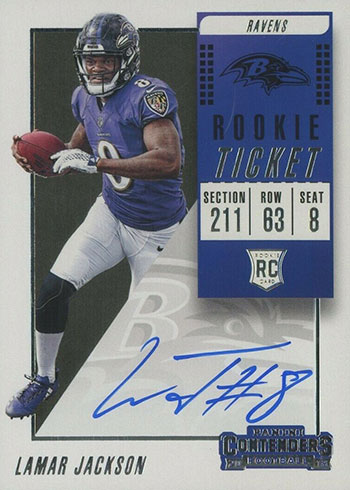 5. 2012 Panini Contenders Russell Wilson #225
Russell Wilson was a steal for the Seahawks in the third round of the 2012 draft. At the time, all eyes were on Andrew Luck and Robert Griffin III. So was the early hobby buzz. Fast forward a few years and Wilson is a Super Bowl champ who has put together Hall of Fame numbers. His cards have been hitting new levels over the last couple of years as collectors look at his overall body of work and, likely, anticipating what's still to come.
Wilson's signature leaves a lot to be desired. But that doesn't slow his cards. The 2012 Panini Contenders Russell Wilson autograph has 550 copies. Add in a variation and several parallels and rarity isn't much of a barrier at this point.
Buy on: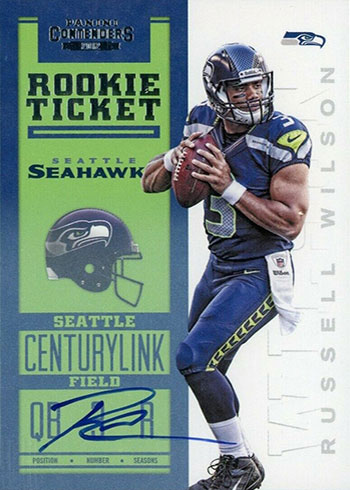 4. 1998 Playoff Contenders Peyton Manning #87
1998 Playoff Contenders is the set that launched the Rookie Ticket Autograph craze. That year just happened to feature one of the best QBs of all-time — Peyton Manning. While lots of Contenders Football Rookie Ticket Autographs command strong values, this is one of only a few that are in the elite tier.
In addition to the great things going with the establishment of the line and Manning being Manning, the 1998 Playoff Contenders Rookie Ticket Autographs design is one of the most iconic in the entire hobby as far as modern sets go.
The 1998 Playoff Contenders Peyton Manning autograph has a stated print run of 200 copies.
Buy on: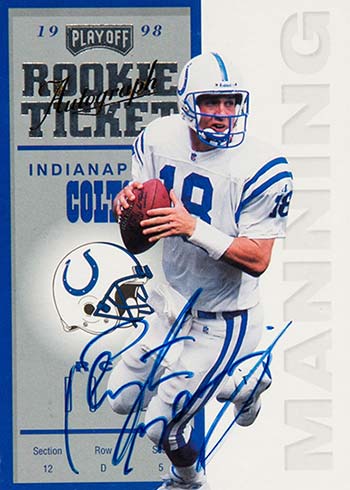 3. 2001 Playoff Contenders Drew Brees #124
Drew Brees is one of those players that is universally respected. And while many of his cards carry strong prices (like this one), it has only been in the last few years that they've really taken off and his place among the greats has been confirmed.
The 2001 Playoff Contenders Drew Brees arrived in the first set for the brand to use stickers for the Rookie Ticket Autographs. With a stated print run of 500 copies, it's not one of the rarest the line has seen. Still, it's low enough and old enough that they don't show up in big numbers anymore.
Buy on: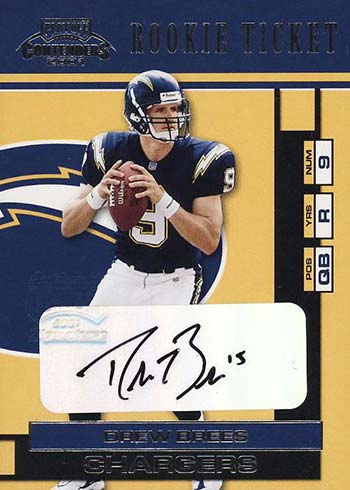 2. 2017 Panini Contenders Patrick Mahomes #303
What needs to be said about Patrick Mahomes? Since becoming the starter in Kansas City in 2018, he's been a dominant force in the NFL. Not only that, but he's one of the league's most recognizable and respected players. It's hard to imagine that Mahomes' cards were largely ignored in his first season. Now, they already rank as some of the most valuable the sports has ever seen with this one on the top tier of the list.
Besides the quarterback's incredible skill and popularity, print run also comes into play with this card. The 2017 Panini Contenders Patrick Mahomes is a short print with a confirmed print run of just 212 copies for the base version.
Buy on: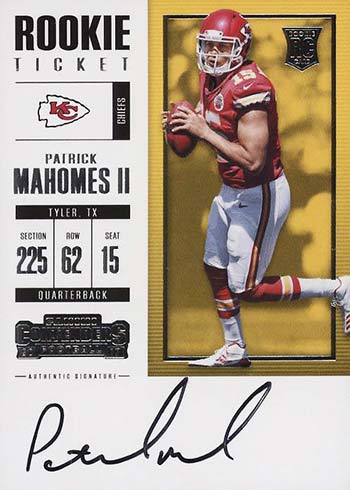 1. 2000 Playoff Contenders Tom Brady #144
If you don't regard Tom Brady as one of the best quarterbacks to ever play in the NFL, he's probably burned your favorite team. Still going, he's won six Super Bowls (so far) and holds plenty of prestigious NFL records. It seems surprising now, but Brady entered his rookie season largely under the radar.
He has just a handful of autographed cards from his first year, but this is the only one that's an actual Rookie Card. It's also the only Tom Brady autograph from 2000 that has him in a full Patriots uniform. Others use college or warm-up shots. It all adds up to not just the most valuable Contenders Rookie Ticket Autograph but one of the most iconic football cards ever produced.
Buy on: