Peyton Manning Rookie Card Countdown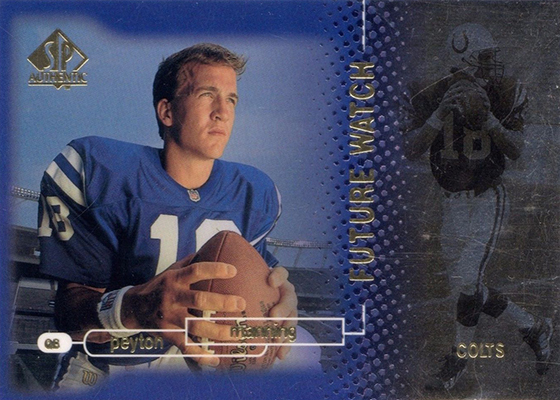 By Ryan Cracknell | Hobby Editor
Peyton Manning is one of the best ever but you wouldn't know it based on the prices of most of his rookies. High-end meant something very different in 1998 than it does today. As a result, the majority of Peyton Manning rookie cards are within reach of everyone, even those with a small card budget.
Of course, that is somewhat relative. Manning is an all-time great quarterback so you're not going to find any of his rookies in quarter bins unless it's by mistake or it's in rough shape. But on the other end, you're not going to have to pay thousands for the majority of his first base cards. There are a couple of extremely valuable Peyton Manning rookie cards but most can be found at reasonable prices given his place in the NFL record books.
But with more than 40 to choose from, which are the best and most valuable Peyton Manning rookie cards? We've ranked them all.
Most Valuable Peyton Manning Rookie Cards Ranked
Rankings are based on values in the Beckett Football Card Price Guide. Only cards with the RC tag are included, not inserts or parallels. Some sets also have multiple Manning cards as part of subsets. While many of these are mentioned, rankings reflect the RCs. Subscribers have access to full pricing.
43. 1998 UD Choice Peyton Manning RC #193
1998 UD Choice Football was Upper Deck's entry level brand that season. Between its low initial price tag and widespread availability, the card has never seen a lot of value attached to it. It has a look that's both clean and of the era. Manning is found in Series 1 packs.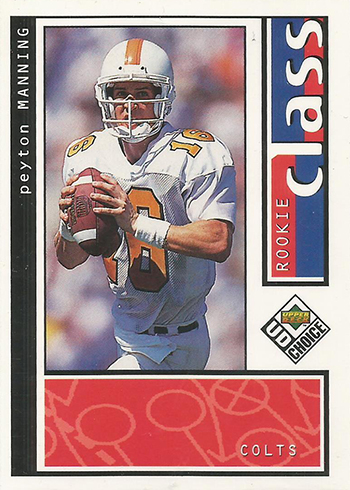 42. 1998 Playoff Prestige Retail Peyton Manning RC #165
Playoff did a few sets in 1998 that were similar but different depending on if you bought the cards at hobby shops or retail. Generally, the retail versions tend to be more basic and less valuable. That's apparent with 1998 Playoff Prestige Football. Rather than the flash of the hobby version, the Prestige retail Manning is printed on thin card stock with only a little bit of foil.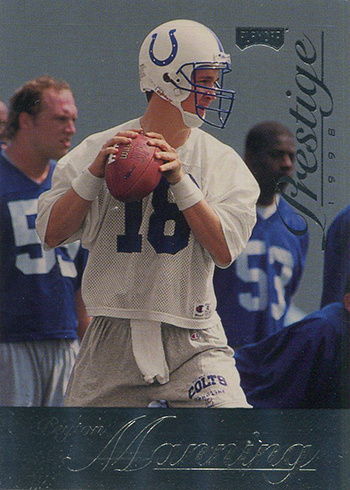 41. 1998 Collector's Edge Odyssey Peyton Manning RC #60
Peyton Manning has a few cards in 1998 Collector's Edge Odyssey Football. That's because tiered base sets were all the rage in the hobby at this time. Card #60 is the most common and considered to be the rookie card of the set. It's a clean, yet all the logos and marks manage to make it busy. While the short prints command somewhat higher prices, the most common one does not.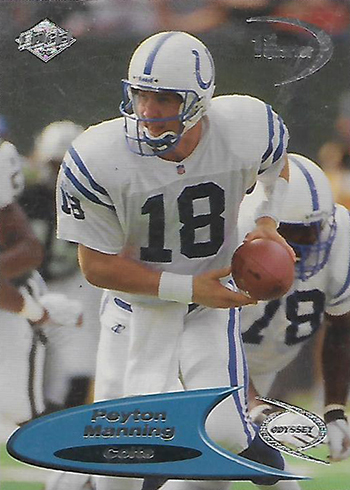 40. 1998 Collector's Edge Advantage Peyton Manning RC #189
Not that there's a ton of the product left, but you won't find this Peyton Manning rookie card in regular boxes of 1998 Collector's Edge Advantage Football. That's because cards #181-200 were exclusive to retail boxes that came out later in the season.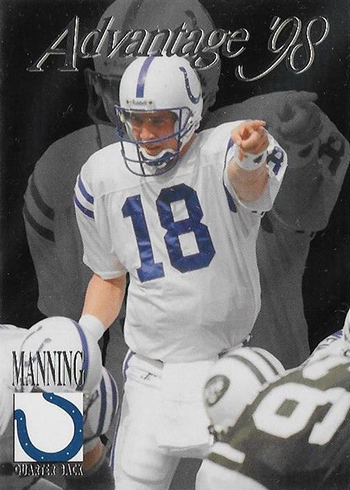 39. 1998 Pacific Omega Peyton Manning RC #101
If you're familiar with the brands of the era, you'll recognize this as a Pacific card instantly. There's so much happening in such a small space. You've got a compartmentalized card, football stitches, two photos and some sort of flaming football splatter effect. It was one of Pacific's more affordable products in 1998 and that holds true to values today comparing it to other Peyton Manning rookie cards.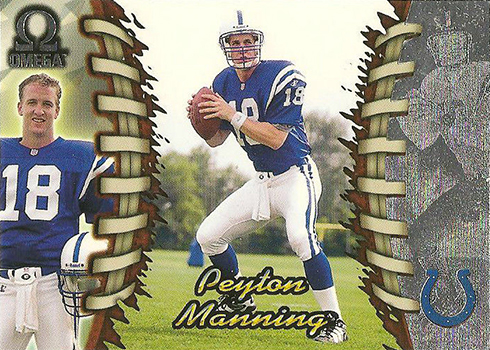 38. 1998 Score Peyton Manning RC #233
When you mention Score to card collectors, you generally think of something that's affordable. But it's a name that has also been around the modern hobby for some time. That helps make this a little more appealing than some of the other lower-tier Peyton Manning rookie cards. 1998 Score Football shares the same overall design as baseball.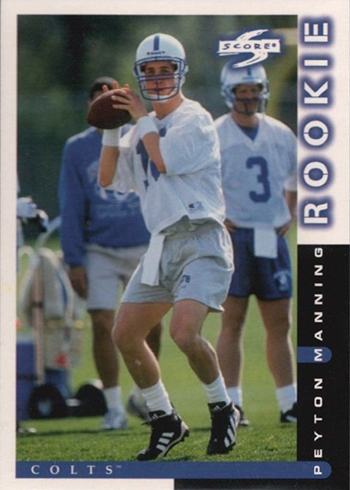 37. 1998 Metal Universe Peyton Manning RC #189
Heavy on foil, big on space photography, the 1998 Metal Universe Peyton Manning rookie card is definitely out there. And for some, that's a good thing. For others, it might be a little much. While the base version might not be worth much, there are Precious Metal Gems (/50) and Precious Metal Gems Masters (1/1) that are far from cheap.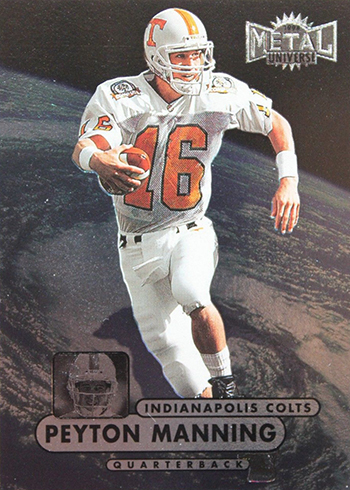 36. 1998 Absolute Retail Peyton Manning RC #165
The differences between 1998 Absolute Football Retail and hobby go beyond the thickness of the card stock. They have different designs. The retail version has a lot of white in the background. A plain-clothed Peyton hovers above his uniformed self, offering two perspectives of the young quaterback. Above the Absolute logo in the top corner, there's a bit of die-cutting to help it stand out a little more.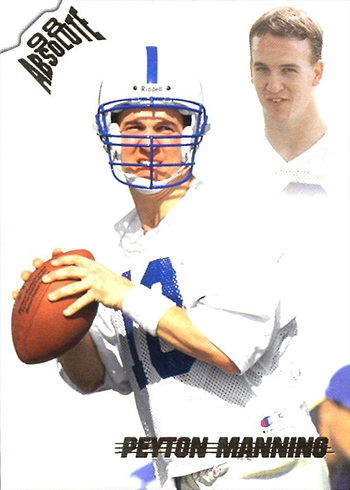 35. 1998 Collector's Edge Supreme Season Review Peyton Manning RC #74B
Like other draft picks in the set, Peyton Manning came in the form of a redemption card for 1998 Collector's Edge Supreme Season Review. Overall, it's a simple card save for the foil highlights for Manning's name and the logos. Without much in the way of continuity for the line though, this is one of the Peyton Manning rookie cards that can easily get lost in the shuffle.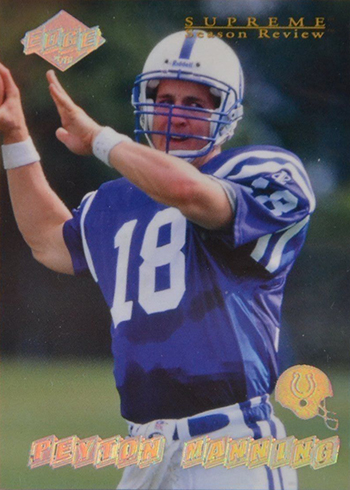 34. 1998 Fleer Tradition Peyton Manning RC #235
Sticking with the same design as baseball, 1998 Fleer Tradition Football uses a full-bleed design and only a bit of gold foil highlights. Apparently, part of the "tradition" theme of the set was to keep things simple. Like all the rookies in the product, Manning is not a short print. That helps keep prices lower than the majority of his first-year cards.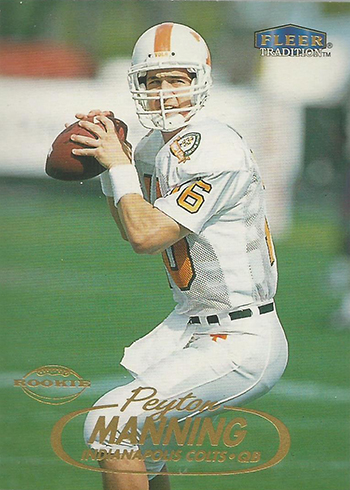 33. 1998 Pacific Peyton Manning RC #181
It's not very oftern that you can refer to a Pacific product as being plain. But the 1998 Pacific Peyton Manning keeps it simple with a full-bleed design and an in-action shot. A silver band with his name is the only major embellishment and even that is relegated to a thin strip at the bottom of the card. It's not a short print so values are kept in check. The only major challenge is the size of the checklist, but even with that, there's still a steady supply.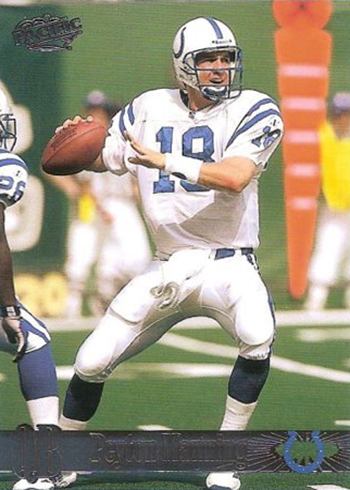 32. 1998 Aurora Peyton Manning RC #71
Now this is a little more Pacific-esque. Whereas the company's flagship design in 1998 was plain, 1998 Aurora Football has plenty going on. The highlight is probably the inset face, which gives the impression of 1984 Topps Baseball takes to the more extreme 1990s.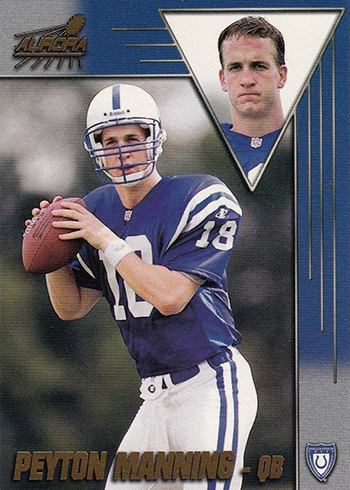 31. 1998 Collector's Edge First Place Peyton Manning RC #135
Collector's Edge was a fan of a few things in 1998: Peyton Manning, full-bleed designs and long set names. This card has all three. It's a very clean card that stands out for its simplicity, similar to how Ultra did with Fleer. It has a few different parallels including 50-Point Silver that's numbered to 125 and the one-of-one Gold.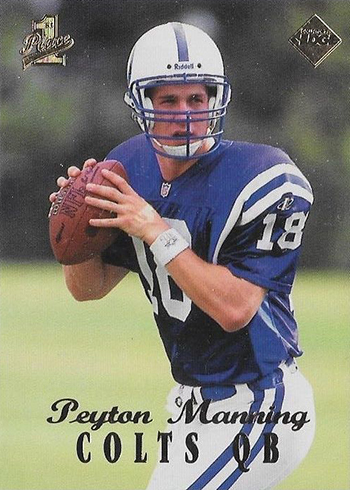 30. 1998 Stadium Club Peyton Manning RC #195
From the beginning Stadium Club was about photography. Things are a little more tricky when it comes to rookies as there isn't the selection like superstar veterans. Even if there's nothing that particularly stands out about this shot, this is one of the few Peyton Manning rookies to have an action shot from an NFL game rather than something posed, a practice picture or something from college.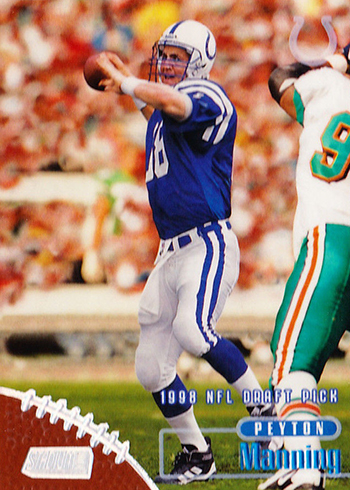 29. 1998 UD3 Peyton Manning RC #181
1998 UD3 (if you say it out loud, it's "UD Cubed") takes the tiered base set to extremes — maybe a little too far. The entire set consists of three different themes. Each of those main themes then has three different card types for a total of nine subsets. And all nine are available in varying quantities. Manning has three different cards in the set under the Future Shock banner but it's most common one that has the RC tag. In this instance it's Future Shock Rainbow.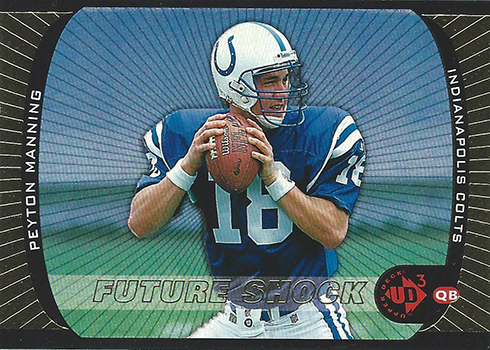 28. 1998 SkyBox Thunder Peyton Manning RC #239
Here's a football card that's happily at home in the 1990s. The colors clash like no other (the Tennessee uniform isn't doing it any favors), the lines are wild and there is a handful of font choices on the front alone. Basically, it's a hot mess. Although a short print, it's not a big one. Numbered parallels come in the form of Rave (/150) and Super Rave (/25).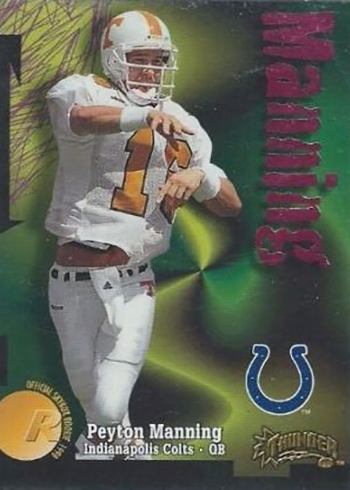 27. 1998 Flair Showcase Row 3 Peyton Manning RC #3
In the late 1990s, Flair Showcase was one of the hobby's most distinct brands. Its foil look emphasized multiple photos yet managed to maintain a level of elegance. It's another set that took a tiered approached. And while there was a certain level of complexity each "Row" was clearly defined and easy to follow. Row 3 cards are the most common. Even Manning's card isn't overly expensive all things considered. Row 2 doesn't carry much of a premium. Row 1 cards are where things start to get tough and more valuable. Row 0 cards are numbered to 250 and go for, understandably, high amounts. Each of the four cards has a Legacy Collection (/100) and Legacy Collection Masterpieces (1/1) parallel.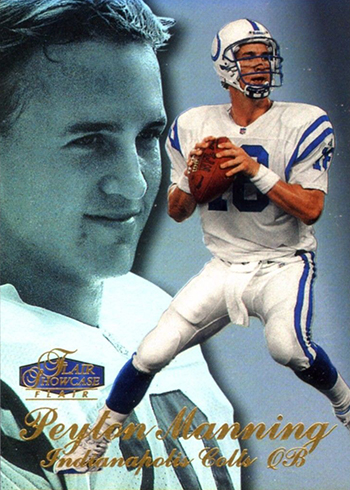 26. 1998 Topps Stars Peyton Manning RC #67 /8799
1998 Topps Stars Football has one of only a few Peyton Manning rookie cards that are serial numbered. But when that numbering is higher than 8,500, it doesn't impact its value in a significant way. Not helping matters either are several levels of parallels that also have high numbering. One of them is the Bronze version, which is also numbered to 8799. The base version, which is considered the RC, has red foil on the front.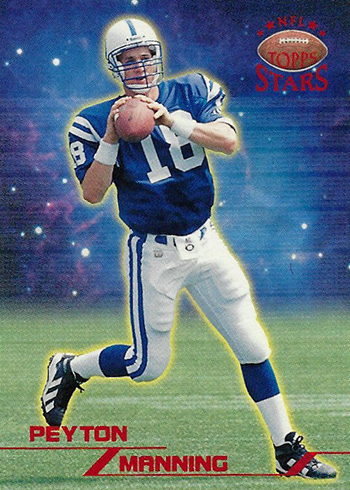 25. 1998 Playoff Momentum Retail Peyton Manning RC #146
1998 Playoff Momentum Retail Football is a lot more interesting in the looks department compared to some of the year's other retail-alternative offerings. A big part of that is the faux leather look and feel that dominates the front. Yes, those dots are embossed so the feel is real. An unnumbered Red version is the card's lone parallel.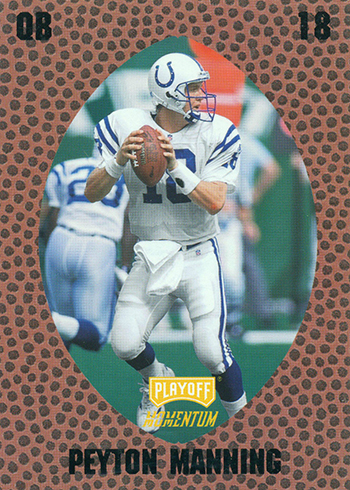 24. 1998 Topps Season Opener Peyton Manning RC #1
1998 Topps Season Opener Football is the equivalent of an Opening Day release for baseball. Made for retail, it uses the same general design and photo as the flagship Topps Peyton Manning. Actually, it's one of three sets to use it when you include Topps Chrome. The main difference with this card is the border color (silver instead of gold) and the foil stamp at the bottom.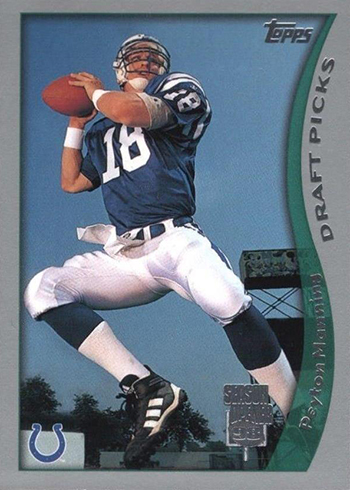 23. 1998 Topps Peyton Manning RC #360
Speaking of flagship Topps.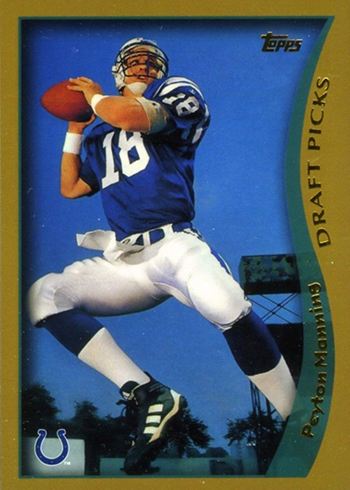 22. 1998 Topps Gold Label Class 1 Peyton Manning RC #20
If you're a fan of Flair Showcase, the Topps Gold Label Peyton Manning is very similar. From the design to the card stock to the checklist structure, they're all pretty much the same. Like Flair's "Rows," 1998 Topps Gold Label Football has different Classes for each of the base cards. Class 1 are the most common, which makes this Manning's rookie card. Class 2 would then be uncommon and Class 3 rare. Each class has a handful of parallels as well.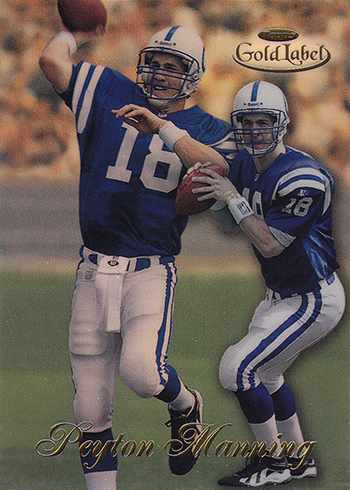 21. 1998 Collector's Edge Masters Peyton Manning RC #73 /5000
1998 Collector's Edge Masters was the company's foray into the premium side of the market. First, there's the etched foil design. Also, every card is serial numbered, which helps add to the price of the Manning rookie. That said, with 5,000 copies, it's not terribly tough to find. The quarterback has a pair of subset cards in the product as well plus several parallels numbered between 3,000 and 10.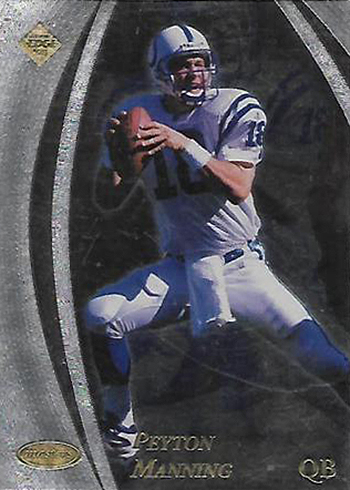 20. 1998 Bowman Peyton Manning RC #1
Bowman might not resonate in football quite as much as it does baseball, but there's still a lot of familiarity with it. 1998 Bowman Football shares the same general design as the MLB set. Parallels include the foil Interstate and Golden Anniversary (/50).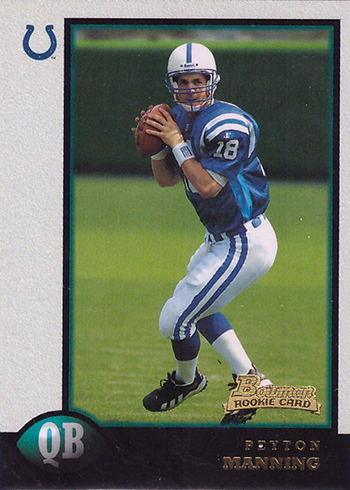 19. 1998 E-X2001 Peyton Manning RC #54
No matter the name it took on, the EX line is synonymous for its mixed-materials approach. For 1998 E-X2001 Football, plastic is layered together with patterned foil to create a card so strong that it might survive an apocalypse. One thing to watch for with the condition of this Manning rookie is the gold foil lettering. It can rub off and make for a less attractive card. There are two parallels, Essentials Credentials Now (/54) and Essential Credentials Future (/7).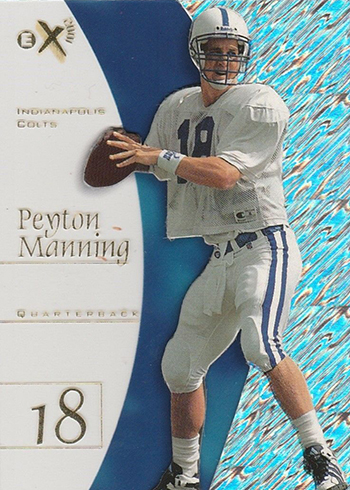 18. 1998 Revolution Peyton Manning RC #58
So you say you want a revolution? It's going to get loud. Waves of gold foil, more wave of varying colors and speckled foil all come out to play on one of the loudest (okay, the loudest) Peyton Manning rookie card. It has one parallel, Shadows, which is numbered to 99.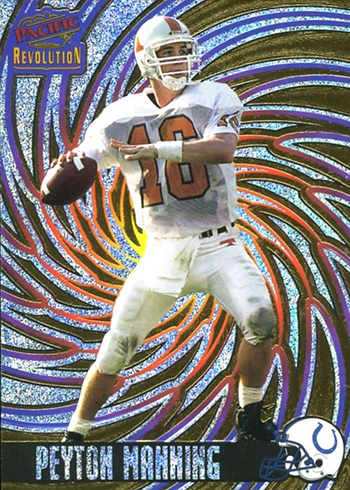 17. 1998 Crown Royale Peyton Manning RC #54
Now this is what you'd call a distinct die-cut design. If you've collected football cards at any point between the late 1990s and now, you probably know instantly what brand it's from and who made it. If you're not, the crown outline relates to Pacific's logo. They were a company not known for being subtle.  It's part of this out-there look that gives the 1998 Crown Royale Peyton Manning its appeal. It also was more of a high-end product that had a pricey entry point when it came out.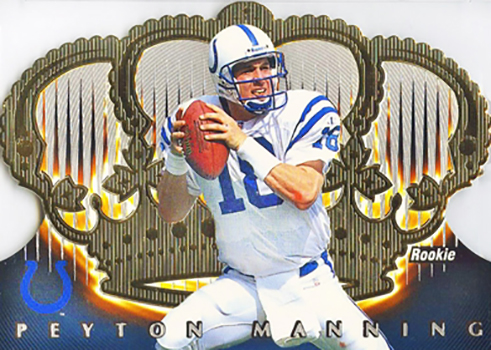 16. 1998 Fleer Brilliants Peyton Manning RC #120
1998 Fleer Brilliants Football was one of the now-defunct card maker's premium lines that year. Cards take a minimalist approach in design, instead letting the laminate-covered foil be the highlight. It's like Fleer's answer to the chromium trend, only not as long lasting. Even though they're 1:2 packs, individual rookies, like Manning, can be tough to find as the checklist has 50 of them. Parallels come in Blue, Gold (/99) and 24-Karat Gold (/24).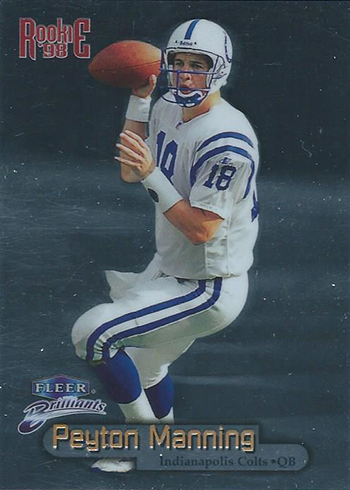 15. 1998 Playoff Prestige Hobby Peyton Manning RC #165
The photo might be the same as the retail version, but the foil pattern in the background make the 1998 Playoff Prestige Hobby Peyton Manning rookie card easy to spot. It's also done on thicker card stock. The card has two parallels, Red and Gold (/25).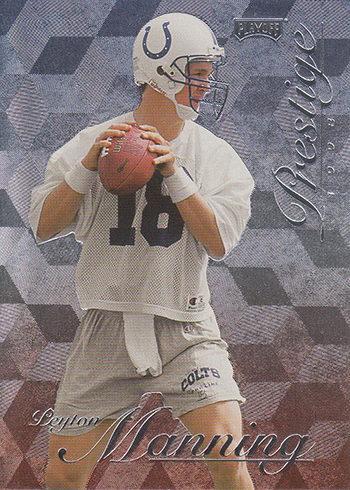 14. 1998 Absolute Hobby Peyton Manning RC #165
The hobby version of Manning's Absolute rookie has the same two photos as the cheaper retail card but that's where the similarities end. The orientation here has been flipped to horizontal with the uniformed shot on one side. The other has a portrait done on plastic embedded within the card. This one is also much thicker than the retail card because of the layered approach it takes.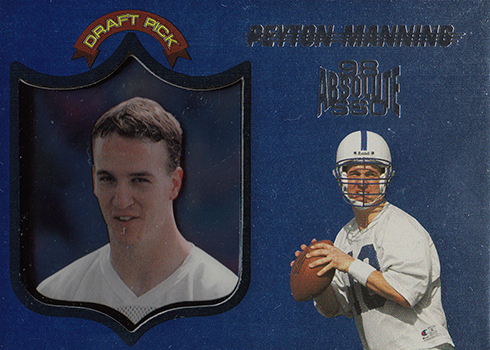 13. 1998 Ultra Peyton Manning RC #201
This is another card that centers on photography over anything else. And even though Manning is shown in his Tennessee uniform, it's more valuable than Stadium Club. The reason? Rookies are short prints in 1998 Ultra Football (1:3 packs). Although Manning's rookie card comes in Series 1, he's also in Series 2 wearing his Colts gear. Even though this second card doesn't have the RC tag, it's worth similar amounts. Both the Series 1 and 2 cards have Gold Medallion, Platinum Medallion (/66) and Masterpiece (1/1) parallels.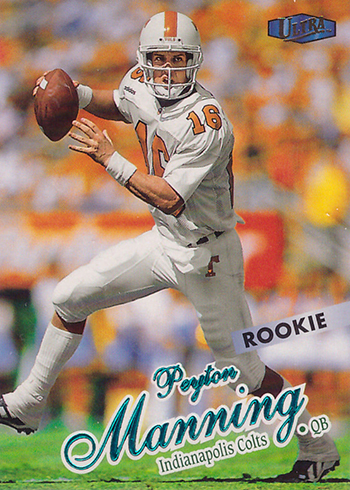 12. 1998 Black Diamond Peyton Manning RC #91
Black Diamond lasted a lot longer in hockey than in any other sport. Even though it never fully caught on in football, it doesn't take away from the etched-foil aesthetics. The brand found solid success when it started to tier rookies with short prints. In 1998 Black Diamond Football, the double, triple and quad diamond cards were all parallels. This likely took away from the long-term possibilities of this card. Even still, it ranks among the more coveted Peyton Manning rookie cards.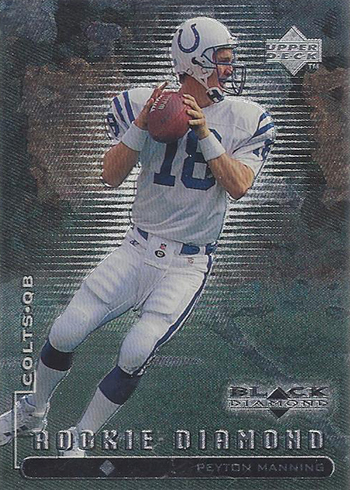 11. 1998 Upper Deck Encore Peyton Manning RC #1
This card is virtually identical to Manning's basic Upper Deck rookie. Actually, it is except for the rainbow finish on the front and the addition of the Encore logo. That was the theme of 1998 Upper Deck Encore. The card has held up well among Manning's 1998 base cards. The value is definitely helped by the fact that rookies are short prints with one in every four packs.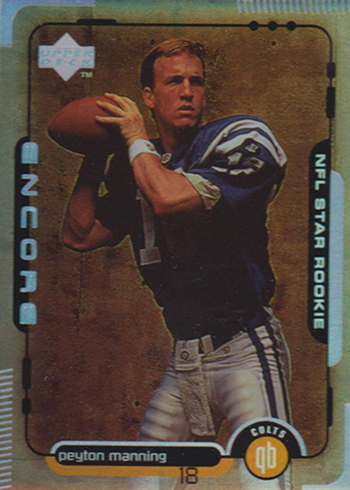 10. 1998 Finest Peyton Manning RC #121
Although Finest lost some of its steam when similar brands like Topps Chrome came along, at this point, it was still considered one of the hobby's powerhouse premium brands. Included in Series 1, the card relies heavily on the metal-like stock for the overall look. This set came out when Topps and other companies were experimenting with protective film on top of cards to help maintain their condition. But it's that condition that's more important to most collectors rather than whether the protector is still in place.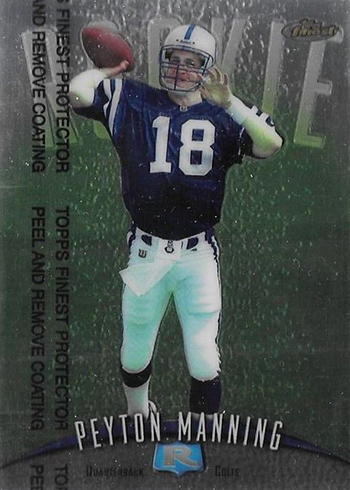 9. 1998 Bowman's Best Peyton Manning RC #112
This is not a card that will put you to sleep. One of the busier Peyton Manning rookie cards, it has chromium-style stock, lots of lines, boxes and text going in a couple of different directions. Bowman's Best never really caught on in football so most would probably consider it somewhat overlooked among his upper-tier rookies. What they product does have is several high-end cards of Manning like a tough Atomic Refractor, an autograph and a few parallel autographs.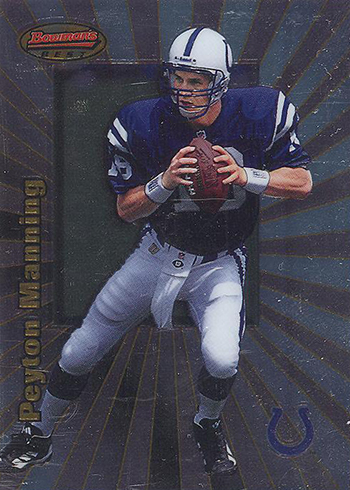 8. 1998 SkyBox Premium Peyton Manning RC #231
Manning's 1998 SkyBox Premium card doesn't use a lot of flash to standout. It's as simple as photo choice. Going the studio portrait route, it's one of the few cards where the quarterback's few cards where he's directly engaging the camera. There are other posed shots, but they have the feel that everyone's trying to pretend like the camera's not there. This is also a short print with rookies falling every fourth pack.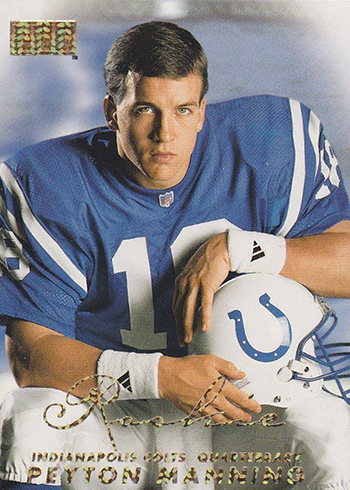 7. 1998 Upper Deck Peyton Manning RC #1
Sometimes you don't need to be fancy to be popular. Such is the case with the 1998 Upper Deck Peyton Manning rookie card. Some other brands from the card maker may have had a more premium pedigree that year, but the enduring popularity of the flagship release gives this one more broad appeal. The fact that it's a short print certainly helps matters too.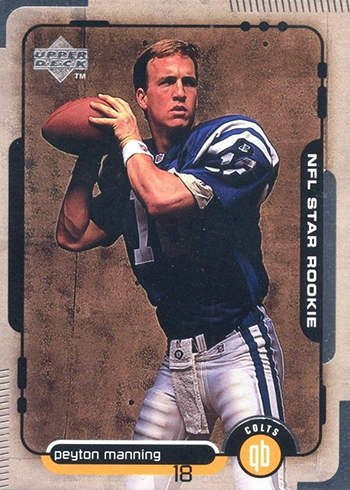 6. 1998 Playoff Momentum Hobby Peyton Manning RC #98
Etched foil was around a fair bit in the late 1990s. Whether it's a base set or an insert, most of the time you only found it on the front of the card. 1998 Playoff Momentum Football took it to both sides to give the hobby version of the product a more premium touch that you don't see very often. A Red parallel is fairly common comparatively. There's also a Gold version numbered to 25.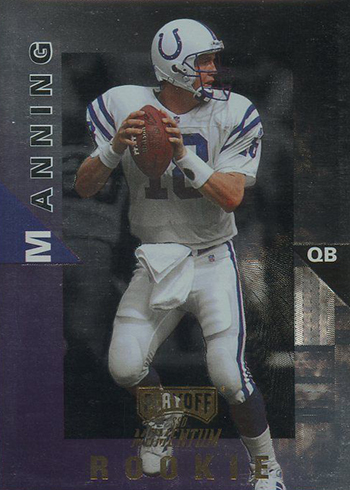 5. 1998 Leaf Rookies and Stars Peyton Manning RC #233
For a short time, the Leaf Rookies and Stars brand was synonymous with short printed rookies. The impact was felt more in baseball and this is far from the only set to have short prints, but the sheer number of them made finding a Manning challenging if you were going about it busting packs. Finding a short print in 1998 Leaf Rookies and Stars Football was easy. They landed every other pack. However, with 100 short prints, you'd need a minimum of 200 packs with zero doubles to get them all. The card has a three parallels: True Blue (/500), Longevity (/50) and Longevity Holofoil (1/1). Manning is also part of the short printed Power Tools subset.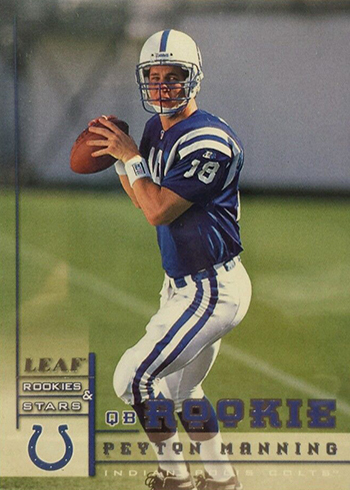 4. 1998 Bowman Chrome Peyton Manning RC #1
By this time, Topps was starting to tap more into the popularity of Chrome and expand the name beyond just Topps. Standard with most Bowman Chrome releases, this card mimics its regular Bowman counterpart. And like virtually every Bowman Chrome card, it's also more valuable and has a Refractor parallel.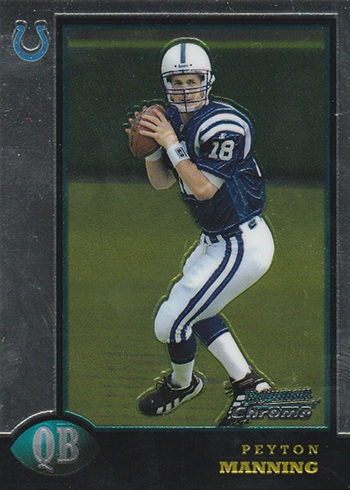 3. 1998 Topps Chrome Peyton Manning RC #165
Even when autographs weren't a big focus and the Refractor rainbow was limited to just Refractors, Topps Chrome was among football's elite. But the hobby was also in a different era. Serial numbers were still most relegated to inserts. While 1998 Topps Chrome Football was popular out of the gate, the brand's enduring status has helped maintain its place as the home of one of the most valuable Peyton Manning rookie cards. Understandably, the Refractor carries more clout than the base version. And while getting up there in price, it might not be as much as you might expect.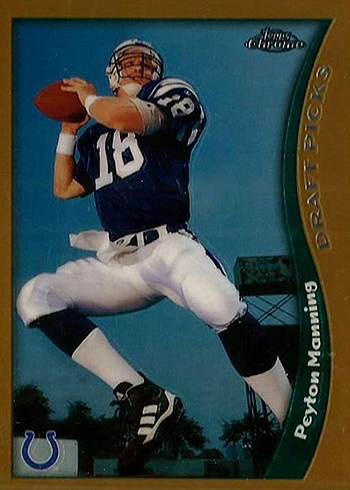 2. 1998 SPx Finite Peyton Manning RC #181 /1998
Finite indeed. When it comes to serial-numbered Peyton Manning rookie cards, 1998 SPx Finite Football is the rarest. Even though there are only two Manning rookies that are numbered, this is still significant. At the time, this was considered the high end of the hobby. The rookie card is found in Series 1 packs. It has a Randiance parallel numbered to 50 and somewhere out there is a one-of-one Spectrum parallel. Manning also has a couple more cards that were included in Series 2. And 1998 SPx Finite has Manning's rarest card to carry the RC tag, it's not the most valuable.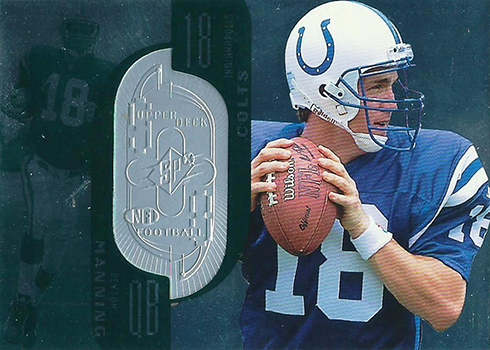 1. 1998 SP Authentic Peyton Manning RC #14 /2000
A rookie card today numbered to 2,000 would probably be largely ignored outside of being a step up from a base-level product. In 1998, it not only indicated extreme rarity but made for cornerstone cards. Yes, the 1998 SP Authentic Peyton Manning rookie card has two more copies than his SPx Finte. Yet, it's worth several times as much. That's in large part because of the staying power the brand had attracting several types of collectors. And let's face it, it's a beautiful card.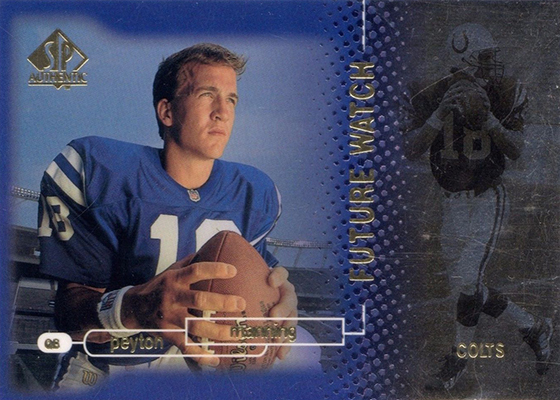 While the 1998 SP Authentic Peyton Manning is his most valuable rookie card as far as RC tags go, we must note one more card that's even more valuable.
0. 1998 Playoff Contenders Ticket Autograph Peyton Manning #87
Okay, way back at the top of the article, we mentioned that only Peyton Manning cards with the RC tag have been included. That's not entirely true. Manning is an exceptional player and sometimes life needs exceptions. This is one of them. The 1998 Playoff Contenders Peyton Manning Ticket Autograph doesn't have the RC tag in the Beckett database. 1998 Playoff Contenders Football is a product that has no clear base set, particularly back then when the brand didn't have the identity and history it now has. It's made up of several insert sets. At the time, it was pushing the limits of tradition.
But over time, this has been embraced as the most important Peyton Manning card from his rookie year. And there's no debate about that. Cards don't always need labels to be desirable.
The 1998 Playoff Contenders Tickets aren't serial numbered. However, the card maker did eventually release print runs and Manning is limited to 200 copies. Back then, that was a minuscule amount. Combine that with the signature and the popularity Contenders went on to have as a brand and you've got the makings of a card that sells for thousands.
Collectors should watch for a couple of things with the signatures. Today, some are fading. If you're looking online, be sure to look at a large image. But that should be true for just about anything, especially when the price tag is so high. Also, several of the unsigned Red parallels have been signed after the fact. That's great, but the appeal shouldn't be the same as the original cards.