Most Valuable Tom Brady Rookie Card Rankings
When you click on links to various merchants on this site, like eBay, and make a purchase, this can result in this site earning a commission.
Every Tom Brady Rookie Card is valuable today. And while all are good, they're not all necessarily equal. Print runs, brands, autographs and even the jersey Brady's wearing all contribute to how they're received on the secondary market today.
If you're looking to chase down every Tom Brady Rookie Card, be warned. There are a lot of them. Forty-four to be exact, which doesn't take into account the other inserts and parallels that are out there.
The hobby was in a different place in 2000. Six manufacturers had an NFL license that year. And while some of them didn't included Tom Brady in many of their sets (he was an under-the-radar prospect with low expectations), others produced several Rookie Cards of the star. The result? A lot of variety and choices.
Even as we now debate his place in history either as the best quarterback of all-time or somewhere close to it, there's still a big difference in the prices some TomBrady Rookie Cards fetch versus others. The days of finding a cheap Tom Brady Rookie Card are gone. You missed out by about three Super Bowls. But some are still moderately affordable for most budgets. Others, though, fetch thousands. Most are somewhere in between.
Tom Brady Rookie Card Rankings – What's the Most Valuable?
The following list of Tom Brady Rookie Cards is based on values in the Beckett Football Card Price Guide and Database. Only cards with the RC designation are included, not inserts and parallels.
1. 2000 Playoff Contenders Tom Brady Rookie Card Autograph #144
Tom Brady has 13 different autograph cards from 2000. Only one of them is a Rookie Card. Needless to say, the 2000 Playoff Contenders Tom Brady Rookie Card is a big one. While most of these on the secondary market have been graded, there are a couple of things to look for to help avoid fakes.
The autograph isn't the lone factor in this card's popularity and iconic status. Contenders remains a benchmark release for football where not all of the regular rules apply. The brand is a major part of the draw.
Besides the base version, there's also a Championship Ticket parallel numbered to 100 that's also signed. A BGS 8 copy of the card sold for $1.32 million in March, 2021.
Parallels: Championship Ticket (/100)
Buy on: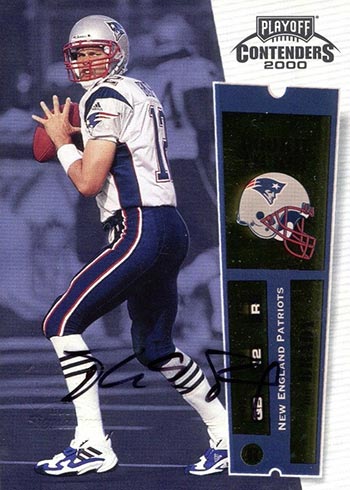 2. 2000 SP Authentic Tom Brady Rookie Card #118 /1250
Sometimes it's really easy to define a card's popularity and value. Other times, it's not. A card is simply popular because it's popular. That may be simplifying the 2000 SP Authentic Tom Brady Rookie Card a little. Its print run of 1,250 copies makes it rare but several cards have print runs a fraction of that. It's not autographed like Contenders. And yet, here it is, one of the most iconic football cards of all-time.
This is another card where brand matters. Before autographs and memorabilia took over, SP Authentic was positioned as the premium brand in the hobby. And it was firmly established in that regard as well. Those chasing Rookies bought it. A lot of collectors went after complete sets. And then team and player collectors look for a seat at the table. So while it doesn't make sense, the popularity of this card makes perfect sense. Demand, meet supply.
Buy on: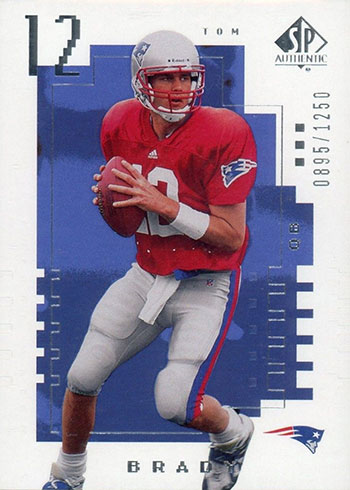 3. 2000 Leaf Limited Tom Brady Rookie Card #378 /350
If you break the 2000 Leaf Limited Football base set down, it has a somewhat confusing tiered structure. But what's important here is the fact that the Brady has just 350 copies. This puts the quarterback in the rarest group for the product. The premium foil card is also one of the rarest Tom Brady Rookie Cards, period.
Parallels: Limited Series (/50)
Buy on: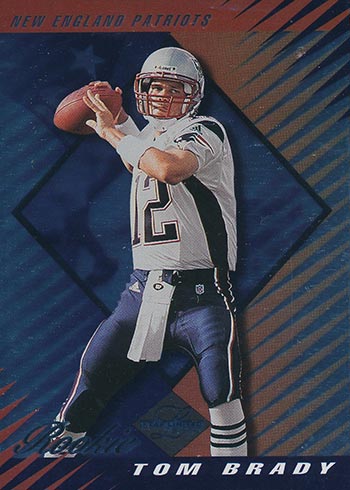 4. 2000 SPx Tom Brady Rookie Card #130 /1350
With holograms a couple years removed and even a lot of the foil, 2000 SPx Football shows a brand in transition. Autographed jersey cards were a big part of that evolution. But Brady wasn't positioned to be an impact rookie in most eyes back then. Therefore, he's in a group of players who simply have serial numbered cards and not a lot of other bells and whistles. That hasn't hurt the card at all as it's still one of the most valuable Tom Brady Rookie Cards.
Parallels: Spectrum (/25)
Buy on: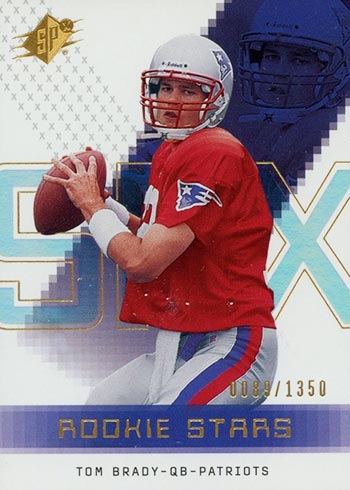 5. 2000 Revolution Tom Brady Rookie Card #128 /300
At 300 copies, the 2000 Revolution Tom Brady Rookie Card has only a few more copies than Private Stock Hobby. However, Revolution doesn't have any parallels to go with it. So that small print run isn't watered down in any form. But no matter how you define it or look at things, this is an exceptionally rare Rookie Card made, especially when you look at the time in which it was released.
Buy on: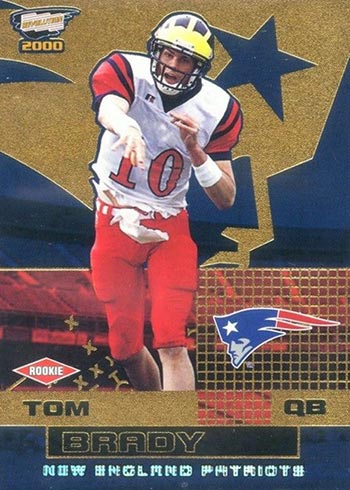 6. 2000 Playoff Momentum Tom Brady Rookie Card #180 /750
2000 Playoff Momentum was one of the company's more premium lines that year. And the Brady looks the part with a distinct etched foil design. Today, that might not scream premium. But this was a time when rookie autographs and memorabilia cards weren't as prevalent and card companies had to take a different approach to help their base sets stand out.
Parallels: X's (/199), O's (/60)
Buy on: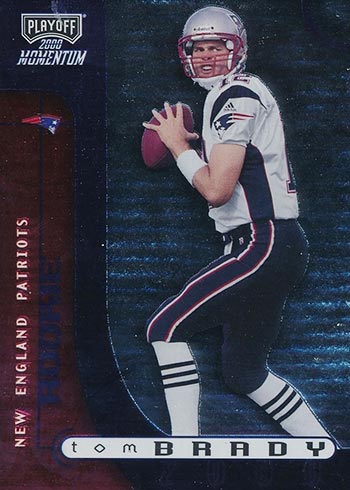 7. 2000 Upper Deck Pros and Prospects Tom Brady RC #124 /1000
There's no mistaking which company made this card. The design is instantly recognizable, maybe not for the brand but being Upper Deck. The foil outlines, multi-directional text and overall tech-focused look were all hallmarks for the company at the time. As for this card in particular, the print run of 1,000 copies makes it the manufacturer's rarest Tom Brady Rookie Card.
Buy on: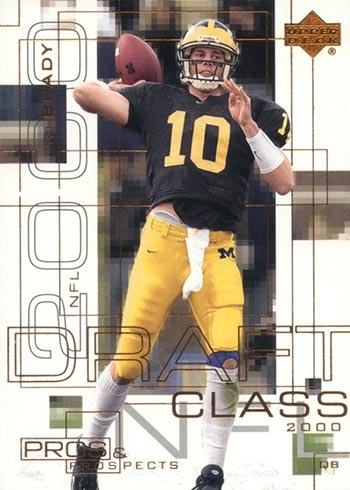 8. 2000 UD Graded Tom Brady RC #104 /1325
As you might expect by the set's name, 2000 UD Graded was a product that focused heavily on offering cards that had been graded in advance. So while the Tom Brady card is numbered to 1325, 855 of those were included in packs in SGC slabs. The cases for the pre-graded cards have a blue ribbon along the top of the SGC label instead of the company's usual green.
Buy on: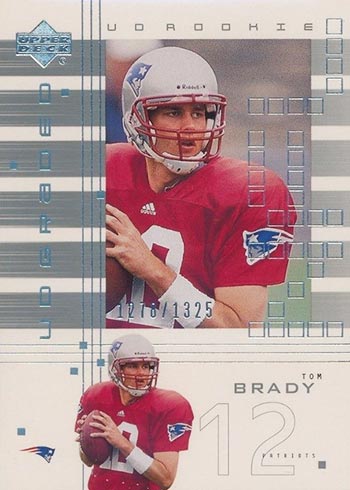 9. 2000 Bowman Chrome Tom Brady Rookie Card #236
Print runs are important when it comes to a modern card's value, but they're not the only factor. The 2000 Bowman Chrome Tom Brady Rookie Card is one of his most valuable. That said, it's not particularly high-end and it's not numbered. So why is it so popular? It's his only chromium-style card for starters. As far as football card styles go, Chrome is a juggernaut most years. This is also one of only two Tom Brady Rookie Cards released by Topps. That concentrates a lot of the interest from the company's fans in a small number of places.
And what would Bowman Chrome be without its Refractors. The 2000 Bowman Chrome Refractor Tom Brady doesn't come in a lot of colors like later sets would have. Still, its lone parallel is extremely popular today, even without a serial number.
Parallels: Refractors
Buy on: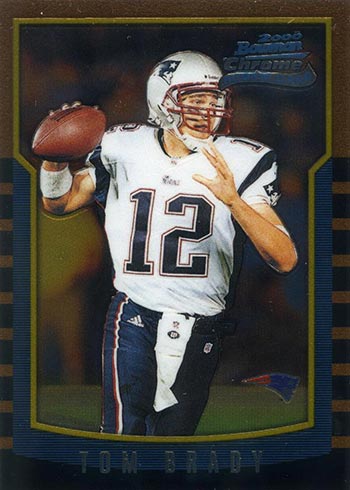 10. 2000 Vanguard Tom Brady RC #139 /762
Pacific marketed 2000 Vanguard Football as using "Vision-Glow Technology." What that is exactly, is anybody's guess but it looks cool and Brady pops off the card. Coming towards the end of Pacific's run in most sports, the brand didn't get many releases. And while it's largely overlooked now as far as a line goes, that doesn't mean it's not worth consideration. The fact that the card has 762 copies also helps its standing and value.
Parallels: Proofs (1/1)
Buy on: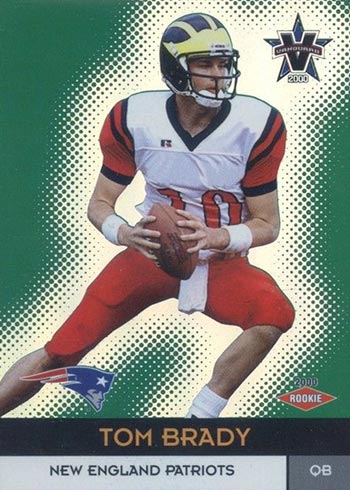 11. 2000 Leaf Certified Tom Brady RC #207 /1500
As far as appearances go, this is one of the busiest Tom Brady Rookie Cards. The borders have stripes, the center radiates out, the colors are numerous — it's certainly tough to ignore. It's a design that will appeal to some but probably not all, which is never a bad thing. At 1,500 copies, it's not exactly plentiful either.
Parallels: Mirror Red, Rookie Die Cuts (/250), Mirror Gold (/35)
Buy on: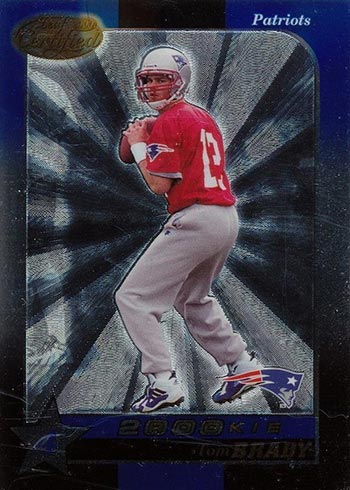 12. 2000 Fleer Showcase Tom Brady RC #136 /2000
In case you wanted a Tom Brady Rookie Card to have a staring contest with, 2000 Fleer Showcase is definitely the one. Printed on holographic foil, it's bright. There's not much to the background, though other than the eyes on the horizon. As a result, there's a lot of empty space — a design element that wasn't used a lot back then.
Parallels: Legacy (/20), Masterpiece (1/1)
Buy on: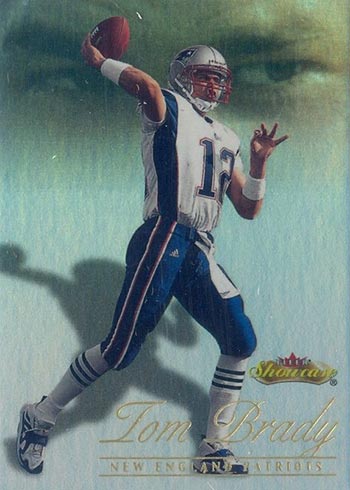 13. 2000 UD Ionix Tom Brady RC #77 /2000
2000 UD Ionix was originally released as a retail-only product. It has lots going on including foil, plenty of colors that don't necessarily match and a print run of 2000 copies. Even though Ionix was a long-lasting line, all of Upper Deck's sets have held up well next to comparable cards from many other manufacturers.
Buy on: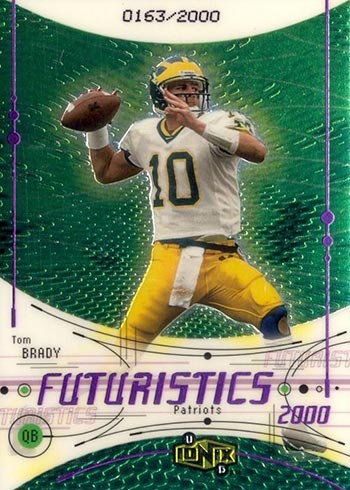 14. 2000 Pacific Prism Prospects Tom Brady RC #156 /1000
Pacific was never one to shy away from distinct designs and materials. 2000 Pacific Prism Prospects is one of their brightest. Sequentially numbered to 1000, it's also among the rarest.
Buy on: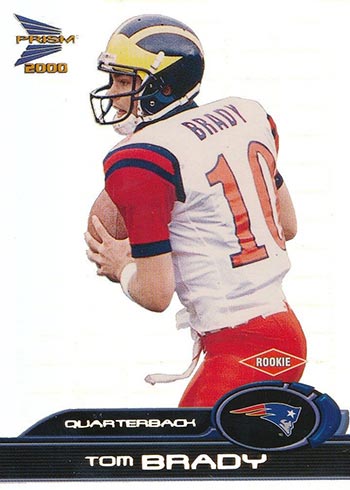 15. 2000 Collector's Edge Supreme Tom Brady RC #176 /2000
If you recently joined the hobby, the name Collector's Edge might not ring a bell. Established during the boom of the 1990s, 2000 was their final year in operation. The Tom Brady Rookie in 2000 Supreme comes numbered to 2000 copies. It's also got a pretty busy and colorful. The Hologold parallel is one of the rarest cards from Brady's rookie season, limited to just 20 copies.
Parallels: Hologold (/20)
Buy on: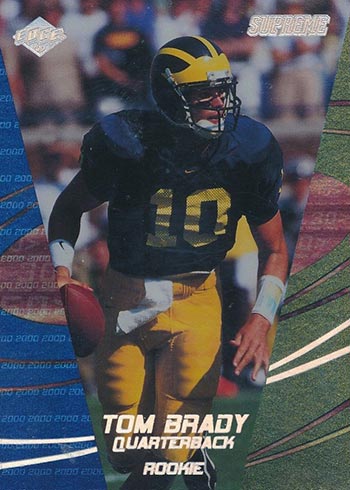 16. 2000 E-X Tom Brady RC #122 /1500
As far as Fleer product go, 2000 E-X has the most valuable Tom Brady Rookie Card. Numbered to 1500, it uses a mix of materials to create a instantly recognizable modern design. And as popular as the base version is, the Essential Credentials parallel is one of the top early Tom Brady cards, period. Having just 25 copies is a big part of that, but there is also a lot of history with the line in both football and other sports.
Parallels: Essential Credentials (/25)
Buy on: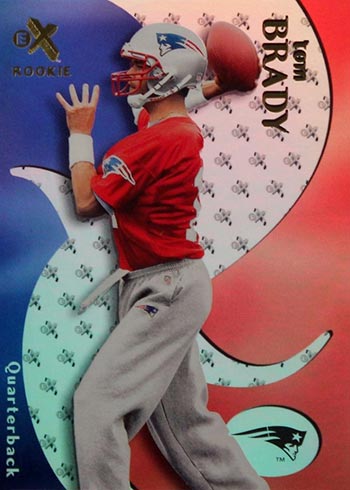 17. 2000 Black Diamond Tom Brady RC #126 /2400
Foil and a slightly more edgy design are what's instantly recognizable by the 2000 Black Diamond Tom Brady Rookie Card. Made by Upper Deck, it's numbered to 2400 copies. This puts it among the more plentiful of his numbered Rookies. Still, that added mark certainly adds to its standing.
Parallels: Gold (/500)
Buy on: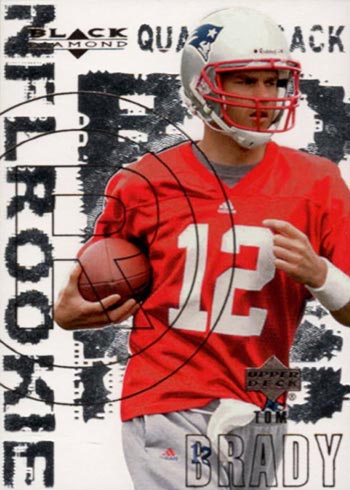 18. 2000 Donruss Elite Tom Brady Rookie Card #183 /2000
The serial number might say the 2000 Donruss Elite Tom Brady RC has 2000 copies. In actuality, the base version has just 1,500. That's because the first 500 are Die-Cut parallels. Although done in foil, it's a lot more bold and brighter than a lot of other Elite sets, making for a more attractive card.
Parallels: Rookie Die-Cuts (/2000 but only 500 exist), Aspirations (/90), Status (/10)
Buy on: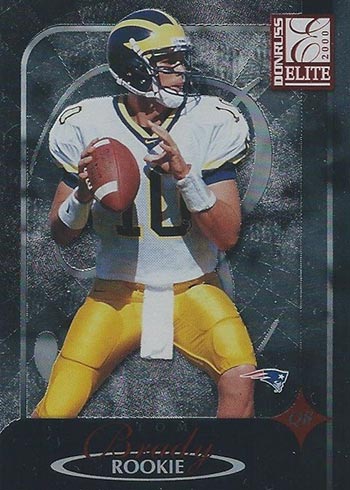 19. 2000 Upper Deck Gold Reserve Tom Brady RC #215 /2500
2000 Upper Deck Gold Reserve Football is another product that was aimed primarily at the retail market. It has a lot going on with the design, although all the various elements tie into the gold theme. The fact that this card is more valuable that some other Tom Brady Rookie Cards that have significantly smaller print runs is a testament to how well many of Upper Deck's sets have held up over the years.
Buy on: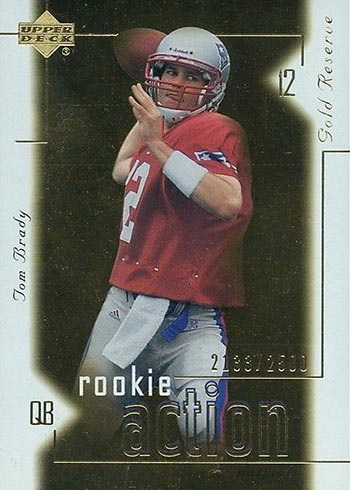 20. 2000 Fleer Mystique Tom Brady RC #103 /2000
Mystique was one of Fleer's more higher-end leaning lines in 2000. Like all cards in the product, they originally came with a covering that had to be peeled off to fully reveal the card. Like all Rookie Cards in the product, the Tom Brady is numbered to 2000.
Parallels: Gold, Masterpiece (1/1)
Buy on: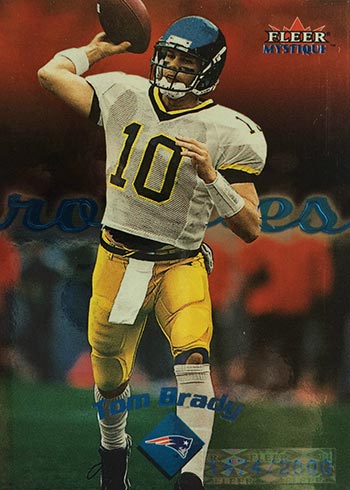 21. 2000 Ultimate Victory Tom Brady RC #146 /2000
The 2000 Ultimate Victory Tom Brady is, in most regards, the same as his regular Upper Deck Victory card. However, there are a couple of differences. The first is the use of foil and slightly more premium nature of the brand. Even more important is the serial number, which comes in at 2000.
Parallels: Parallel, Parallel 100 (/100), Parallel 25 (/25)
Buy on: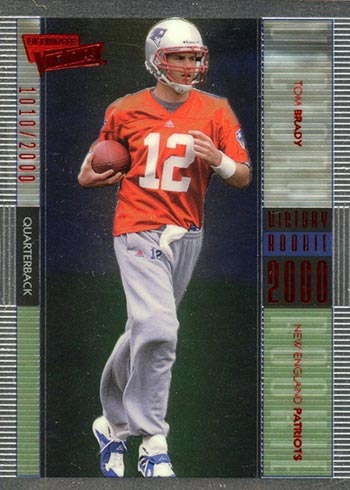 22. 2000 Bowman Tom Brady RC #236
A lot of card companies were making football cards in 2000. Most have several Tom Brady Rookie Cards. Topps does not. 2000 Bowman Football is one of just two sets from the card maker to have a first-year card of the quarterback. So even without a high-end look or any sort of additional elements normally found on premium cards, this one holds up quite well.
Parallels: ROY Promotion, Gold (/99)
Buy on: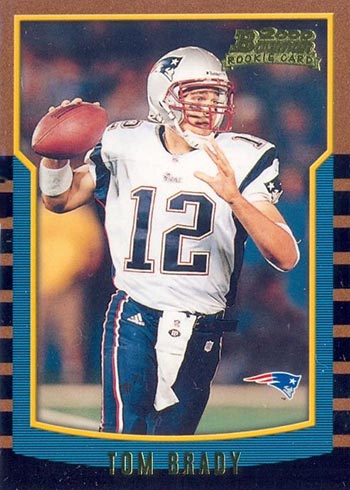 23. 2000 Leaf Rookies & Stars Tom Brady Rookie Card #134 /1000
And you thought 2000 Donruss Football's 100 Rookie Cards at 1,325 copies each was tough. 2000 Leaf Rookies & Stars Football has a Rookie subset that's 160-carrds deep. Each has 1,000 copies. So while this Tom Brady Rookie Card isn't particularly fancy, its popularity stems from its rarity and the fact that the product has a mix of set collectors and Brady fans chasing it.
Parallels: Longevity (/30)
Buy on: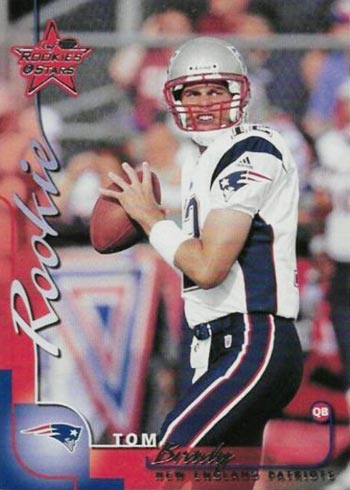 24. 2000 Pacific Omega Tom Brady RC #191 /500
At 500 copies, this is one of the rarest Tom Brady Rookie Cards. It's a common theme with many of Pacific's sets that year. It lacks pop in on the design front save for the small etched foil portrait at the bottom. Brady appears a second time in the 2000 Pacific Omega base set, this time on a dual prospect card with Chris Redman. It is also numbered to 500 but not nearly as valuable.
Buy on: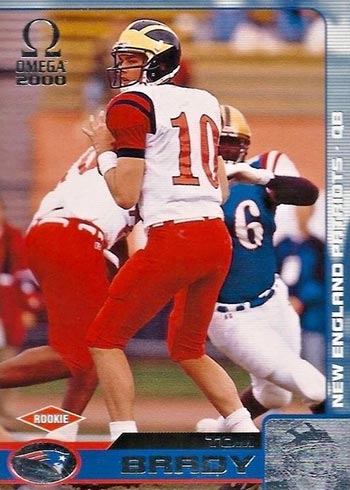 25. 2000 Private Stock Retail Tom Brady RC #128 /650
Like Crown Royale, Pacific released separate hobby and retail versions of 2000 Private Stock. Both are printed on canvas-style card stock and both have images that have been run through a filter to make them look a little more artistic. The retail version uses silver foil on the front rather than hobby's gold. With 650 copies, the retail version is more plentiful and more affordable.
Buy on: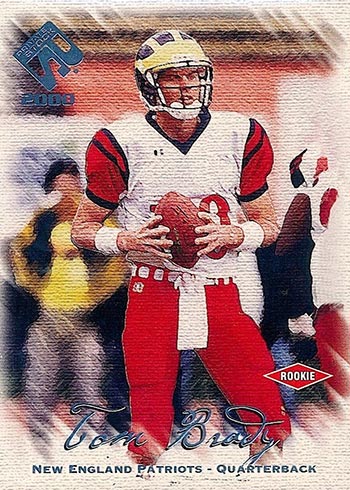 26. 2000 Private Stock Tom Brady RC #128 /278
Not much is different from the retail version of this card. The gold foil on the front is the giveaway there. On the back, the print run gives the card its value. In fact, at 278 copies, it's the rarest Tom Brady Rookie Card with a known print run. So why isn't it worth more? A big reason is likely the near-identical retail version that adds another 650 copies to the mix not to mention other parallels that have fair-sized print runs. So, yes, this particular version of the card is tough. But when you pool them all together, it's not nearly as scarce.
Parallels: Silver (/330), Gold (/181), Premiere Date (/95)
Buy on: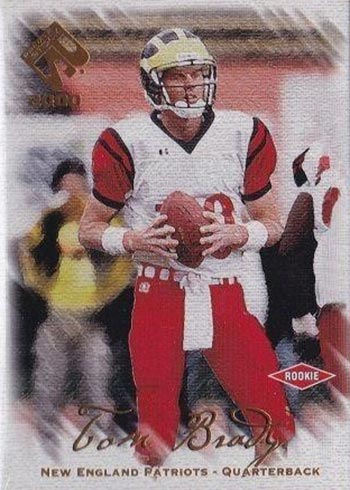 27. 2000 Donruss Tom Brady RC #230 /1325
Normally when you think of base Donruss, you think of a flagship-style product with a wide reach that appeals to a lot of collecting bases. 2000 Donruss Football is no different other than the fact they made it tough on set builders. Rookies, like Brady, come numbered to 1325. That in itself makes it one of his rarer first-year cards. Combine what with the fact that the set has 100 rookies and demand from several fronts and you've got a recipe for a card that's worth more than you'd probably expect.
Parallels: Stat Line Career (/214), Stat Line Season (/20)
Buy on: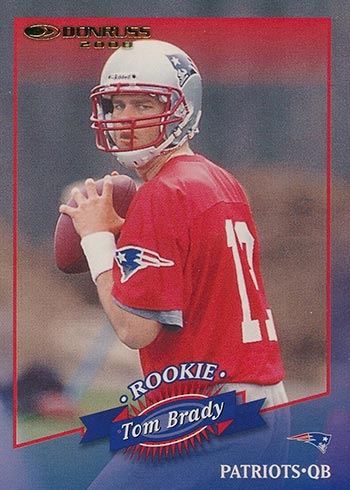 28. 2000 Metal Tom Brady Rookie Card #267
Over the years, Metal was known for having some wild designs. The 2000 Metal Tom Brady — not so much. Yes, it's bold and tough to miss, but it's a far cry from the crazy stuff the brand was using a couple of years earlier. The card is one of 50 horizontal Rare Metal Rookies that are relative short prints in the product. One is included every other pack. The card's emerald parallel can be spotted easily as it has green along the top.
Parallels: Emerald
Buy on: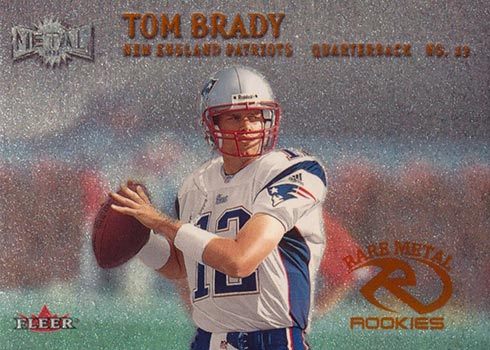 29. 2000 Playoff Prestige Tom Brady RC #286 /2500
The Prestige brand continues to live on but not in the same fashion as it did in 2000 when Brady was entering the NFL. Today, Prestige stresses photography and bright card stock. This card is anything but, instead opting for a dark foil background similar to what was used with the Elite brand for many years. The card is serial numbered to 2500.
Parallels: Spectrum Red (/100), Spectrum Green (/25)
Buy on: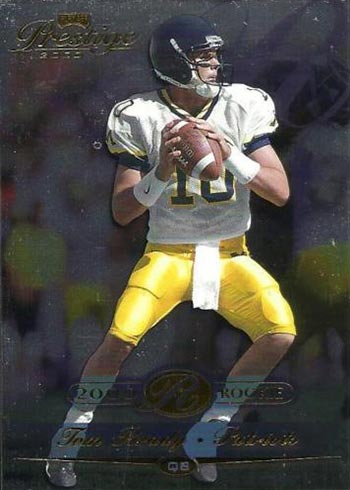 30. 2000 Absolute Tom Brady RC #195 /3000
A lot of Absolute's brand identity is closely connected with memorabilia. That's not the case here. However, it is numbered to 3000. That's not rare, but it does make it that little bit more desirable and valuable.
Parallels: Coaches Honors (/300), Players Honors (/10)
Buy on: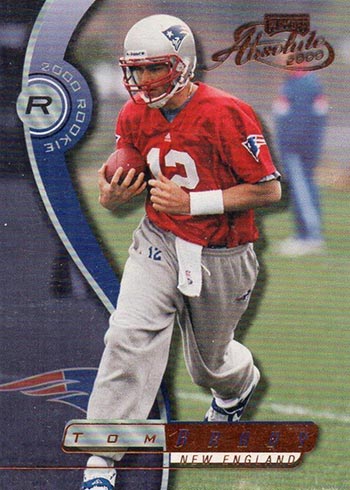 31. 2000 Upper Deck Tom Brady Rookie Card #254
The 2000 Upper Deck Tom Brady Rookie Card doesn't have a lot of energy. The track pants are somewhat symbolic in that regard. The Star Rookie subset here is a rarity for a flagship Upper Deck product — there's not much space dedicated to the image. Still it's part of the main Upper Deck set so that means something as the appeal goes beyond just single-card collectors. Star Rookies are short prints as well, landing 1:4 packs.
Parallels: Exclusives Silver (/100), Exclusives Gold (/25)
Buy on: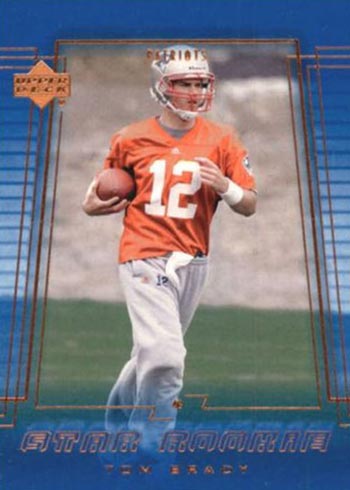 32. 2000 Upper Deck Encore Tom Brady RC #254
2000 Upper Deck Encore helped the card maker gets some legs out of its flagship design. The design here is the same as the 2000 Upper Deck Tom Brady Star Rookies card only with slightly different stock and coloring. Rookies are fairly tough to pull. The checklist has 45 of them with one landing every sixth pack (four per box).
Buy on: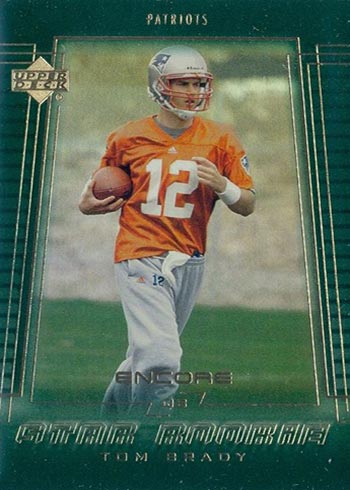 33. 2000 Pacific Tom Brady Rookie Card #403
Speaking of generic, the 2000 Pacific Tom Brady doesn't make any mention of the New England Patriots. His college accomplishments are mentioned, though. With Pacific largely forgotten, particularly as a flagship release, this one doesn't offer a lot of dynamics and is definitely one of the more affordable Tom Brady Rookie Cards.
Parallels: Draft Picks (/999), Platinum Blue Draft Picks (/399), Autographs (Print Run: 200), Gold (/199), Premiere Date (/78), Copper (/75)
Buy on: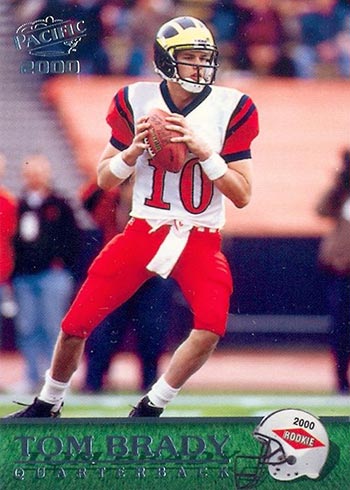 34. 2000 Crown Royale Tom Brady RC #110
The die-cut crown shape is, obviously, the most notable thing about this card. For a long time, it was the defining mark of the brand. Some love it, others are indifferent. Either way, it's easy to notice. The gold backdrop inside the crown is the easiest way to tell it apart from the hobby version. It is a short print compared to veterans, but not by a lot so it doesn't make a huge difference in its value.
Parallels: Autographs, Draft Picks (/499), Premiere Date (/145), Limited Series (/144)
Buy on: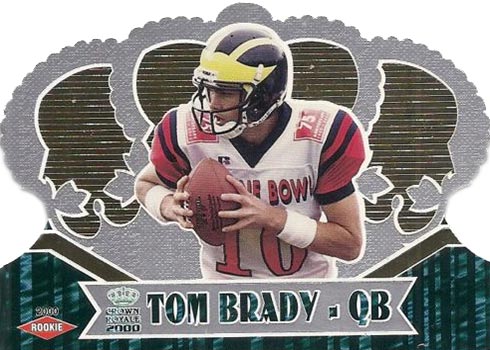 35. 2000 Quantum Leaf Tom Brady Rookie Card #343
The 2000 Quantum Leaf Tom Brady Rookie Card ups the style a little bit. The holographic background gives it some shine. First-year players are inserted every other pack. However, even if they are short prints, it's not by much compared to veteran base cards.
Parallels: Infinity Green (/75), Infinity Red (/35), Infinity Purple (/15)
Buy on: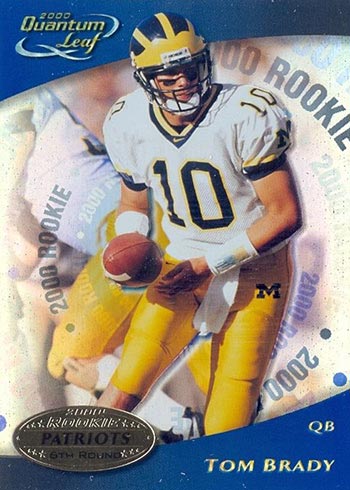 36. 2000 Crown Royale Retail Tom Brady RC #110
Pacific delivered 2000 Crown Royale with separate releases for hobby and retail. Both are virtually identical except retail has red in the background of the crown. This may actually be a bit of a sleeper as far as Tom Brady Rookie Cards go. Because retail versions are often overlooked or looked down upon compared to their hobby counterparts. But if you go looking for this copy, the retail one, it's significantly tougher to find on the secondary market.
Buy on: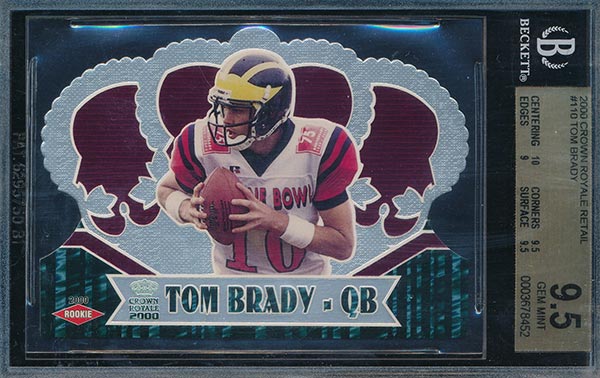 37. 2000 Ultra Tom Brady Rookie Card #234
When the Ultra brand debuted in the early 1990s, it was considered to be Fleer's answer to premium designs. By the time Tom Brady made his NFL debut, its gloss was common across most sets and others had far surpassed it.
This card has a bright and sharp photo, although the lack of NFL and NCAA marks makes it a little generic. As Brady's accolades continue to pile up, the Platinum Medallion parallel, which has just 25 copies (it came out at a time when print runs that low were legitimately tough to pull), has seen even higher surges.
The 2000 Ultra Tom Brady RC is a short print. It's one of 29 rookies that fall 1:4 packs.
Parallels: Gold Medallion, Platinum Medallion (/25), Masterpiece (1/1)
Buy on: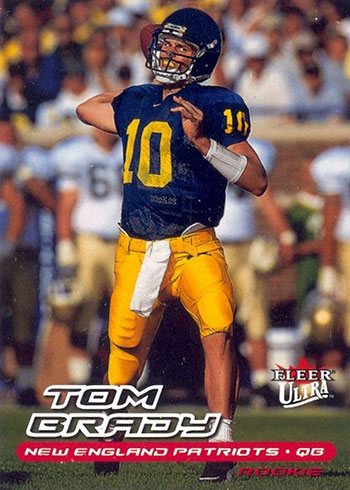 38. 2000 Upper Deck Victory Tom Brady Rookie Card #326
Victory was an entry-level product for Upper Deck that originally carried a suggested price tag of a meager $0.99 per pack. With a potential Tom Brady Rookie Card lurking inside, those days are likely long gone. But that lower price tag may have actually helped it a little today. It made Victory open to a wider base of collectors. And with just one of 60 Victory Rookie cards per pack, there could still be a little demand from set builders as well as those looking for a slightly cheaper Brady.
Buy on: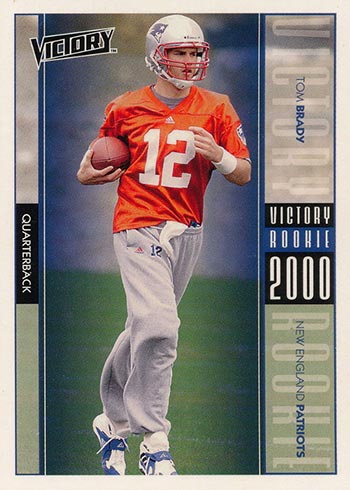 39. 2000 Score Tom Brady Rookie Card 316
As far as basic Tom Brady Rookie Cards go, 2000 Score is one of the loudest. The red of the border may clash with the yellow of his jersey, but it certainly stands out. Score also has an established presence and history in the hobby, something that adds a bit to the card's reception today.
Parallels: Scorecard (/2000), Final Score (/32)
Buy on: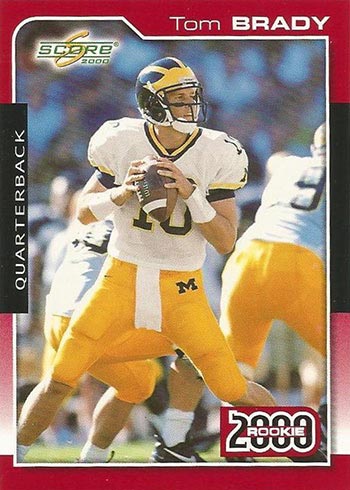 40. 2000 Paramount Tom Brady Rookie Card #138
In a lot of ways, the 2000 Paramount is similar to the flagship Pacific card. This one has a little more design involved versus the full-bleed action focus. The design elements help this card stand out a little more. The team nod is a plus as well.
Parallels: Draft Picks (/325), HoloGold (/130), HoloSilver (/85), Premiere Date (/79), Platinum Blue (/75)
Buy on: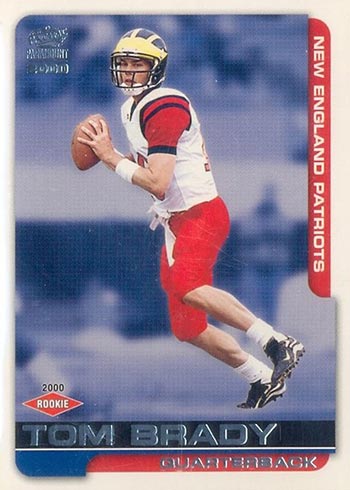 41. 2000 Impact Tom Brady Rookie Card #27
2000 Impact was an entry-level product that carried an original price tag of $0.99. That helps explain why it isn't worth a lot today compared to most of Brady's other first cards. And while it does mention the Patriots and include their logo, the visual on the quarterback are college colors with no logos.
Buy on: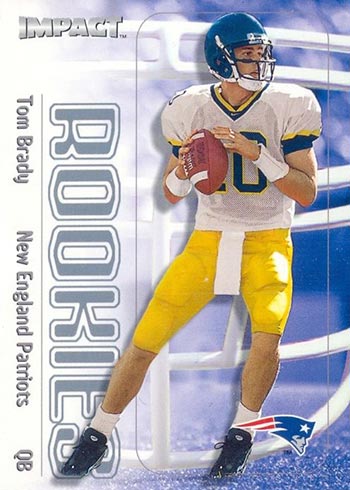 42. 2000 Aurora Tom Brady Rookie Card #84
Pacific made some wild sets over the years. Although certainly busy, the 2000 Aurora Tom Brady Rookie Card is somewhat subdued. The card comes from one of the company's cheaper products. The generic colors in the main portrait add a generic blandness, an issue that's not limited to this card.
Parallel: Premiere Date (/85)
Buy on: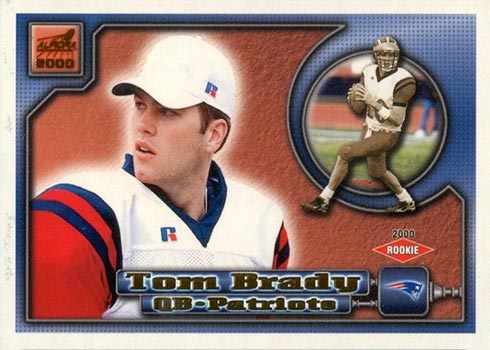 43. 2000 SkyBox Dominion Tom Brady/Giovanni Carmazzi RC #234
It's a similar story for the 2000 SkyBox Dominion Tom Brady Rookie Card. He appears alongside Giovanni Carmazzi — and in a generic uniform to boot. While Brady has gone on to be a legend, Carmazzi never threw an NFL touchdown and went on to become a goat farmer not long after.
Parallels: Extra
Buy on: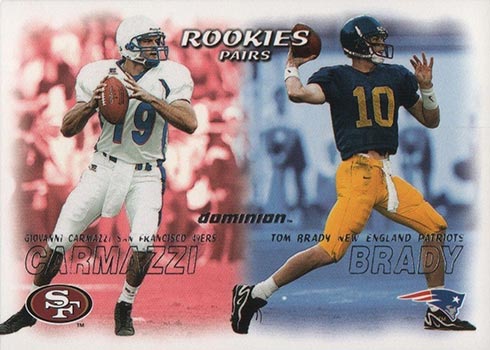 44. 2000 Fleer Tradition Tom Brady/David Stachelski RC #352
Multi-player Rookie Cards rarely work out in the end. Yes, 2000 Fleer Tradition does have Tom Brady but they paired him with Dave Stachelski, a tight end who played a total of nine games in his NFL career, none of which were with the Patriots. But for those with a tight budget, perhaps it's a good thing Stachelski is there as it drags the value down.
Parallels: Glossy, Glossy 2001 National (1/1)
Buy on: