1951 Topps by Blake Jamieson Baseball Checklist and Details
It might not get as much love and attention as the 1952 set but 1951 Topps Baseball is still an important release. It has been reinterpreted a few times in recent years, but nothing like 1951 Topps by Blake Jamieson.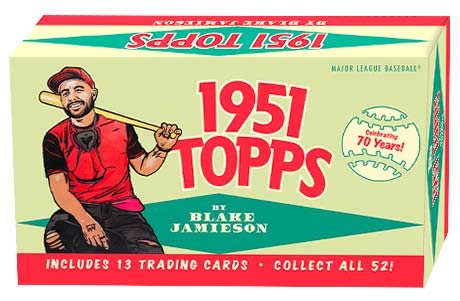 The online release takes the foundation of the 70-year-old set and flips it with an artistic spin. Players, a mix of past and present stars, are all painted by Jamieson who many collectors got to know through his work in Topps Project 2020. Mimicking the original cards, each measures 2″ by 2 5/8″.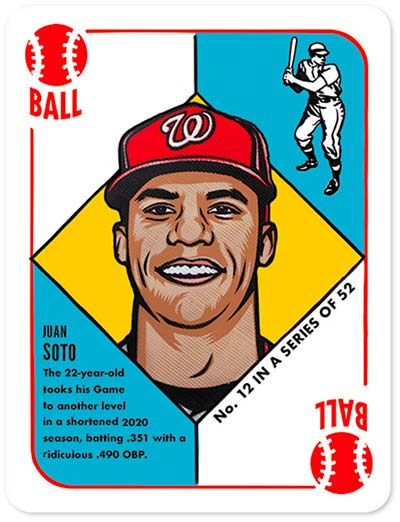 Sold through the Topps website, the full set arrives in four waves. Each is available for one week. Once complete the full set will have 52 cards, 13 per wave. Each mini box, which costs $19.99, has all 13 of that wave's cards. Boxes will also be marked on the outside so it'll be easy to identify sealed product on the secondary market.
Parallels are randomly inserted: Blue Back (/51), Green Back (/25), Black and White Player Photo (/10), Wrapper Back (/5) and Gold Back (1/1).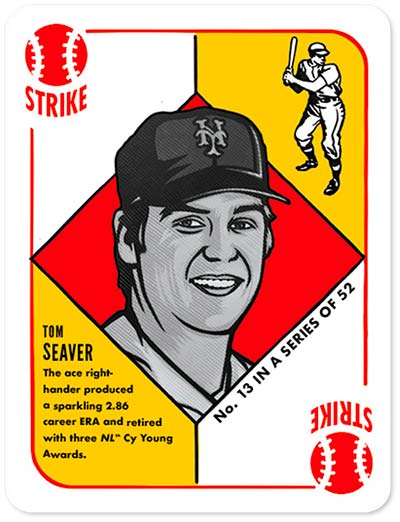 There's also a rare Artist Card with a portrait of Jamieson. These are limited to 100 copies.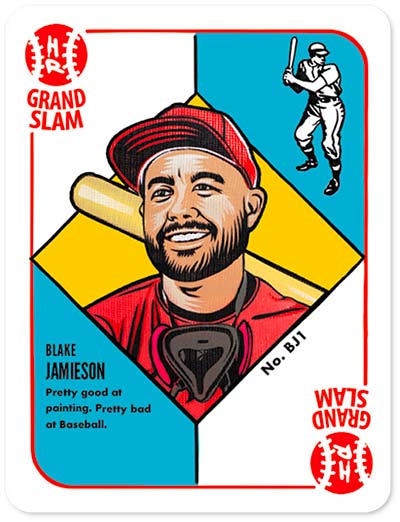 Select players have autographs as well. However, these aren't available in packs. Rather, they're sold directly by Topps.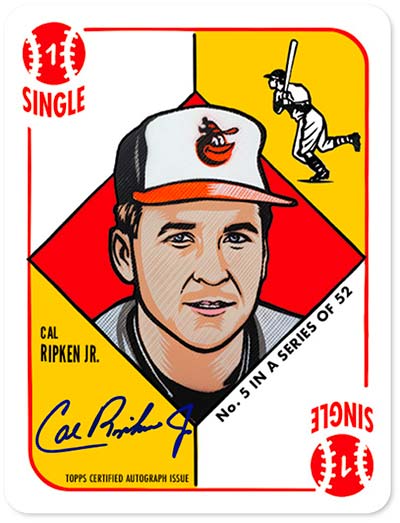 1951 Topps by Blake Jamieson Baseball at a glance:
Cards per pack: 13
Packs per box: 1
Set size: 52 cards
Release date: January 13, 2021
1951 Topps by Blake Jamieson Checklist
New cards will be added as additional waves are released.
Base Set
52 cards.
Parallels:
Blue Back – /51
Green Back – /25
Black and White Player Photo – /10
Wrapper Back – /5
Gold Back – 1/1
Week 1
Available: January 13
Print Run: TBA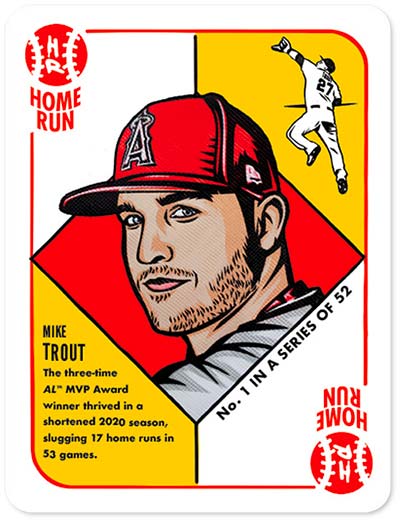 1 Mike Trout
2 Willie Mays
3 Duke Snider
4 Babe Ruth
5 Cal Ripken Jr.
6 Javier Baez
7 Greg Maddux
8 Albert Pujols
9 George Brett
10 Yordan Alvarez
11 Wade Boggs
12 Juan Soto
13 Tom Seaver
Week 2
Available: January 20
Print Run: TBA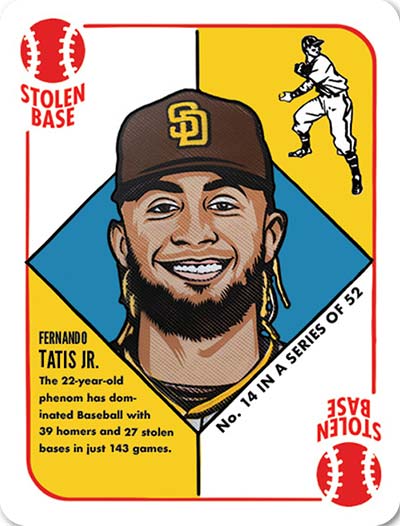 14 Fernando Tatis Jr.
15 Ken Griffey Jr.
16 Shohei Ohtani
17 Ronald Acuna Jr.
18 Warren Spahn
19 Al Kaline
20 Tony Gwynn
21 Reggie Jackson
22 Clayton Kershaw
23 Kris Bryant
24 Nolan Ryan
25 Pete Alonso
26 Luis Robert
Artist Cards
BJ1 Blake Jamieson /100
BJ2 Blake Jamieson /100
Autographs
Available separately.
Not in packs.
Parallels:
Green Back – /25
Black and White Player Photo – /10
Wrapper Back – /5
Gold Back – 1/1
1 Mike Trout /51
5 Cal Ripken Jr. /51
12 Juan Soto /51
15 Ken Griffey Jr.
17 Ronald Acuna Jr.
26 Luis Robert