If you pulled a Russell Wilson Rookie Card back in 2012, it was something of a consolation prize for not getting Andrew Luck or Robert Griffin III. That's all changed now. Wilson may have been drafted much later but he's the quarterback from the 2012 draft class to put together the greatest career.
And it's not even close.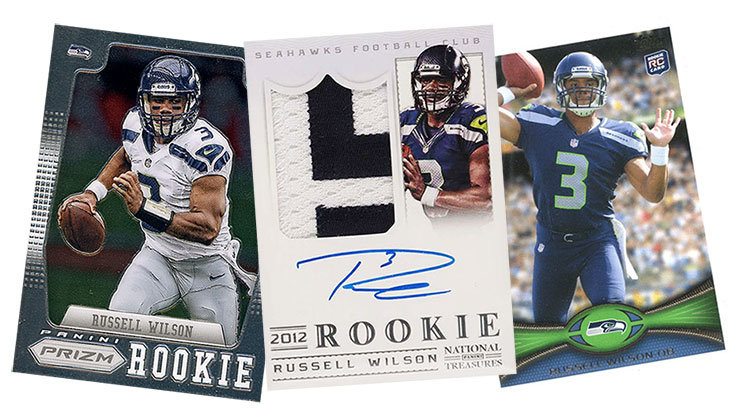 Since his rookie season, Wilson has been the anchor of a Seattle Seahawks franchise that has been one of the most consistent in the NFL. Under Wilson, the team has never finished lower than second in the NFC West. Of course, there's that 2013 Super Bowl win and near repeat the following year.
Through every win and loss, Wilson has been there. Between 2012 and 2019, the quarterback started every Seattle game. And he's still rolling.
Wilson is well past the early part of his career. It's time to start looking at his bigger impact, career numbers and overall legacy. There's still much to be written but it's probably fair to say that Wilson is a legend. Just how far that goes and how much we recognize it remains to be seen.
The Russell Wilson Rookie Card lineup has plenty of variety. This includes more than 30 base RCs. More than half of these come with autographs and represent many of the most expensive Russell Wilson Rookie Cards. As he becomes more widely appreciated, even the more affordable ones are starting to creep up in price. But with so many options, a lot of it is relative.
Here's a breakdown of what to look for according to value.
The First Russell Wilson Cards
Although the Russell Wilson Rookie Card lineup took shape in 2012, that isn't the first year he appeared on sports cards. It was actually 2010.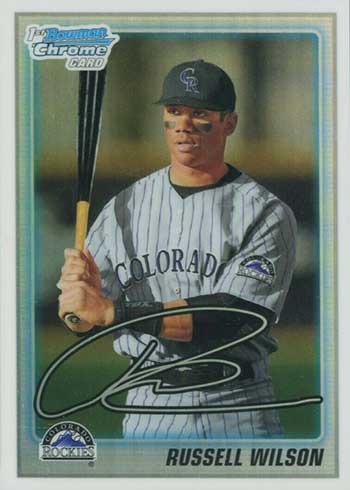 Wilson has Bowman and Bowman Chrome Prospect cards in 2010 Bowman Draft Baseball. He's also in 2010 Topps Pro Debut Baseball as a minor leaguer. The Colorado Rockies took Wilson in the fourth round of the 2010 draft.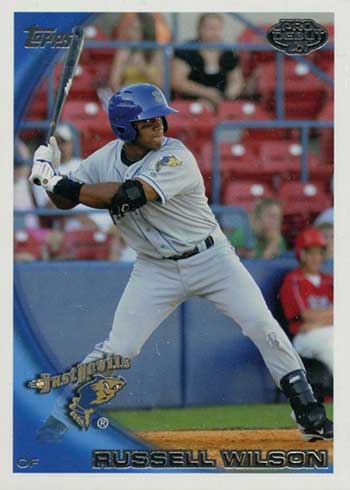 These have a certain level of popularity, but more as novelties. That said, even these have been trending upwards like his other cards.
Most Valuable Russell Wilson Rookie Card Rankings
Only base cards with the RC tag in the Beckett database are included here. Inserts and parallels are not. Rankings are based primarily on the Beckett price guide. A comprehensive Russell Wilson football card checklist can be found here.
---
---
---
---
---
---
7. 2012 Panini Playbook Russell Wilson RC Auto Patch-Jersey Book #205 /149
Parallels: Gold (/49), Platinum (/25), Green (/5), Black (1/1), Printing Plates Black (1/1), Printing Plates Cyan (1/1), Printing Plates Magenta (1/1), Printing Plates Yellow (1/1)
Buy on:

---
---
---
---
---
---
---
---
---
---
---
---
---
---
---
---
---
---
---
---
---
---
---
---
---
---
---