National Treasures Football Most Valuable RCs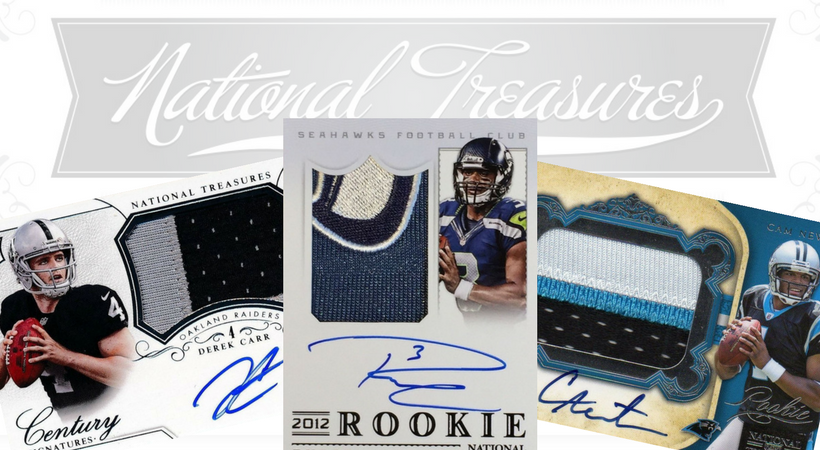 In the May issue of Beckett Football (on sale now), we take a look at the incredible history and impact the National Treasures Football brand has had on the hobby. Celebrating its 10th anniversary, we examine the key cards from each year since the product debuted in 2006.
What we didn't have room for was the list and pricing of the brand's top 20 most valuable Rookie Cards. So, we've included it below as a quick reference and an interesting look at some of the RCs that have matter the most over the past decade. Which ones do you own or want to add to your collection?
Shop National Treasures Football in the Marketplace.
Top 20 Most Valuable National Treasures Football Rookie Cards
2012 Panini National Treasures #301 Andrew Luck JSY AU RC ($3,000)
2012 Panini National Treasures #325 Russell Wilson JSY AU RC ($1,200)
2014 Panini National Treasures #296 Derek Carr JSY AU RC ($1,000)
2011 Playoff National Treasures #328 Cam Newton JSY AU RC ($800)
2014 Panini National Treasures #311 Odell Beckham Jr. JSY AU RC EXCH ($600)
2007 Playoff National Treasures #101 Adrian Peterson JSY AU RC ($500)
2007 Playoff National Treasures #107 Calvin Johnson JSY AU RC ($400)
2009 Playoff National Treasures #121 Matthew Stafford JSY AU RC ($400)
2011 Playoff National Treasures #323 Julio Jones JSY AU RC ($400)
2012 Panini National Treasures #304 Ryan Tannehill JSY AU RC ($400)
2014 Panini National Treasures #286 Blake Bortles JSY AU RC ($400)
2008 Playoff National Treasures #111 Matt Ryan JSY AU RC ($300)
2008 Playoff National Treasures #112 Joe Flacco JSY AU RC ($300)
2010 Playoff National Treasures #311 Dez Bryant JSY AU RC ($300)
2010 Playoff National Treasures #332 Sam Bradford JSY AU RC ($300)
2011 Playoff National Treasures #243 J.J. Watt AU RC ($300)
2014 Panini National Treasures #274 Jimmy Garoppolo JSY AU RC ($300)
2014 Panini National Treasures #276 Teddy Bridgewater JSY AU RC ($300)
2010 Playoff National Treasures #334 Tim Tebow JSY AU RC ($250)
2013 Panini National Treasures #221 Le'Veon Bell JSY AU RC ($250)