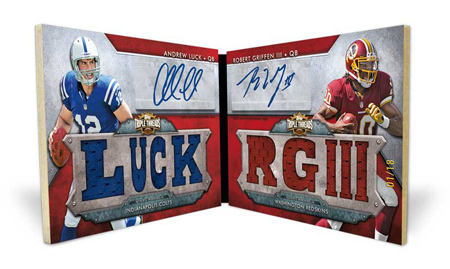 By Susan Lulgjuraj | Contributing Editor
Football season is never too far out of mind, and Topps has a way of getting collectors to think about the sport — even in the middle of a dead heat.
Topps released information and pictures one of its most popular products, 2012 Topps Triple Threads. It's back with a couple different designs and plenty of autograph and Relics.
But there aren't just cards in 2012 Triple Threads. Nope, collectors will get a chance to get full pieces of autographed memorabilia. Collectors can hit redemptions for autographed jerseys, helmets and hand-signed autograph cards (rookies sign gloves and jumbo cards with their on-card autographs).
First the basics on Triple Threads, which is set to be released in mid-November … after the jump.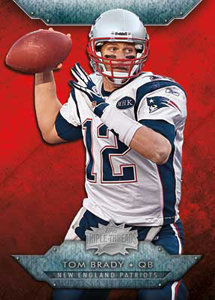 There are 100 base cards, which are numbered to 930 or less, with seven parallels:
・ Sepia (numbered to 320)
・ Emerald (/150)
・ Gold (/99)
・ Onyx (/50)
・ Sapphire (/25)
・ Platinum (1/1)
・ printing plates (1/1)
There are two mini packs in every box. Each will contain seven cards with one of two configurations. A pack will either have three base cards, two parallels, one Triple Relic and one Triple Threads Rookie Auto Relic or three base cards, two parallels, one Triple Autographed Relic and one Triple Threads Rookie Jumbo Relic.
All the Relics and autographs are numbered to 99 or less.
Case breakers will also get a bit of the action. Every 18-box case will contain a 1/1 autograph relic card, a triple autograph relic (numbered to 27 or less) and an autograph relic book, which is new to Triple Threads this year.
One of the best things about football products is how quickly a Rookie Card can gain popularity. There's no waiting for a guy to get through lower levels to wonder if he is going to make it. That's why RCs in football products work well.
And Triple Threads has no shortage of rookies.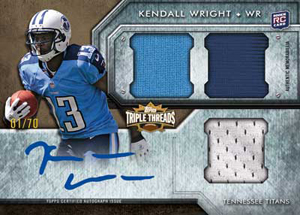 There are at least 35 base rookie autographed Relics, including Ryan Tannehill, LaMichael James, Andrew Luck, Michael Floyd, Robert Griffin III, Russell Wilson, Trent Richardson and others.
The base rookie autographed Relics will have a horizontal design with three swatches, all numbered to 99. There are seven parallels of this card: Sepia (numbered to 70), Emerald (/50), Gold (/25) and patch versions of Sapphire (/10), Platinum (1/1), Pigskin (1/1) and White Whale Printing Plates (1/1).
Rookie collectors aren't going to have all the fun though. Veterans and retired players make appearances in the product with guys such as Brett Favre, Dan Marino, Darren McFadden, Emmitt Smith, Kurt Warner, LeSean McCoy, Steve Young, Tony Romo and Victor Cruz along for the ride.
The Triple Threads Auto Relics of these players will be tougher to find since they are numbered to just 18. There are Gold (numbered to 9), Sapphire (/3), Platinum patch (1/1), Pigskin patch (1/1) and White Whale printing plate (1/1) parallels of these as well.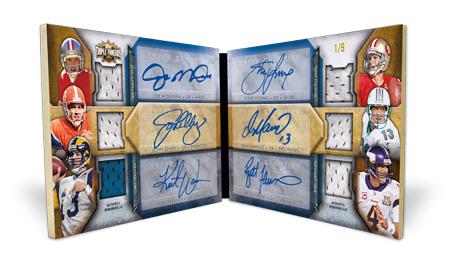 Book cards will feature several different players paired together. There will be 10 different cards with two players, two autographs and six relic swatches numbered to 18. Parallels of these books include Gold (numbered to 9), Sapphire (/3) and Platinum patches 1/1.
One combination is not enough for Topps. There are also double combo cards. Six players with all their autographs and relics one on book card.
In addition to these cards there are also Letter plus Autograph Relics, Triple Threads Cut Above Autograph (featuring a cut auto and three swatches), Dual Cut Above Autographs (two cut signatures and six swatches) and Leather-Bound book cards where the jackets of the cards are made from leather footballs used at the NFLPA Rookie Premiere.
Topps isn't going to forget about the two hottest rookies to come out of this year's draft.
Robert Griffin III and Andrew Luck are getting special treatment in Triple Threads. Up to five different cards will focus on putting these two guys together on a book card with autographs and Relics, which will be numbered to 10.
While so much of the product is focused on autographs, Topps puts plenty of work into the Relics. As in past years, there are number of Relic-only cards that be found in Triple Threads: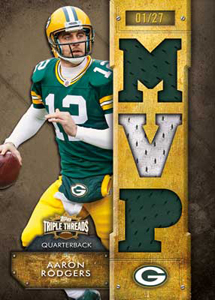 ・ Triple Threads Relics: Up to 50 subjects featuring one player and three pieces all numbered to 36. Parallels include: Sepia (/27), Emerald (/18), Gold (/9), Sapphire (/3) and Platinum patch (1/1).
・ Triple Threads Relics Combo: Up to 40 different players with three players and three pieces on the card numbered to /36. Parallels are the same as in the Triple Threads Relics.
・ Triple Threads NFL Shields: Up to 35 players with two swatches sand and NFL logo shield. All these are 1/1.
・ Triple Threads Quarterback Immortals: Fifteen different cards featuring one quarterback with three pieces, numbered to 36. Parallels: Gold (/18), Sapphire (/3) and Platinum patch 1/1.
・ Triple Threads Jumbo Combos: A three-panel book card featuring up to 10 different cards with three players and three jumbo patches. These are one-of-a-kind cards.
・ Triple Threads Rookie Jumbo Relics: There will be at least 55 rookies with a jumbo swatch, numbered to 99. These parallels include Sepia (/75), Emerald (/50), Gold (/25), Sapphire Patch (/10) and Platinum patch (1/1). Some of these cards may also be autographed.
Susan Lulgjuraj is a contributing editor for Beckett Media. You can email Susan here. Follow her on Twitter here.