First Look: 2014 Topps Tribute baseball cards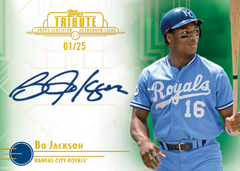 By Chris Olds | Beckett Baseball Editor
A new year is here.
Topps unveiled its plans for the first baseball card set of 2014 on Friday, and it's the high-end Topps Tribute, which is back for yet another run.
Set to arrive on Feb. 19, Tribute will include one autograph or Relic in every box along with two base cards. Each six-pack box will include four autographed cards limited to no more than 99 copies with the other two hits being Relics also capped at 99. There will be eight boxes per case.
The base set's size was not announced, but it will consist of stars from the past and present with six parallels per card — Blue (/99), Green (/50), Gold (/25), Red (/5) and 1/1 Purple and printing plates to be found.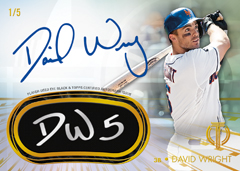 As always, Tribute will pack plenty of colorful parallels with each autograph having seven parallels as well as a set of printing plates. The base cards will be limited to 99, while the Blues will be limited to 50, Sepia to 35, Greens to 25, Golds to 15, Reds to five and, lastly, there will be 1/1 Purple and Onyx cards, too.
New for 2014 will be Tribute Traditions autos as well as Tribute to the Pastime which will have the same breakdowns. These sets will highlight past and present stars — as well the standard autos.  Meanwhile, rarer autos will be Tribute to the Stars and Timeless Tributes. Each of those will be limited to just 24 copies with just one parallel — a 1/1 Purple card. The Timeless Tribute cards are dual autographs that pair a star from the past and the present.
Rounding out the rarities will be Eccentric Eyeblack cards, which will be limited to five and feature an eyeblack sticker on the card along with an autograph.
The Relic lineup will include four new types of cards — Tribute to the Throne (/99), Forever Young (/99), Tribute Titans (/99) and 1/1 Belt Buckles, which will include belt buckles worn during an MLB game — a first for baseball cards.
Standard Relics will be paralleled six ways — Blue (/50), Sepia (35), Green (/25), Gold (/15), Red (/10) and 1/1 Purples — while Milestones Relics will use a piece of a game-used ball from a milestone game for a player this season.
Rarer Relics will include 1/1 autographed versions of the Milestones Relics, while there will be Purple 1/1s and patch versions limited to 24. Also back will be the Batting Glove Relics (limited to two) and 1/1 bat knobs and bat plates as well.
A preliminary checklist was not released.
Chris Olds is the editor of Beckett Baseball and Beckett Sports Card Monthly magazines. Have a comment, question or idea? Send an email to him at colds@beckett.com. Follow him on Twitter by clicking here.