Nutty question: Should the rally squirrel get a 2012 Topps baseball card?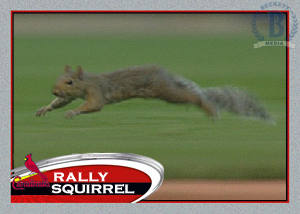 By Chris Olds | Beckett Baseball Editor | Commentary
It's now or never for the Rally Squirrel as the St. Louis Cardinals must win Game 6 of the World Series tonight at Busch Stadium in St. Louis to stay alive and force a final game against the Texas Rangers.
We may be nuts, but we have to wonder … will the famed rodent with more than 28,300 followers on Twitter end up having a baseball card in the 2012 Topps set? We've imagined it above … We can think of a few collectors — and maybe some tweeters — who would squirrel these cards away faster than you can say "Rocky & Bullwinkle." And, well, we can think of others who might not.
But this card could happen … a squirrel has had a baseball card before, and the Poley Walnuts 2007 Topps Update card is still a winner. See it — and take our Rally Squirrel poll — after the jump.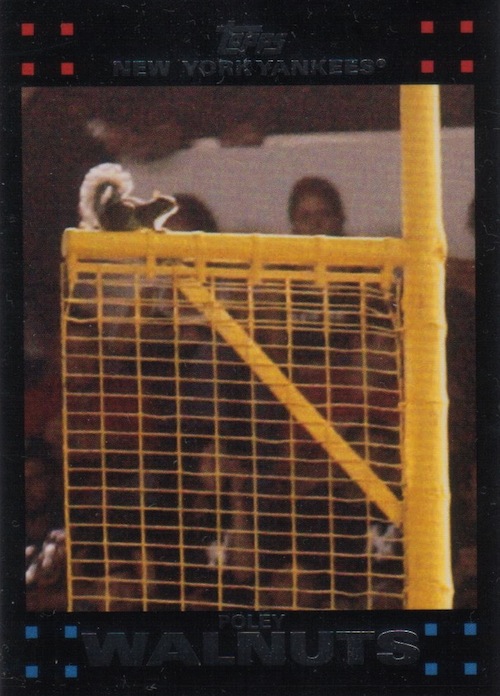 Mr. Walnuts had such a presence at Yankee Stadium that Topps made a card — a release that still sells for as much as $30. It's got to be the best squirrel card around. (Tongue firmly in cheek there.)
Would the Rally Squirrel command as many acorns? Tell us in our series of questions below …
—
Loading ...
—
Loading ...
—
Loading ...
—
Chris Olds is the editor of Beckett Baseball. Have a comment, question or idea? Send an email to him at colds@beckett.com. Follow him on Twitter by clicking here.