Rookie Premiere: Topps revives tallboys … sort of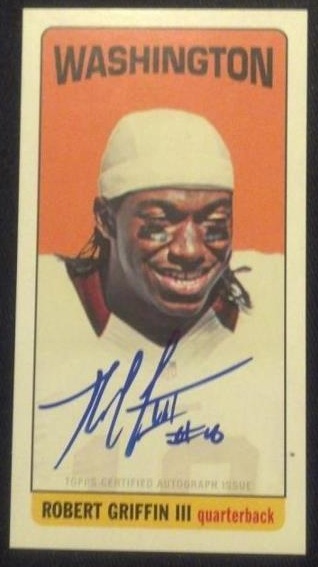 By Susan Lulgjuraj | Contributing Editor
Topps is going vintage.
At least part of its 2012 football card product line.
The company debuted one of the 2012 autographs sets at the NFL Rookie Premiere this week, which is a design from one of its popular products in the 1960s.
Topps has brought tallboys back, the nickname given to the 1965 Topps oversized football card set — as a miniature version that may be found in 2012 Topps. (That product is confirmed to have unsigned 1965 cards.)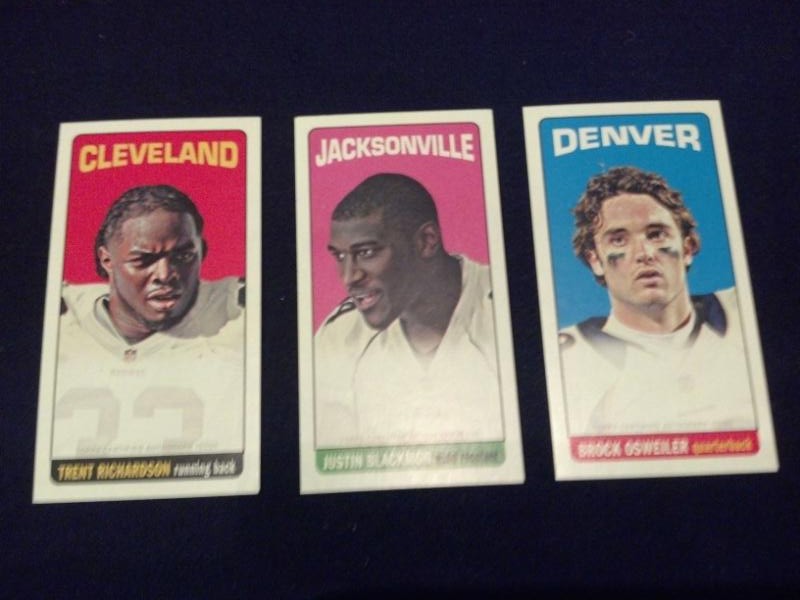 Could they have the same effect from the 1965 version? Most of the cards from this product are pretty valuable, however, in large part to the many of the cards being short-printed and tough to store (Need a 1965 Topps checklist or OPG? Click here).
Joe Namath's only Rookie Card is in that set and as a short-print. Of course, Namath's card being so rare won't happen to the players currently at the Rookie Premiere because Topps is going to want these guys in as many products as possible.
But will these autographs be a hit with collectors just as the original non-autographed product was?
The bright cards are more narrow than regular cards. The city of the player is written across the top with a portrait of the player underneath and the name at the bottom of the card. The lower portion of the card fades to white, which is where the player has signed.
The original cards were oversized (2 1/2"x4 11/16"). These will fit into packs — just narrower than the standard width of a card.
Topps released several photos of players signing. Some of them include Russell Wilson, Brock Osweiler, Coby Fleener and Robert Griffin III.
Susan Lulgjuraj is a contributing editor for Beckett Media. You can email Susan here. Follow her on Twitter here.