Tim Tebow autographs and game-used items are "must-have" inclusions for NFL card-makers
By Chris Olds | Beckett Sports Card Monthly Editor
When he was in college at the University of Florida, it was clear that Tim Tebow was a cultural icon for football-crazed fans down in The Swamp.
Now, a couple of seasons into his NFL career, he's been called a "Mile High Messiah."
But when it comes to football cards, autographs and memorabilia you can give the Denver Broncos quarterback a different name, though — one that sums up his ability to sell merchandise, command top dollar for his autographs and yet keep fans coming back for more without yet being a QB who can throw for 300 yards a week without blinking.
You can call him "Mr. Must-Have."
"We've considered Tim Tebow a 'must-have' inclusion since the day he declared he was entering the NFL Draft," said Panini America VP of Marketing Jason Howarth. "Tim is a truly unique presence who transcends the sport of football and who can take the appeal of football cards to countless new collectors."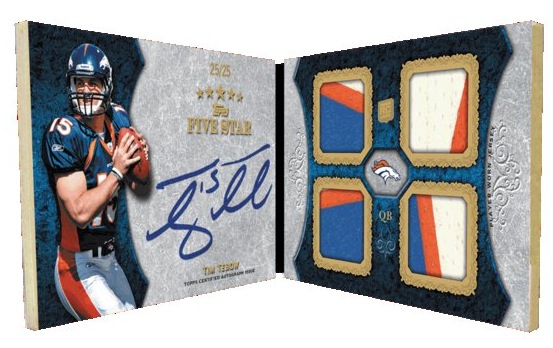 While his on-the-field successes as a traditional quarterback are still developing, his football cards, jerseys and more are selling like those of a No. 1 overall pick (which he wasn't) and perhaps outselling some of the game's other big and more legendary names. As Tebow's wins keep piling up — just like the Saturday Night Live skits — so do the potential number of fans.
That detail is not lost on Topps, either.
"Tebow is very marketable and he's a great story," said Clay Luraschi, Topps' Director of Sports Brands. "His performance and personality brings value to our category."
And that's nothing new as Tebow was an in-demand player among last year's NFL rookie class. Now, after a rookie year left largely on the sidelines and a late start to his sophomore campaign, Tebow is now getting regular playing time and competing for the dollars of collectors with the likes of Cam Newton and Andy Dalton — two other young signal-callers.
"Tebow was a key autograph subject in 2010 and has built some steam lately in 2011," Luraschi said. "The great thing about this year, is there are not just a ton of great quarterbacks to choose from, but there are a lot of desirable autographed cards being offered."
According to some hobby insiders, the demand for Tebow's signatures was so strong last year that he was commanding No. 1 overall draft pick money for every autograph signed — and getting it. Meanwhile, at least one Florida game-used jersey commanded six-figures at auction through his foundation, meaning some manufacturers needed to shift gears for their game-used memorabilia card plans — that included Press Pass, which briefly had an exclusive for Tebow autographs until he appeared on his first NFL cards. Instead, it went with a signing-worn jersey.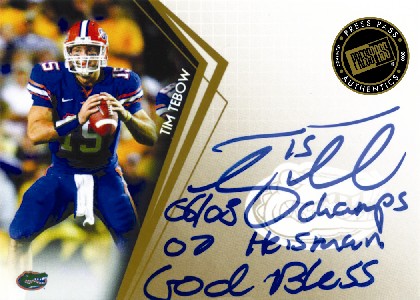 And all of that was before he simply starting winning NFL games in dramatic fashion — with the help of his kicker and teammates, of course — things that really influence demands for his time and, in turn, demands for his autographs and game-used items.
According to the Beckett.com database, Tebow presently appears on 450 different certified autograph cards and 666 memorabilia cards as part of his 1,372 unique cards made — so far.
Panini said it has felt the winning ways working with Tebow — and it aims to build upon that relationship, though the NFL does not allow for contracted autograph exclusives.
"We've had the tremendous opportunity to work closely with Tim and the folks at his foundation and XV Enterprises on many occasions," Howarth said. "There are a handful of players in the league that can drive mainstream interest in trading card products and Tebow is certainly in that class. His higher-end autograph and memorabilia cards are bona fide collection makers."
Look for an extended Q&A with Panini America's Jason Howarth about Tebow in the upcoming February 2012 issue of Beckett Sports Card Monthly, which will have the Broncos quarterback gracing its cover.
Chris Olds is the editor of Beckett Sports Card Monthly magazine. Have a comment, question or idea? Send an email to him at colds@beckett.com. Follow him on Twitter by clicking here.