Avery Bradley basketball cards heat up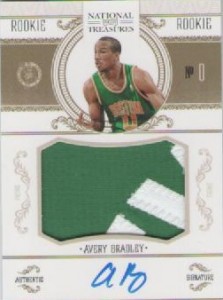 By Susan Lulgjuraj | Contributing Editor
Secondary players often get lost on a team full of stars, but occasionally one breaks through to let fans know there is more to a basketball team than just the usual five.
Second-year player Avery Bradley recently made his presence known on the Boston Celtics. The 6-foot-2 guard finished the regular season hot for the Celtics and has played well during the first round of the playoffs.
One of the big beneficiaries of Bradley's recent performances are his collectors. With the elevation of his game, his basketball cards are also seemingly on the rise.
His most popular – and hardest to attain – card is the 2011-11 Playoff National Treasures autographed/jersey card numbered to 99. The high book value in Beckett is $200 with the value increasing as recently as April. (Need an Avery Bradley OPG or checklist? Click here.)
But the last couple of eBay sales have been around $250, even a $500 sale for the card on April 19.
This was a card that sold for about $70 in March and last year was going for $50 or less.
What changed for Bradley?
With the few times Rajon Rondo has been out of the lineup for the Celtics, Bradley has taken over at point with positive results.
However, Bradley also went on a scoring run in the last part of the season. In the final 19 games, he averaged 15.1 points. And during a three-game stretch in late April, he hit 10 3-pointers, including 5-of-6 against the New York Knicks on April 17.
Bradley's cards have really gotten hot and with a deep run in the NBA playoffs, his cards could only rise in value.
For those still looking to grab a rookie auto of Bradley, there are cheaper autographs available.
Autographs such as 2010-11 Absolute Memorabilia autographed/jersey card numbered to 499 or 2010-11 Playoff Contenders Patches are going in the $10 to $20 range.
Susan Lulgjuraj is a contributing editor for Beckett Media. You can email Susan here. Follow her on Twitter here.