2017-18 Panini Ascension Basketball Checklist Brings a Big Burst of Color
By Stephen Laroche
2017-18 Panini Ascension Basketball is a new brand bursting with a fresh rainbow look, some distinct inserts and a relatively straightforward checklist compared to many other more releases.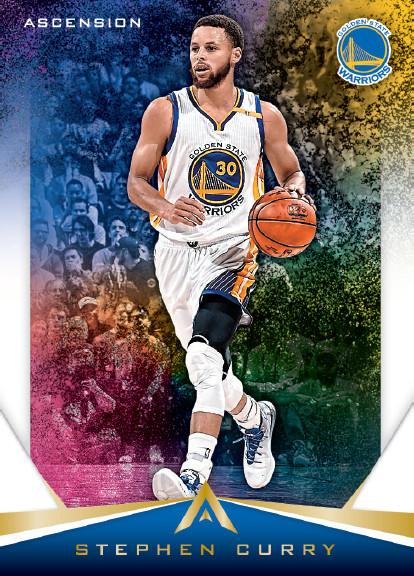 Ascension promises to be a colorful effort all the way from the base set to the inserts and autographs. A lot of this content will focus on the new rookie class, including hard-signed cards from names like Markelle Fultz, Jayson Tatum, and Lonzo Ball.
Base Set and Parallels
The 2017-18 Panini Ascension Basketball base set has 140 total cards. The first 100 are veterans while the final 40 feature first-year players. Rookies land two per box. All 40 of them also have a variation version. These are inserted at the same rate and have the same parallels.
Speaking of which, parallels come in four or five colors depending on whether it's a veteran or rookie. For vets, the breakdown comes in Blue (/125), Red (/75), Green (/25) and Black (1/1). For the most part rookie parallels are similar. The differences come with an additional Purple version numbered to 50 and Blue rookies have 129 copies, four more than veterans.
Wrapping up the base portion of 2017-18 Panini Ascension Basketball are 20 throwback variations of vets in old-school uniforms.
Inserts
The insert program for 2017-18 Panini Ascension Basketball continues the color theme but also add elements like die-cuts and holographic accents on sharp designs. There are five insert cards per box.
These include the expressive Thrill of Victory and Making History, which has a definite 1990s feel. Overdrive Die Cuts should make a strong impression when pulled from packs and seen in person and New Frontiers Die Cuts are likely to focus on some of the best young players around.
Autographs
2017-18 Panini Ascension Basketball has one autograph card per hobby box. These come in just two main varieties, which given the product a more streamlined feel.
Rookie Ascent, which feature micro-etching, are signed directly on-card and show players in their collegiate jerseys.
Base Autographs are also available.
2017-18 Panini Ascension Basketball at a glance:
Packs per box: 12
Cards per pack: 5
Boxes per case: 12
Set size: 140 cards
Release date: November 22, 2017
What to expect in a hobby box:
• Autographs – 1
• Inserts – 5
• Rookies – 2
• Rookie Variations – 2
2017-18 Panini Ascension Basketball Checklist
Base
Autographs
Inserts
Team Sets
Stephen Laroche can be found on Twitter @Stephen_Laroche.