First look: 2011-12 Limited basketball (updated)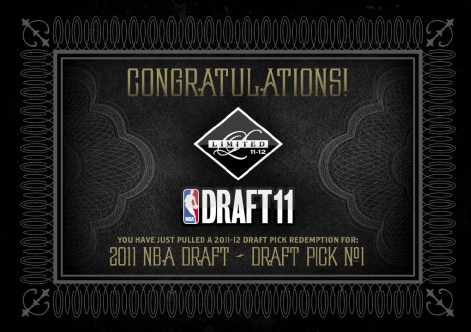 April 11 Update:  Added new info and images.
—
By Chris Olds | Beckett Basketball Editor
When Panini America's 2011-12 Limited arrives in late May it won't just be packing the latest and greatest in autographs and memorabilia.
It will be packing redemption cards for the first rookies of this year's NBA class — and next year's crop, too.
Limited is one of three 2011-12 products that will take this approach with the other two being the forthcoming Past & Present and the forthcoming Gold Standard.
While full details are still forthcoming from the company, what is known about Limited is that each $100 (or so) six-card pack (15 packs per case) will include one Draft Class autograph redemption card inside along with one autograph, one memorabilia card one parallel and a selection of base cards when it arrives on May 30.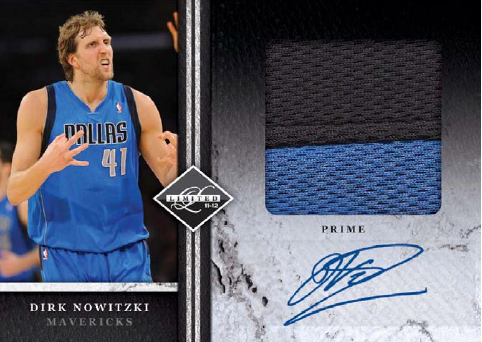 While a full slate of what's in store has not been released, the company has noted there will be a heavy emphasis on prime swatches and lower-numbered chase parallels. Some of the notable signers for this one will include Kobe Bryant, Kevin Durant, Dirk Nowitzki, Derrick Rose, Magic Johnson, Blake Griffin, Chris Paul, Larry Bird, Bill Russell and Shaquille O'Neal.
Several Prime autograph insert sets also will be found in the product, including:
— Jumbo Jersey Numbers, limited to five or fewer copies.
— Decade Dominance, limited to five or less.
— Glass Cleaners, limited to five or less. This one will include both current and retired stars on a new look.
— Trophy Case, limited to 10 or less. This new insert set will showcase, you guessed it, trophy-winners.
— Retired Numbers, limited to five or less.
A couple of other ink-focused inclusions — but clearly not everything in the mix — will include Limited Trios Signatures (three autos from a themed selection; 49 or less) and Potential Signatures, which will showcase some of the league's top young stars. Decade Dominance Signatures will showcase long-time stars, while Masterful Marks will focus on 50 top veterans and young stars.
Chris Olds is the editor of Beckett Basketball magazine. Have a comment, question or idea? Send an email to him at colds@beckett.com. Follow him on Twitter by clicking here.