First look: 2014 Panini Hot Rookies Football cards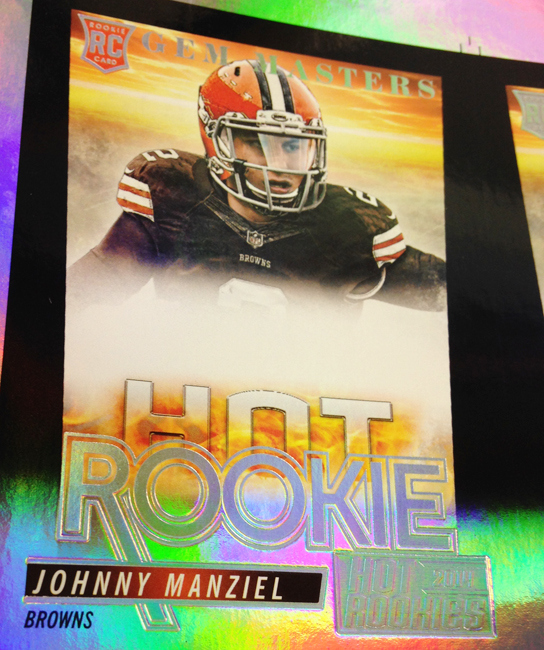 By Susan Lulgjuraj | Beckett Football Editor
Panini America is changing things with 2014 Hot Rookies Football, a hobby-only release.
It isn't producing typical a product with typical pack configurations, but each hobby box will have four packs with entirely different makeups.
Pack 1: 32 base cards.
Pack 2: 10 Rookie Cards
Pack 3: Five inserts (including an autographed memorabilia card)
Pack 4: Three autographs
The base set will contain 330 cards, with two to three parallels in every box. There is an extensive parallel list for the base set including Scorecard (numbered to 99), Showcase (numbered to 79), Gold Zone (numbered to 50), Artist's Proof (numbered to 35), Red Zone (numbered to 20), End Zone (numbered to 6), Gem Masters (1-of-1), and Printing Plates (1-of-1).
The Rookie Cards include 110 subjects with all of the same parallels. The Hot Rookies subset will have 50 names with Showcase, Artist's Proof, Gem Masters and Printing Plates parallels.
Panini will also include two hot packs in every case. Hot packs of No. 2 will feature 10 Rookie Cards all numbered to 99 or less, and a hot pack of No. 1 will have all 32 base cards numbered to 99 or less.
The autographs will include Hot Rookie Signatures, numbered to 99 or less. Parallels include Hot Rookies Showcase Signatures (numbered to 25 or less), Artist Proof Signatures (numbered to 10 or less), Gem Masters Signatures (1-of-1), and Printing Plates (1-of-1).
Rookie Signatures will be randomly inserted and include four parallels: Blue (numbered to 99 or less), Rd (numbered to 75 or less), Purple (numbered to 50 or less) and Black (numbered to 15 or less). There will also be randomly inserted Inscription autographs.
The autographed memorabilia cards will feature Franchise Fabrics Signatures and Future Franchise Fabrics Signatures. Each will have Prime (numbered to 25 or less) and Laundry Tag parallels (numbered to 10 or less).
The inserts include Franchise, Brothers in Arms, All-Time Franchise Players and Air Mail Die-Cuts.
The pictures are from uncut sheets of Gem Masters autographs.
Susan Lulgjuraj is an editor at Beckett Media. You can email her here with questions, comments or ideas. Follow her on Twitter here. Follow Beckett Media on Facebook and Twitter.