Auction house gets 10 1935 National Chicle Bronko Nagurski cards
Many people dream about finding old valuable cards.
That happened to Hunter Heaney recently when he got a huge lot of sports and non-sports cards that belonged to his father. In the group of a cards were 10 1935 National Chicle #35 Bronko Nagurski cards.
Ten.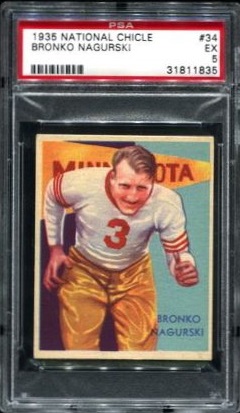 The Nagurski card has a high Beckett book value of $5,000 — and that's raw without a grade — and is one of the most sought after football cards. The card in a mint condition can fetch a price tag much higher than that. In 2006, an SGC 96 sold for $240,000.
"The Bronko Nagurski 1935 National Chicle is considered by many longtime football collectors to be the most important single vintage football card in existence," said Dan Hitt, Senior Market Analyst for Beckett. "It is the key card in the first set devoted exclusively to professional football. The final 12 cards in the set were short-printed, making them all difficult to assemble, with Nagurski being in much higher demand than the other 11. I have never seen such a large "find" of Nagurski cards."
"What's fascinating about the Heaney collection is that he treasured the cards," said Mike Wilson of Wilson's Auctioneers and Appraisers in a release. "This was a collector who just loved these cards for what they were, not for what they might be worth someday."
Heaney consigned his father's collectible cards and art to Wilson after his father died.
Wilson was surprised to see the cards – the sheer number of them in the sports card album.
"This is unprecedented, it has never happened to find ten of these when there are only 135 graded examples out there in existence," Wilson said. "It is like we were part of history in the making".
Heaney's recollection about the cards goes back to his father telling him about the players. It was never about the value of the cards.
"I remember as a kid when I'd look through the cards and ask about this one or that," Heaney said, "and dad would never say that was a valuable or not a valuable card; he'd start telling us the story of the player, who he played for, for how long, but also if he drank a lot, if he was a loud mouth or a soft spoken nice guy."
The cards go up for auction on Wednesday at Wilsons Gallery in Chester Heights, Penn. Online bidding for the collection will be available at liveauctioneers.com. Collectors can see a preview of the auction now.