Strange Brew: Panini partners with Molson for Interactive Stanley Cup set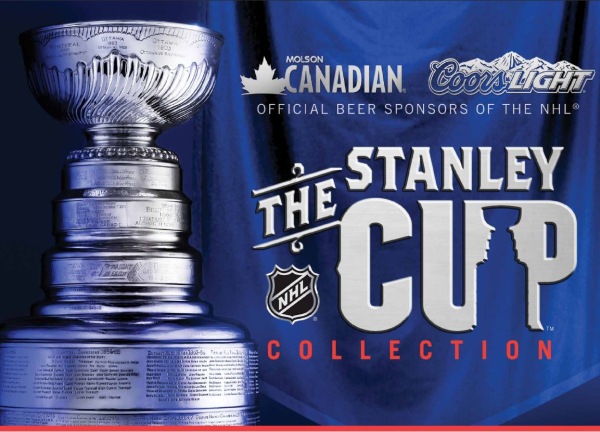 By Andrew Tolentino | Hockey Editor | Commentary
Free hockey cards AND beer? Take off, hoser.
Koo roo koo koo koo koo koo koo! The marketing gurus at Molson Canadian have partnered with Panini America to offer a trio of Canadian classics that would make Bob and Doug McKenzie's heads spin.
Of-age silly sauce sippers can look for the four-card commemorative packs inside specially marked cases of Molson Canadian, Coors Light and Molson Export. In conjunction with the start of the NHL Playoffs (A.K.A. Bar season), physical cards are also available (with purchase of Molson products) at a number of major libation stations and restaurants throughout Canada. Panini pointed out that Boston Pizza will be one of the most prolific pouring pack suppliers, as every Canadian restaurant in the franchise will stock the cards.
In its entirety, The Stanley Cup Collection is a 92-card set that honors every Stanley Cup champion in history. Each card comes with a special PIN which  unlocks a virtual version when entered using a Molson Facebook app, which is where the prizes get even prizier.
By entering PINs from the physical cards, collectors beer-drinking hockey fans will also qualify for a trip  to the 2012 NHL Stanley Cup Finals. This might be a pie-in-the-sky kind of prize, but there are more rewards to grab on the virtual "Trade Floor." Users can swap the electronic versions to collect every card from a certain team or to build the entire set for more (unannounced) NHL prizes.
Panini's Tracy Hackler offered insight as to how this strange brew of cardboard, NHL history and beer have been moving on the secondary market:
But even now, with the NHL Playoffs just underway, the secondary market activity surrounding the in-case cards suggests frenzied interest already. A complete 92-card set recently sold on eBay for $240, an instant-win card from the set sold for more than $132 and sealed four-card packs have sold for more than $40 apiece.
Molson Canadian Brand Assistant Cam MacNeil noted, "We're not even three weeks into the program and people are already starting to make bids on eBay. That's something we joked about in the beginning but it's great to see because it shows that people are really valuing these in-case items as something special."
Whether hardcore traditionalist collectors share the same sentiment or not, this so-far successful promotion could be a great model for putting people in the collecting mindset. They might be ripping under the influence in this case, but at least they're holding a small piece of the hobby in their hands.
Who knows, though? Maybe it's just the Molson talking. Tell us what you think about this promotion (but not before watching the following quasi-related movie trailer):
[youtube]http://www.youtube.com/watch?v=UKmuXw3lS10[/youtube]