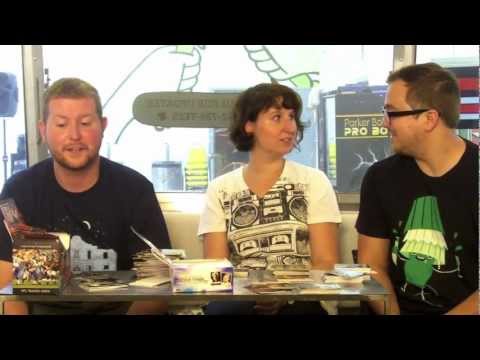 By Andrew Tolentino | Editor
Renowned for having the world's best and biggest array of unique graphic tees, community-committed Threadless.com provides a hip parallel to the trading card industry.
Offering something that stretches well beyond the buzzverb "crowdsourcing," Threadless has built an opportunistic empire of user-submitted, user-chosen designs — all the while rewarding artists with cold, hard cash for their awesome designs. As in the story of sports cards, an international network of devoted fanatics has become obsessed (in a good way) with collecting and discussing every print that the company produces.
Luckily located in Chicago (the site of this year's National Sports Collectors Convention), the affable operation was kind enough to entertain my request to film an episode of "Pulling with Everyday People" at its headquarters.
There, I cozied up in a sweet Airstream trailer with Social Media Coordinator Kristen Studard, Warehouse Manager Bryan Schaefer, Designer Joe Van Wetering and Multimedia specialist Craig Shimala to talk about the collecability of T-shirts over a few boxes of trading cards.
Be sure to take the three-question poll and check out a gallery of images from the visit after the jump.
A few questions …
Loading ...
Loading ...
Loading ...