How a Punch line became an NHL legend — and a card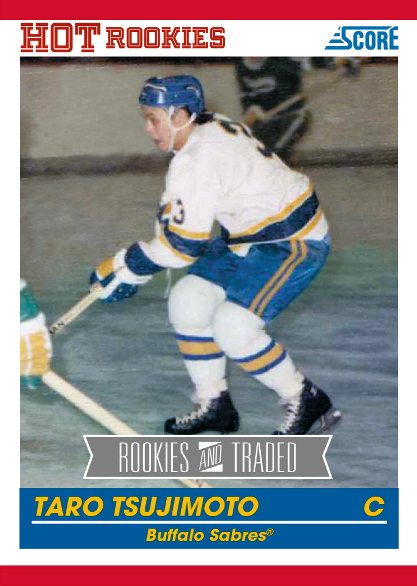 By Chris Olds | Beckett Sports Card Monthly Editor
Add this guy to that one subset of your collection alongside your Kazuo Uzuki 2008 Topps baseball card.
Why? Neither player exists — but they will both have trading cards soon.
Panini America will include a card of NHL legend Taro Tsujimoto in every 20th set of 2010-11 Score Rookies & Traded hockey cards —  oh, and there will be 25 gold parallels of the card to be found, too.
But who is he?
Unlike Uzuki, who was a creation of Topps' imagination in 2008, Tsujimoto was a real-life punchline during the 1974 NHL Draft.
As the story goes, during the draft, which was moving along at a rather slow pace, Buffalo Sabres GM Punch Imlach jokingly called out the name during the 11th round, noting him as  a center for the Tokyo Katanas. It was all fake but the draft pick was real — 183rd overall, for the record.
The card is real, too.
"The creative team was looking to come up with something special, something really unique, for this program," said Al Muir, Panini's Hockey Brand Manager. "The legend of Tsujimoto is one of those great hockey stories that has been perpetuated not just in Buffalo, but around the game. It's one that gets told to this day in dressing rooms and on bar stools, and that's what made him a natural for this project."
The real question now? How much will it sell for?
Chris Olds is the editor of Beckett Baseball magazine. Have a comment, question or idea? Send an email to him at colds@beckett.com. Follow him on Twitter by clicking here.