First Look: 2012 Topps Triple Threads (updated)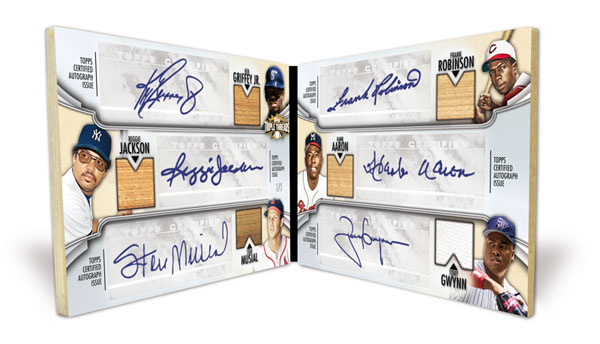 By Chris Olds | Beckett Baseball Editor
Topps released the basic product information and preview images for this year's edition of Triple Threads on Friday, and it looks like the seventh edition of the always-popular hit- and autograph-laden brand will deliver what collectors have come to expect — maybe more.
And that starts with a slightly different configuration that will have two types of packs to be found per box when it arrives on Sept. 19. (Need any of the Triple Threads checklists from 2006-2011? Get them and an OPG here.)
One pack version will include three base cards, two parallel cards, one triple Relic and a Unity Single Auto Relic. The other pack version will include three base cards, two parallels, one triple Autographed Relic and one Unity Relic.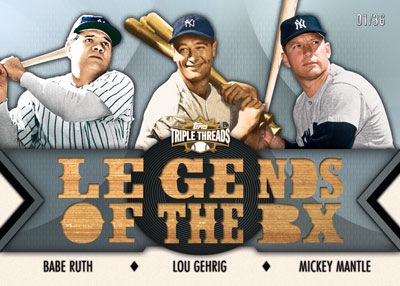 —
Loading ...
—
Overall, every case will include the aforementioned hits per pack along with one 1/1 autographed Relic as well as a Triple Autographed Triple Relic. All hits will be numbered to 99 or less or 36 or less, depending on the version.
The base set will consist of 100 cards, each with six parallels and sets of printing plates, from a lineup that includes a mix of today's players and yesterday's legends. The Sepias will be limited to 625 copies, while Emeralds will be limited to 250, Golds to 99, Onyx to 50, Sapphire to 25 and Rubies will be 1/1s.
The Rookies and Future Phenoms presence in recent years will return as well with more than 50 young players signing on-card (no stickers) for the product. Those will be limited to 99 or less with Sepia, Emerald, Gold, Sapphire, Ruby, Wood and printing plate parallels. Some of the signers here will include Yu Darvish, Matt Moore, Mike Trout, Eric Hosmer, Michael Pineda, Dustin Ackley, Mike Moustakas, Starlin Castro and Paul Goldschmidt.
Single Unity Relics will be found with the same parallels as well with 36 or fewer copies, while Unity Autograph Relics will be numbered from 99 on down.
The autographed Relics will include 270 different cards with more than 75 players showcased. These cards will be limited to 18 copies with multiple sayings for the diecut windows per player. As with past releases, there will be Gold, Sapphire, Ruby, Wood, and printing plate versions of these as well.
The Triple Threads Combos Autographed Relics will feature three players, three Relics and three autographs per card with these starting at 36 copies apiece and then with seven other versions to chase. There will be only 15 different cards in this lineup.
The booklet card lineup — or Double Combos — will include six Relics, six autos and six players. There will be six different cards to chase there. The Jumbo Plus Autographed Relics will include a jumbo piece across from an autograph and three other Relics. These 16 cards will be limited to just three copies with a Ruby 1/1 parallel to chase as well. Also to be found are Letter Plus booklets, which will showcase letter patches, autographs and additional pieces all in one place.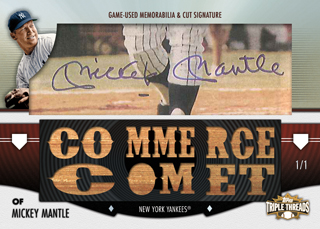 Cut autographs also have a place in 2012 Topps Triple Threads as there will be 10 Cut Above cuts to chase — each 1/1s with an autograph and three Relics — while there also will be six Cut Above booklets as well, which will feature two players.
The Triple Relics lineup will have more than 170 cards to chase between current stars and 20 legends. The easiest to find versions will be limited to 36 copies with Sepia (27), Emerald (18), Gold (nine), Sapphire (three), Ruby (1/1) and Wood parallels (1/1).
Like last year, there will be two-front Relics — the Flashback Relics will include 25 legends from the past with the same parallel lineup. There also will be Combos that show three players as well. The triple-Relic lineup continues with Couble Combos booklets — six players limited to 18 or less — All-Star Patches with 2011 All-Star workout jerseys, All-Star Jumbo Sleeve Patches (booklets),  Team Patches (booklets) and more.
Also to be found will be Logoman 1/1s from the All-Star jerseys, Laundry Tag 1/1s booklets, Bat Nameplate booklets (1/1s) and Letter Plus booklets that are limited to just three copies also with a 1/1 Ruby parallel. Continuing the high-end booklets will be 1/1 Jumbo Plus Relics (three pieces and a jumbo piece), 1/1 Bat Knobs and 1/1 Jumbo Patch Combos that have three panels each with a jumbo patch from three different players all in one booklet. Rounding out that lineup will be single-player Jumbo Letter-Number-Logo patch booklets (three jumbo panels) and Singular Swatches. Both of those are 1/1s.
Players scheduled to sign the product, based on the preliminary checklist, include Willie Mays, Sandy Koufax, Hank Aaron, Cal Ripken Jr., Ken Griffey Jr., Albert Pujols, Prince Fielder, Matt Kemp, Ryne Sandberg, Robinson Cano, Joe Mauer, Justin Verlander and Fergie Jenkins among others.
Others whose autographs might be found include Reggie Jackson, Stan Musial, Tony Gwynn, Alex Rodriguez, Rickey Henderson, Buster Posey, Gary Carter, Chipper Jones and Clayton Kershaw among others.
Lastly, some of the big names slated to appear on Relic cards will include Ty Cobb, Carl Yastrzemski, Roberto Clemente, Harmon Killebrew, Wade Boggs, Mickey Mantle, George Brett, Joe DiMaggio, Jackie Robinson, Johnny Bench, many present stars and many of the other legends mentioned above.
Chris Olds is the editor of Beckett Baseball magazine. Have a comment, question or idea? Send an email to him at colds@beckett.com. Follow him on Twitter by clicking here.
—
Click on the images for a closer look.