Panini NBA Player of the Day promotion returns for 2017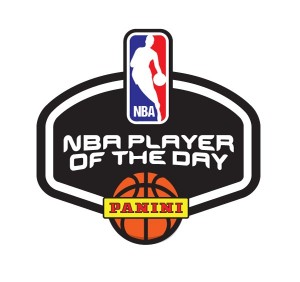 By Stephen Laroche | Beckett Basketball Editor
After many successful years in other sports, Panini America's NBA Player of the Day promotion proved to be a big hit with both retailers and basketball card collectors last season and it is back again in 2017.
"First of all, the Player of the Day concept, which Panini has been doing on the football side for nearly 20 years is a proven program for hobby retailers," said Doug Drotman, Program Administrator for the Panini NBA Player of the Day program. "It's proven to sell more packs, which is goal number one, and two, it's fun, enjoyable, and their customers like it."
With a chance to win one of over 50,000 prizes, collectors everywhere will be breaking packs at their local card store between February 27 and April 5 for a daily chance to win a promotional pack of trading cards for pulling one featuring the Player of the Day or wild card company spokesmen Kyrie Irving and Kevin Durant starting in March.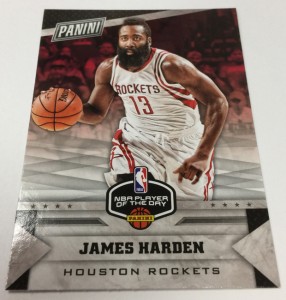 Each NBA team is represented during the 30-day period that stores can run the promotion. Posters will be set up in stores detailing which player is eligible when a collector visits.
Over 400 stores will be part of the 2017 Panini NBA Player of the Day program, which is an increase over the number that participated last year. Each store received a minimum of 150 promotional packs that are handed out to winners in addition to other items such as shopping bags as part of a free kit. According to Drotman, the response from retailers following the first year was quite positive.
"We do an evaluation survey each year after the promotion ends and consistently get feedback in the 80 percent range that they like the promotion. They want it to return and their customers really enjoy it and they're hoping it sells more packs. When you think about, why, as a manufacturer that you run a promotion, those are really the reasons why.
"We finally did it for basketball last year and they were even better than we've ever seen on the football side. Shops were really looking for something like this to help them on the basketball side. They understood the Player of the Day concept because many of them run it for football. It made it very easy for them to implement. It was not complicated to explain it to their collectors."
In addition to the daily prizes, each winner is put into a weekly draw for a larger prize which can include promotional items such as ear buds, t-shirts, or branded Ultra Pro card holders. At the end of the month, all winners are entered into another draw where the winner receives one of 33 limited (/50 or less) autograph cards which is also slabbed by Beckett Grading Services.
Once the monthly draws are completed, stores will send in the names of those winners to Panini, who will then select the grand prize recipient. The prize itself is a once-in-a-lifetime opportunity to spend a day with an NBA player. Last year, Brian Bolanda of Apple Valley, Minnesota was the lucky winner and Karl-Anthony Towns came to visit him for a private party with family and friends before moving on to a free signing at his preferred hobby shop, The Ballpark.
"The player of the day promotion helps hobby shops sell more trading cards while rewarding collectors who purchase Panini products," said Jason Howarth, Vice President of Marketing for Panini America. "We are thrilled to support hobby shops selling our NBA trading card by expanding this proven promotion to even more hobby shops. Last year we were able to make one collector's dream come true by giving them the chance to spend a day with Karl-Anthony Towns. We look forward to creating a memorable experience for another fan this year."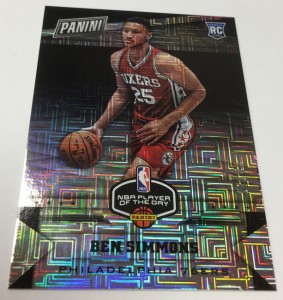 The basic set found in packs is made up of 40 cards, which includes 10 different rookies. These cards have two different parallels in the form of Escher Squares (/150 for veterans, /75 for rookies) and Wind Chimes (/50 and /25 respectively).
On top of that, there are 25 different Rookie Memorabilia cards which are randomly inserted into Player of the Day packs.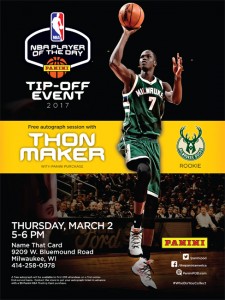 Panini plans to kick of this year's festivities with a free autograph session featuring Milwaukee Bucks rookie Thon Maker at local shop Name That Card.
"Panini thought he would be a good fit for it and we knew that there was a shop up there in the area that has been a very enthusiastic supporter of the Player of the Day promotion," said Drotman. "Every year on their evaluation forms, they had great things to say. Not always positive, but always giving us great feedback on it and always been a great supporter. While they hadn't won a grand prize over the years, we thought it would be a really great place to do it."
Collectors looking to find a participating card store can check out the shop locator feature at www.PaniniPOD.com. Also, those who are unable to get to their local card store can participate via social media by liking the Facebook page or following @PaniniPOD on Twitter.
Stephen Laroche is the editor of Beckett Hockey, Beckett Basketball, and Beckett Sports Card Monthly magazines. Have a comment, question or idea? Send an e-mail to him at slaroche@beckett.com or follow him on Twitter @Stephen_Laroche.