Panini NFL Player of the Day Promotion Kicks Off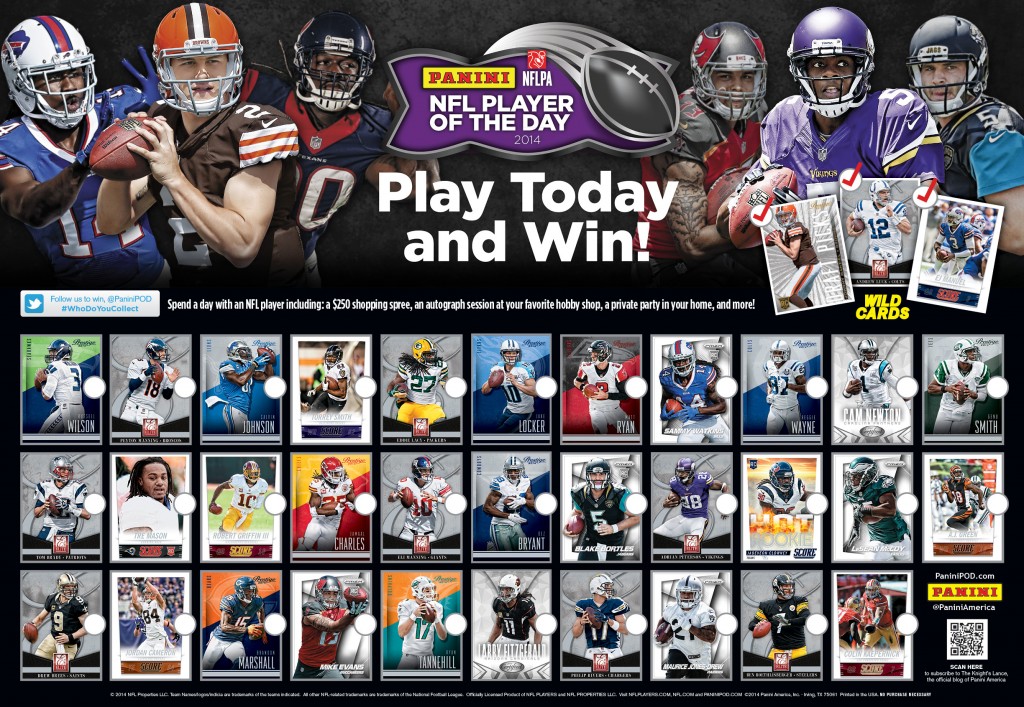 The Panini NFL Player of the Day promotion is in full swing with more than 800 participating hobby shops scheduled to receive their program kits this week.
This will be the 15th year for the successful program, and the Player of the Day card set looks to be more packed than ever. This season's set includes a 25-card base set (13 veterans, 12 rookies) and features an 18-card autographed set, player-worn memorabilia cards and, for the first time, Cracked Ice parallels with a shimmering, reflective background.
Participating hobby shops display the Player of the Day poster picturing an NFL player from the 32 different teams, plus Wild Card players. When a collector purchases a pack from a Panini card product and pulls a card of the featured player of the day or a Wild Card player, they are entered into a weekly drawing for various prizes, including Player of the Day promo packs, t-shirts and more. These winners are then entered into national drawings for a chance to win bigger prizes, including the grand prize—a day with an NFL player, a $250 shopping spree, an autograph session at the hobby shop, and a party at the winner's home.
Past NFL players participating have included Beanie Wells, Pierre Thomas, Patrick Crayton, Steve Slaton, A.J. Feeley, Maurice Jones-Drew, Chris Simms, Rudi Johnson, Donald Driver, Ed McCaffrey, Chad Pennington and others.
To see if your local hobby shop is participating, visit the Panini NFL Player of the Day Shop Look-up website. You can also stay up to date with the latest news and prize winners by following Beckett Media's Twitter feed @BeckettMedia. Also check back at Beckett.com for updates and questions to answer for a chance to win prizes from the program.
Below are just some of the cards available in the promo set.
David Lee
footballeditor@beckett.com
Twitter: @FreeEnergyDude