Sunday Conversation: Panini America's Keith Hower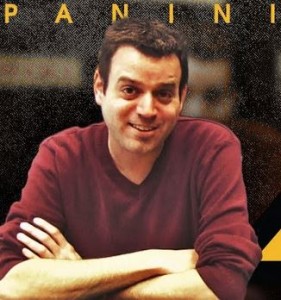 By Stephen Laroche | Beckett Basketball Editor
Beckett Basketball recently caught up Panini America Brand Manager Keith Hower to quickly discuss the company's 2014-15 Select release and to get some early information about what collectors can expect with the exclusive Collegiate Licensing Company license for this edition of Sunday Conversation.
—
The 2014-15 edition of Select was recently announced and there will be a large array of parallels for all of the cards in the set. The latest addition to that group are the new tie-dye parallels. Could you let collectors know how the concept came about and how limited they are expected to be?
The Basketball Product Development Team has been working with Prizm technology for three years now. Each time we do a new set, we learn a little more about the technology. One of the things that really stood out to us as we tried new things was the fact that vibrant colors look incredible on Prizm card stock. In tracking the market, we noticed that player collectors were starting to chase and complete their rainbow—one of every Prizm color produced; so we began designing our Prizm products with that in mind. The Tye-Dye parallel is one of the most dynamic color combinations we've done, and each version is limited to just 25 copies.
—
Another interesting feature in Select is the tiered base set that will be a challenge to put together. What was the process behind developing it and are there any surprises that collectors can expect to find on the checklist?
As a product development team, we're always looking for ways to deliver value and make our sets more collectible. Select was not originally designed with a tiered base set. Our approach to building sets always starts with talking about what we, as collectors ourselves, would like to open. In those conversations, we take our initial thoughts and ideas, and they evolve into the final product. In the case of Select, the thought of a tiered base set just kind of took off, and we ran with it. With the Courtside tier falling only two per box, it will be a challenging base set to build, and we hope some collectors will take on that challenge. As for the checklist, there are certain players that will appear in all three tiers, while others may only appear in one or two.
—
With Panini obtaining the Collegiate Licensing Company exclusive, can we expect cards of current stars with their former schools in the near future?
Absolutely. We plan to debut collegiate content in at least one of our high-end brands at the end of this release year. We are also working through a plan to do some stand-alone sets utilizing some of our strongest brands. One of the ideas we've thrown around is a collegiate version of the Flawless brand.
—
Who do you consider to be a dark horse or standout member of this year's NBA rookie class that collectors should be taking a deeper look at?
Aaron Gordon. Watching Aaron at the rookie photo shoot was very impressive. If he can match his basketball skills and IQ with his athleticism, watch out. Since he's not playing at the moment, prices for his cards have slumped recently, and there are bargains to be had.
—
What else can basketball collectors expect from Panini America over the next few months?
Obviously, we're extremely excited about making collegiate products, of which several are already in the works. We also have some of our most popular brands right around the corner in Immaculate, National Treasures, and Flawless—look for new rookie content in National Treasures, and for new jewel cards in Flawless. We hope all of our fellow collectors and hobbyists are as excited as we are for the conclusion of this release year, and the launch of a new one for 2015-16.
Stephen Laroche is the editor of Beckett Basketball and Beckett Hockey magazines. Have a comment, question or idea? Send an e-mail to him at slaroche@beckett.com. Follow him on Twitter @Stephen_Laroche.