Only the cuts made the cut in Upper Deck's upcoming Legendary Cuts set

By Chris Olds | Editor
We all know what made Legendary Cuts — a staple for baseball card collectors the last decade — popular, right?
Well, they're back — and that's all that Legendary Cuts will include this year when it arrives in June.
That's right, just cuts.
Upper Deck teased the return of Legendary Cuts on Tuesday evening, what looks to be a somewhat limited one-cut-per-pack product with a checklist of just 200 cards in the set. According to the company, there will be 91 Hall of Famers in the product, each limited to 35 or fewer copies.

So there are just cuts — and more differing cuts — to be found.
"The key driver with this product has always been the cuts so we decided to try something new," wrote Upper Deck's Chris Carlin on the company blog. "We asked ourselves, 'If the cuts are the most important thing, why not make them the only thing?'"
Oh, and also new this year? Booklet cut cards — the company touted a 1919 Black Sox cut as well as home run kings cuts and more. The product also will include cut signatures for all 43 United States presidents as well as cards of their wives.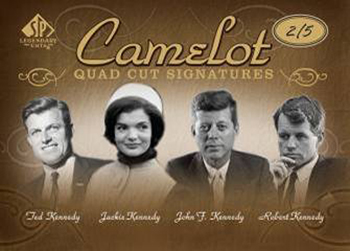 Chris Olds is the editor of Beckett Baseball. Have a comment, question or idea? Send an e-mail to him at colds@beckett.com. Follow him on Twitter by clicking here.