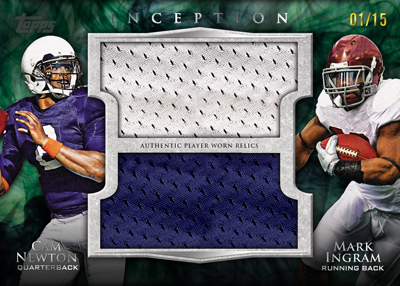 By Andrew Tolentino | Football Editor
As the 2011 video card war rages on, Topps is talking about its new football line — 2011 Topps Inception — dreamed up for a rare early season high-end release.
Due out in early July, the premiering premium product will be rookie heavy, mostly defined by top draft picks and supplemented by established stars. Each seven-card pack should deliver three rookie hits, including two numbered on-card rookie autographs or rookie autograph jumbo patches and one numbered rookie jumbo patch or Relic card. Four more cards — likely  featuring veterans — round out the rip in the form of two limited parallels and two base cards.
While the current artwork  features rookies  in airbrushed uniforms, Topps revealed that NFL-branded images and Relics will bolster the already dramatically designed cards.
Early product details indicate that this is a line marked by highly desirable hobby trademarks. Frequently falling on-card autographs and one-of-one parallels — for instance — should substantiate the price tag. Conceptually founded upon the inception of the football season, the new brand is built with the incoming class in mind. As card maker notes, "Every autograph and Relic hit is a rookie player."
High-end hobbyists might reach for their totems (obligatory "Inception" movie reference), since the more expensive hobby brands usually don't hit the market until late in the season — but we assure you, this is reality.
Andrew Tolentino is the editor of Beckett Football. Have a comment, question or idea? Send an e-mail to him at atolentino@beckett.com. Follow his tweets at twitter.com/tolentinotweets.