NHLPA addresses Devante Smith-Pelly's stamped autograph cards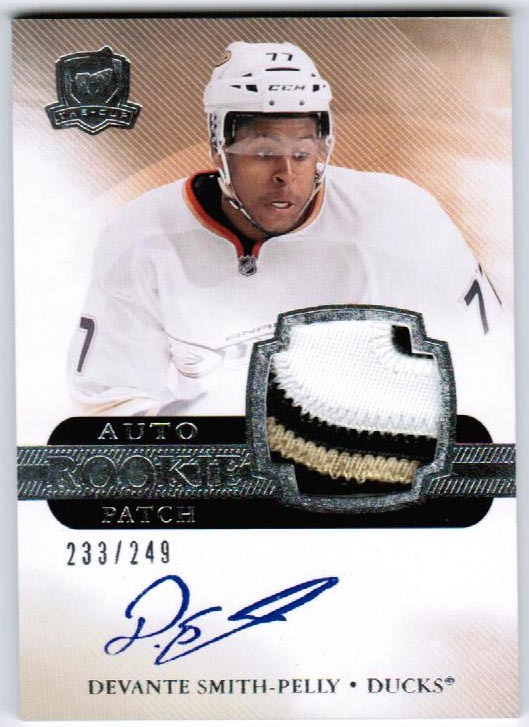 By Susan Lulgjuraj | Beckett Hockey Editor
Some collectors realized many of Anaheim Ducks Devante Smith-Pelly's recent autograph cards were stamped and not actually signed by the player.
The NHL Players Association learned of the mistake and is working with Smith-Pelly, Upper Deck and Panini to fix the issue.
"It turns out he did stamp the cards, it affects five products," said Adam Larry, director of licensing for the NHLPA. "It was just an error in judgment. There wasn't any bad intention on his behalf."
The five products in this scenario are Upper Deck's SP Authentic, Ultimate and The Cup, and Panini's Contenders and Prime, according to Larry.
However, the Smith-Pelly cards were all redemptions in Panini's products, and only a handful of stamped cards were released in Panini's Contenders and none in Prime, according to a Panini representative. Additionally, Panini has proactively gotten in touch with customers who have received the stamped cards and intend to replace it with a card of equal or greater value with an additional bonus pack of Rookie Anthology.
Once Upper Deck learned of the issue, representatives contacted Smith-Pelly's agent and the NHLPA.
"After confirming the cards were not signed by Devante Smith-Pelly, Upper Deck immediately began the process of remaking his signed trading cards for 2011-12 NHL SP Authentic, 2011-12 NHL Ultimate Collection and 2011-12 NHL The Cup," an Upper Deck official wrote on its blog. "Devante Smith-Pelly will autograph these remade cards."
Upper Deck is also throwing in two extra packs for every replacement card.
Collectors who have any of these are directed to contact the customer service departments for the respective card companies.
"This is not something we're aware of happening in other circumstances," Larry said. "When the rumor came to service, we looked into it. We will work with Upper Deck and Panini to rectify the situation as best we could."
Some collectors noticed a difference in his autographs on the stamped versions with different pressure marks, but the amazing consistency on all his on-card autographs. With rumors floating around, the NHLPA took notice and investigated the situation.
Smith-Pelly played in 49 games as a rookie last season for the Ducks. The right winger had seven goals and six assists.
He also served as assistant captain on Team Canada in the 2012 World Junior Championships. Anaheim drafted him in the second round in 2010.
Susan Lulgjuraj is an editor of Beckett Hockey. You can email her here with questions, comments or ideas. Follow her on Twitter here.