Steiner Sports auctions items for Sandy victims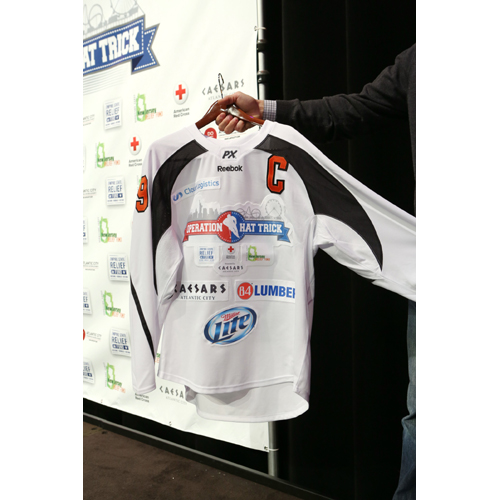 By Susan Lulgjuraj | Beckett Hockey Editor
Brandon Steiner was fortunate enough not to be directly affected by Hurricane Sandy went it slammed into the northeast about a month ago.
However, the owner of Steiner Sports still felt it.
His brother lives in Breezy Point, a waterfront section of Queens leveled by the storm. Friends, cousins, employees all dealt with the aftermath with losing power, possessions and patience.
Steiner has been helping the best way he knows how. The company has held auctions to raise money for relief funds to for victims of the storm.
"I know there are a lot of people struggling," Brandon Steiner said.
The most popular item sold so far has been a goaltending mask from New York Rangers Henrik Lundqvist. It sold for $66,000.
Steiner has sold Lundqvist items in the past, but his helmet has been elusive.
"He was kind of reluctant about giving up the helmet," Steiner said. "We always go to Henrik and tell him we want everything. People love him."
But plenty changed in and around New York City, and Lundqvist wanted to help the place he has called home for several years.
That helmet didn't seem like much to give up anymore.
"He said, 'I want to do something good for the relief.'" Steiner said. "'I know there is a demand for the helmet. Let's go.'"
Steiner is currently running 31 auctions selling the jerseys worn by a group of NHL stars, including Lundqvist, from Operation Hat Trick, an exhibition hockey game in Atlantic City geared toward raising money for relief funds.
Currently, Lundqvist's jersey is at $1,250 with about a week left. Corey Perry's jersey is at $1,050, John Carlson is at $700, Martin Brodeur is at $528 and Scott Hartnell is at $625.
Selling items for charity isn't uncommon for Steiner. He has helped many large and small local charities around his New Rochelle, N.Y. business.
This time, the people who needed help were his own.
"Anytime something happens in the community, it hits extremely close to home," Steiner said. "It's extremely humbling after seeing the level of devastation. I wanted to see what I can do, see who I could help and try to fight through it."
Susan Lulgjuraj is an editor of Beckett Hockey. You can email her here with questions, comments or ideas. Follow her on Twitter here.