Upper Deck gets political in World of Sports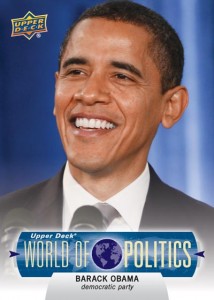 By Susan Lulgjuraj | Contributing Editor
The race for the Republican Party nomination for President of the United States is on its way with primaries and caucuses already held in several states. Every week, there's a new debate with candidates are stumping across the nation looking for support.
Upper Deck has joined the political fray with trading cards featuring many of the Republican candidates such as Mitt Romney, Ron Paul, Newt Gingrich and Rick Santorum. In addition, UD also created a Barack Obama card to be included in this insert set that will be found in World of Sports.
World of Sports is scheduled be released on Feb. 21 with the World of Politics nine-card insert set inside. World of Politics cards should fall at an average of 1:40 hobby packs with even rarer variations of each card.
"We work hard to provide topical content in our new trading card releases," said Jason Masherah, Upper Deck's vice president of Marketing and Business Development. "With so much attention around the 2012 election, we thought it was only fitting to produce a set of cards that would help pay tribute to all the highs and lows of this presidential race by capturing the top candidates on cardboard."
If you've forgotten who some of the earlier candidates were, the World of Politics cards has captured them too such as Herman Cain and Michele Bachman. A Sarah Palin card was even thrown in for good measure.
This isn't the first time Upper Deck has featured political characters on trading cards. In 2008, caricatures of the candidates were made in "Presidential Predictors", which received a lot of attention. These cards fell 1:8 packs at the time in 2008 Upper Deck Series 1 Baseball. In addition to the candidates, when Obama when the election, Upper Deck produced a special victor card.
The Presidential Predictors cards sparked attention when Hillary Clinton's cards depicted her as Morganna, The Kissing Bandit, who would run onto baseball fields and kiss players. However, most of Clinton's cards were pulled from production, but a few sneaked through.
Susan Lulgjuraj is a contributing editor for Beckett Media. You can email Susan here. Follow her on Twitter here.