First look: UD 2011-12 Fleer Retro Basketball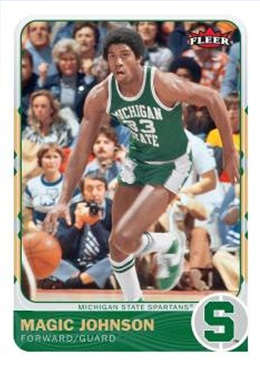 By Susan Lulgjuraj | Contributing Editor
Basketball fans should get ready for a blast from the past from Upper Deck.
The company is bringing back Fleer Retro Basketball for a new season, featuring many stars in college uniforms on card designs from more than a decade ago.
The base set will consist of 50 regular cards and 33 rookie sensations, including many of the rookies fans have patiently waited to watch during the lockout such as Jimmer Fredette.
The Rookie Sensations might look familiar. That is the 1990-91 design. These cards will fall one in every three packs.
Collectors should get a thrill in opening this product because there are six autographs in every box. Remember Autographics? That's what a number of the auto designs will be on.
The breakdown of the box is a little different. There are two mini boxes in each main box with the autographs split into three in each mini box. There are 10 packs in inner box and five cards in a pack.
There is also four inserts per box from 11 different subsets, including Precious Metal Gems.
Precious Metal Gems come in three parallels: red (numbered to 150), blue (numbered to 50) and green (numbered to 10).
With basketball on a comeback, Upper Deck is ready to get these cards into collectors' hands.
Susan Lulgjuraj is a contributing editor for Beckett Media. You can email Susan here. Follow her on Twitter here.