Upper Deck Announces NHL Rookie Redemptions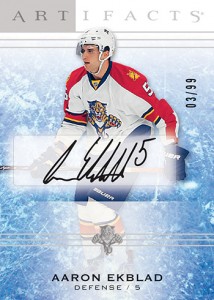 By Stephen Laroche | Beckett Hockey Editor
Hockey card collectors will be pleased to hear that Upper Deck has just announced the players that they will receive for rookie redemption cards from four different products that were released earlier this season.
Found in packs of 2014-15 Upper Deck MVP, 2014-15 Fleer Ultra and 2014-15 Artifacts, these redemption cards could be redeemed through the company's website and Upper Deck is presently in the process of producing the cards. At present, their plan is to ship them to collectors in April or May.
For a complete list of rookie redemption cards, please read on after the jump.
One of the main reasons why collectors needed to wait until this time to find out who their cards will be is related to the cut-off date in rookie card eligibility. This year, it was set as January 15 and it gave the company a large pool of first-year players to draw from.
The rookie exchange cards that hit the market first were placed in packs of MVP and recipients will be given a nine-card pack for each card they redeemed (based on NHL division). As for the Fleer Ultra freshmen, there were Gold and Platinum Medallion versions plus an Ultra Violet edition that was limited to just one copy for each card. Artifacts was split into 42 regular rookie cards (#'d to 699) that are numbered as part of the regular set with an addition 18 Rookie Autographs (#'d to 99) that are designated with a Roman numeral.
Collectors should also note that there may be some slight changes to some checklists before the cards are released. Beckett Hockey will provide updates on changes to any of the checklists below.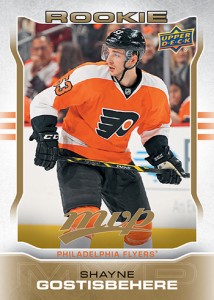 2014-15 NHL® MVP Rookie Redemptions
301 Seth Griffith, Boston Bruins
302 Sam Reinhart, Buffalo Sabres
303 Teemu Pulkkinen, Detroit Red Wings
304 Aaron Ekblad, Florida Panthers
305 Jiri Sekac, Montreal Canadiens
306 Curtis Lazar, Ottawa Senators
307 Jonathan Drouin, Tampa Bay Lightning
308 Stuart Percy, Toronto Maple Leafs
309 David Pastrnak, Boston Bruins
310 Victor Rask, Carolina Hurricanes
311 Alexander Wennberg, Columbus Blue Jackets
312 Marko Dano, Columbus Blue Jackets
313 Damon Severson, New Jersey Devils
314 Griffin Reinhart, New York Islanders
315 Anthony Duclair, New York Rangers
316 Shayne Gostisbehere, Philadelphia Flyers
317 Adam Payerl, Pittsburgh Penguins
318 Andre Burakovsky, Washington Capitals
319 Dennis Everberg, Colorado Avalanche
320 Adam Clendening, Chicago Blackhawks
321 Phillip Danault, Chicago Blackhawks
322 Curtis McKenzie, Dallas Stars
323 Christian Folin, Minnesota Wild
324 Colton Sissons, Nashville Predators
325 Ty Rattie, St. Louis Blues
326 Jori Lehtera, St. Louis Blues
327 Adam Lowry, Winnipeg Jets
328 Johnny Gaudreau, Calgary Flames
329 Leon Draisaitl, Edmonton Oilers
330 Darnell Nurse, Edmonton Oilers
331 Chris Tierney, San Jose Sharks
332 Mirco Mueller, San Jose Sharks
333 Tobias Rieder, Arizona Coyotes
334 William Karlsson, Anaheim Ducks
335 Bo Horvat, Vancouver Canucks
336 Andy Andreoff, Los Angeles Kings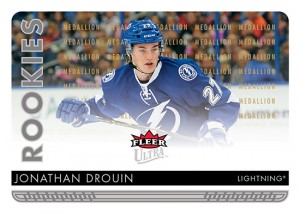 2014-15 NHL® Fleer Ultra Rookie Redemptions
201 Jonathan Drouin, Tampa Bay Lightning
202 Aaron Ekblad, Florida Panthers
203 Sam Reinhart, Buffalo Sabres
204 Leon Draisaitl, Edmonton Oilers
205 Bo Horvat, Vancouver Canucks
206 Andre Burakovsky, Washington Capitals
207 Anthony Duclair, New York Rangers
208 Curtis Lazar, Ottawa Senators
209 Seth Griffith, Boston Bruins
210 Alexander Wennberg, Columbus Blue Jackets
211 Jiri Sekac, Montreal Canadiens
212 Damon Severson, New Jersey Devils
213 Griffin Reinhart, New York Islanders
214 Darnell Nurse, Edmonton Oilers
215 Marko Dano, Columbus Blue Jackets
216 Stuart Percy, Toronto Maple Leafs
217 Shayne Gostisbehere, Philadelphia Flyers
218 Adam Lowry, Winnipeg Jets
219 Teemu Pulkkinen, Detroit Red Wings
220 Brandon Kozun, Toronto Maple Leafs
221 Jori Lehtera, St. Louis Blues
222 David Pastrnak, Boston Bruins
223 Victor Rask, Carolina Hurricanes
224 William Karlsson, Anaheim Ducks
225 Chris Tierney, San Jose Sharks
226 Mirco Mueller, San Jose Sharks
227 Josh Jooris, Calgary Flames
228 Kevin Hayes, New York Rangers
229 Tobias Rieder, Arizona Coyotes
230 Trevor van Riemsdyk, Chicago Blackhawks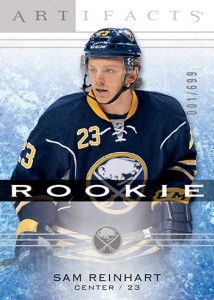 2014-15 NHL® Upper Deck Artifacts Rookie Redemptions
151 William Karlsson, Anaheim Ducks
152 Seth Griffith, Boston Bruins
153 Sam Reinhart, Buffalo Sabres
154 Josh Jooris, Calgary Flames
155 Victor Rask, Carolina Hurricanes
156 Adam Clendening, Chicago Blackhawks
157 Dennis Everberg, Colorado Avalanche
158 Alexander Wennberg, Columbus Blue Jackets
159 Curtis McKenzie, Dallas Stars
160 Landon Ferraro, Detroit Red Wings
161 Leon Draisaitl, Edmonton Oilers
162 Aaron Ekblad, Florida Panthers
163 Andy Andreoff, Los Angeles Kings
164 Christian Folin, Minnesota Wild
165 Jiri Sekac, Montreal Canadiens
166 Mark Van Guilder, Nashville Predators
167 Damon Severson, New Jersey Devils
168 Griffin Reinhart, New York Islanders
169 Anthony Duclair, New York Rangers
170 Curtis Lazar, Ottawa Senators
171 Shayne Gostisbehere, Philadelphia Flyers
172 Tobias Rieder, Arizona Coyotes
173 Adam Payerl, Pittsburgh Penguins
174 Chris Tierney, San Jose Sharks
175 Jori Lehtera, St. Louis Blues
176 Jonathan Drouin, Tampa Bay Lightning
177 Stuart Percy, Toronto Maple Leafs
178 Bo Horvat, Vancouver Canucks
179 Andre Burakovsky, Washington Capitals
180 Adam Lowry, Winnipeg Jets
181 Darnell Nurse, Edmonton Oilers
182 Kerby Rychel, Columbus Blue Jackets
183 Kevin Hayes, New York Rangers
184 Marko Dano, Columbus Blue Jackets
185 Brandon Kozun, Toronto Maple Leafs
186 Mirco Mueller, San Jose Sharks
187 Phillip Danault, Chicago Blackhawks
188 Joe Morrow, Boston Bruins
189 Seth Helgeson, New Jersey Devils
190 Rocco Grimaldi, Florida Panthers
191 Justin Hodgman, Arizona Coyotes
192 Barclay Goodrow, San Jose Sharks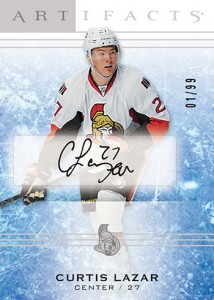 2014-15 NHL® Upper Deck Artifacts Rookie Autograph Redemptions
I Jonathan Drouin, Tampa Bay Lightning
II Aaron Ekblad, Florida Panthers
III Sam Reinhart, Buffalo Sabres
IV Leon Draisaitl, Edmonton Oilers
V Bo Horvat, Vancouver Canucks
VI Andre Burakovsky, Washington Capitals
VII Curtis Lazar, Ottawa Senators
VIII Alexander Wennberg, Columbus Blue Jackets
IX Anthony Duclair, New York Rangers
X Seth Griffith, Boston Bruins
XI Jiri Sekac, Montreal Canadiens
XII Griffin Reinhart, New York Islanders
XIII David Pastrnak, Boston Bruins
XIV Damon Severson, New Jersey Devils
XV Adam Clendening, Chicago Blackhawks
XVI Shayne Gostisbehere, Philadelphia Flyers
XVII Stuart Percy, Toronto Maple Leafs
XVIII Kerby Rychel, Columbus Blue Jackets
Stephen Laroche is the editor of Beckett Hockey and Beckett Basketball magazines. Have a comment, question or idea? Send an e-mail to him at SLaroche@beckett.com. Follow him on Twitter @Stephen_Laroche