Panini returns fire in war of words over video cards
By Chris Olds | Basketball Editor | Commentary
One might think that the cards themselves — and the reaction of the NBA's hottest rookie, Blake Griffin — would say enough about Panini America's Highlight Reel Experience, or HRX, NBA video cards.
Apparently not.
The return shot in what is the war of words over video trading cards arrived from Panini on Monday as it took on Upper Deck's forthcoming NCAA football line, continuing the shots that first came from California a couple weeks ago.
"To be sure, this is no 'concept,'" read the Panini blog on Monday afternoon. "It's Panini HRX – and it's revolutionary. It will take the trading card category to new heights by providing up to 30 minutes of HD-quality video content. It will also bring collectors and sports fans in basketball, football, hockey and every other sport Panini has a presence in their very own Highlight Reel Xperience, beginning with limited Panini HRX autographed versions of Blake Griffin, Kobe Bryant, Kevin Durant and John Wall inserted into 2010-11 Totally Certified Basketball (or should we call it "Totally Licensed?").
Or, should we call it Totally Licensed? Clearly, the gloves are off.
Panini was the first company to unveil plans for a video card at a recent industry event in Las Vegas. Two days after Panini's news, Upper Deck pulled back the curtain on a project that it had been teasing, Evolution. That turned out to be a line of video cards set to arrive starting tomorrow in packs of 2011 Upper Deck Football.
Perhaps it was that sting that prompted the following on the Upper Deck blog:
"No. 1, they have a concept, we have a card," wrote Upper Deck Customer Care Manager Nick Leslie. "That is very important. We didn't share anything about the Upper Deck Evolution cards until we had the actual cards in-house to show off. The reason why is because these are not easy to make. What Panini has shared is a concept for what they think their video card will be along with a mock-up. They have not shared an actual card. We could mock-up a flying trading card, that doesn't mean we have one ready to go. From concept to final product is a long distance."
And Leslie wasn't done there.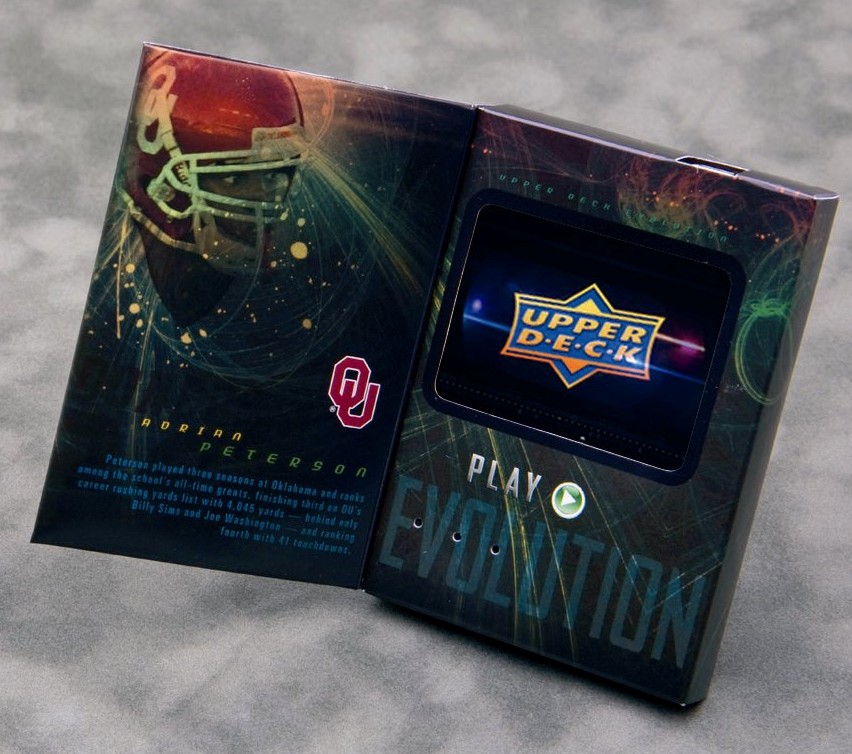 "No. 2, Evolution is a trading card first, while their product looks like a video player. We have done some technology-based cards before and while they were popular and definitely had a niche fan base, they weren't very popular with the hobby. The reason why is because they didn't look like trading cards. Throughout our extensive development process, one thing we felt was paramount to the success of the project was that these look like trading cards first with a compelling design, player images and the video adds to the trading card.
"When I saw the mock-up of the Panini card, it looked to me like a video player, not a trading card. What do you see when the card isn't playing for the Panini card? It would just be a blank black screen. That is not a very compelling collectible and certainly doesn't make you think 'trading card.' We all know that trading card companies cannot compete with Sony and Panasonic, so what Upper Deck chose to do is focus on what we do best. We made a compelling new trading card utilizing existing booklet card features and incorporated video, not a video player we tried to pass off as a trading card."
And Leslie even took on the uncertaintly of the NBA's labor issues while talking about the competition's card while pushing its NCAA products. (For the record, Upper Deck is a former NBA card licensee.)
"No. 3 is that they are launching with the NBA and we are launching with college football. This is a huge difference potentially for fans. Why? Both sports have rabid fan bases, but if their video trading card may not release until next season, you have to ask yourself, 'Will there even be a NBA season next year?' Collector interest in Upper Deck CLC products seems to be at an all-time high with many of our 2010 cards outperforming NFL-licensed releases. We believe we are starting this product in the right sport with a tech-savvy fan base looking to gobble items like this up."
Upper Deck's Evolution cards will feature college highlights for Adrian Peterson, DeSean Jackson, Tony Romo and Patrick Willis and look, to this writer, more like a small video-recording device with a cardboard flap covering the screen. As Leslie said, it looks a bit like a booklet card.
Meanwhile, Panini's cards look a bit different (no flap) and are autographed — something Upper Deck failed to mention — and the signature will be one of the videos that will be appearing in the cards when they will be found in the company's 2010-11 Totally Certified set, which arrives in June.
Since the Vegas showing, Panini has since revealed that its video cards have been in development for the last 18 months, working with the Los Angeles-based Recom Group as its exclusive technology provider for the cards. They have even undergone cosmetic changes since the concept was first introduced with a prototype photo in Las Vegas (which is all that Leslie had to base his comments on at the time).
"We have gone through multiple generations and developers as we developed Panini HRX over the last 18 months, and we've spent countless hours perfecting the design to ensure that it maintained the technological integrity we required while still being representative of a trading card," said Mark Warsop, CEO of Panini America.  "We are pleased to have partnered with a technological leader like the Recom Group, who worked with us throughout the process to ensure all of our concerns and objectives were met."
And, of course, that "trading card" element was echoed by all at Panini — as well as Recom.
"What impressed us most was Panini's commitment to quality in making this an actual trading card," said Rob Norden, CEO of the Recom Group, "and not just a box with a video screen in it."
Regardless of the companies' jabbing, reaction from collectors has been largely cynical. After all, some collectors remember a late-1990s creation from Upper Deck called PowerDeck, which were card-sized miniature CD-ROMs packed with stats and highlights. They didn't last long — just like past attempts at enhanced cardboard. After all, talking collectibles actually arrived in the 1960s with Auravision sports records.
It's clear that the two card companies are focused on these cards as a potential way to draw in new customers — growing the base of collectors is necessary for industry growth — so much so they're not afraid to butt heads over something where, in essence, they're not even competitors yet … of course, how long will it be before Panini unveils NFL video cards to trump Upper Deck's NCAA ones?
Panini essentially promised it today.
Meanwhile, initial reactions have been mixed or negative — save for those who have seen the cards in-person, such as Griffin.
"It's unbelievable, man. I just got to see it," Griffin said. "It's crazy. You never think something like that is going to happen and then to actually see it … it's going to be game-changing."
Chris Olds is the editor of Beckett Basketball. Have a comment, question or idea? Send an e-mail to him at colds@beckett.com. Follow him on Twitter by clicking here.