NSCC Notebook: Catching up on what's going on at this year's National Sports Collectors Convention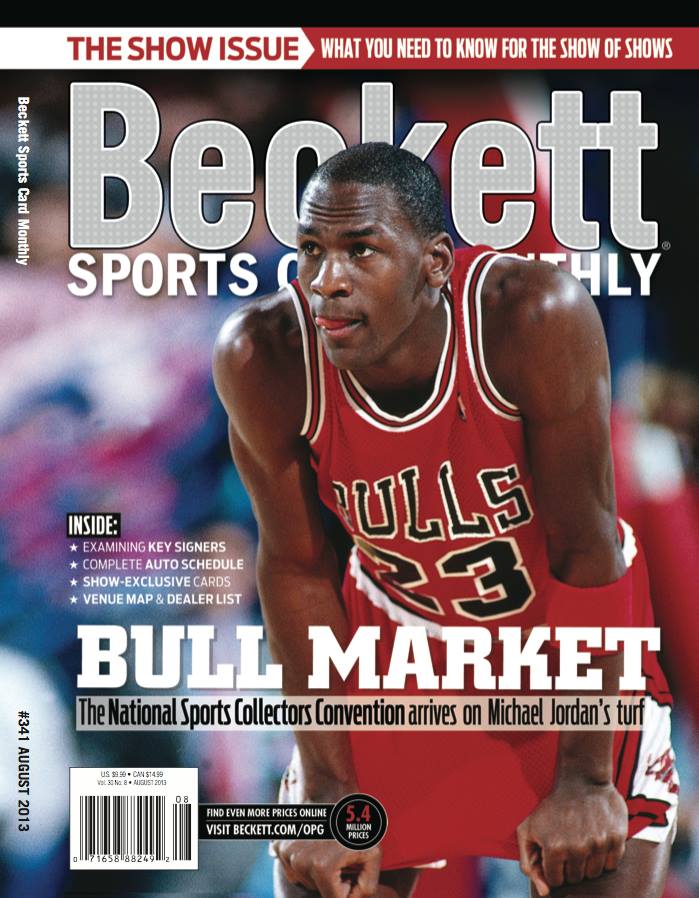 By Chris Olds | Beckett Sports Card Monthly Editor
This year's National Sports Collectors Convention is just two weeks away for non-VIP ticket-buyers. Here's a rundown of what's new from the announcements for the show.
Topps Q&A session 
As it has the last few years, Topps is hosting a Q&A session with interested show attendees. The first 150 people to sign up at the company's booth will be able to attend an 8 p.m. session on Aug. 2  The company will have officials on hand to discuss the hobby. It will take place in Room 3 at the Rosemont Convention Center and run until 10 p.m. See more on Topps' wrapper redemption programs here. The company also will debut its line of 2013 Topps Mini baseball cards. Click here for more info.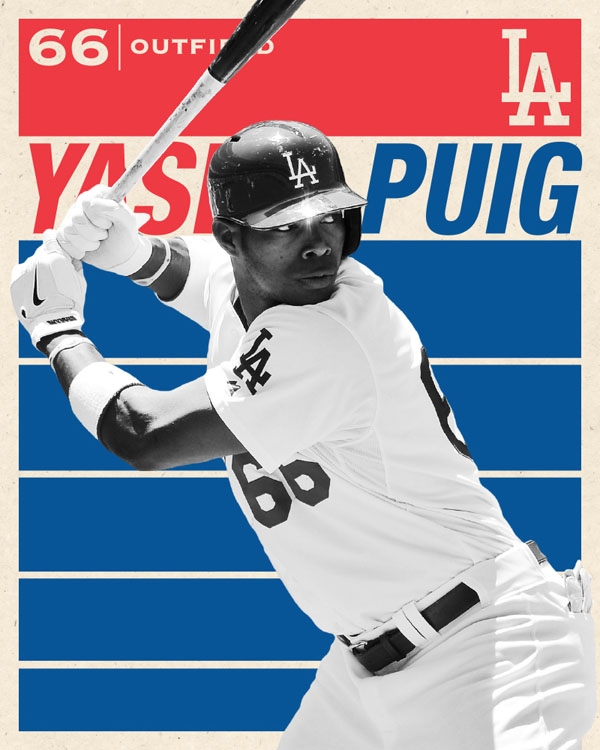 Panini America bringing Yasiel Puig to exclusive signing session
As reported yesterday, Panini America has landed Yasiel Puig for an autograph deal with its memorabilia division, Panini Authentic. As part of that deal, Puig is committed to attend and sign autographs for an exclusive VIP party (details to come) open to just the first 50 collectors who spend a certain higher-end amount from dealers at the show. The company also will have a wrapper redemption and a set of VIP cards at the show (info at link).
—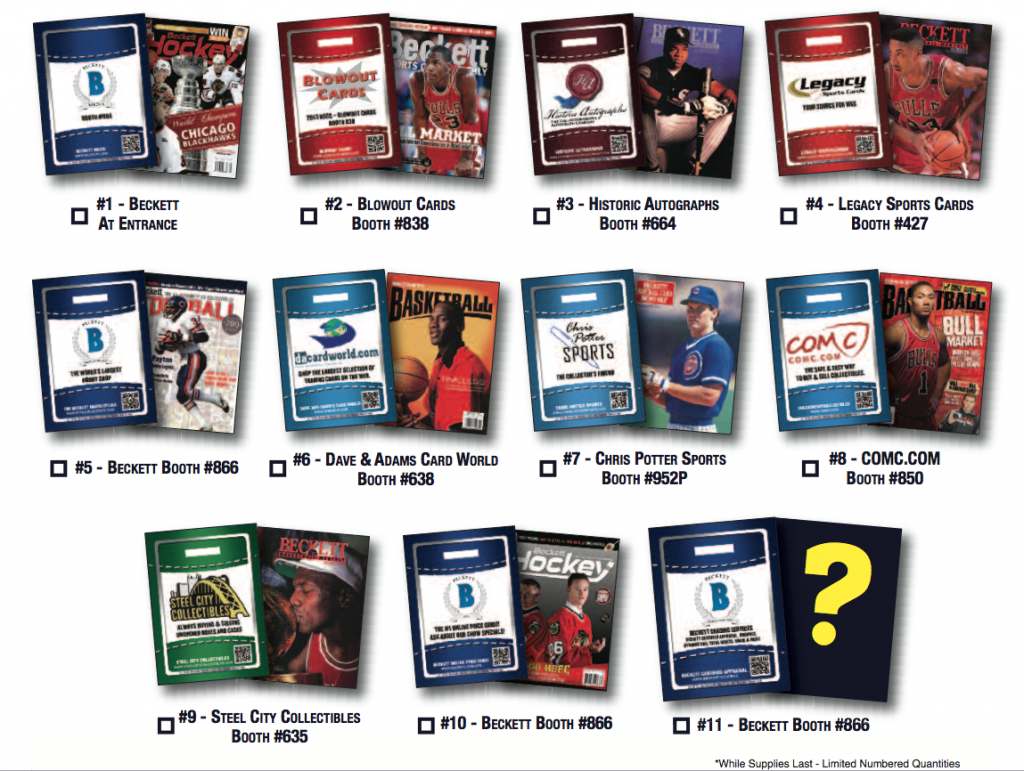 Beckett Media has it covered
Beckett Media's promotional program for the show will be the Beckett Covers cards and a scavenger hunt along with show specials at the company booth. For collectors online, expect to see reduced prices on Online Price Guide subscriptions, while Beckett Preferred packages will combine all options — grading, print subscriptions, online subscriptions and Beckett Certified Appraisal. Look for reduced prices on books, magazines and subscriptions as well as on-site appraisals and show specials on grading. Among the grading deals will be specials to encourage Beckett Registry submissions with discounts on cards from certain eras varying by day at the show.
Also look for chances to win free stuff with a visit to the booth, including a Michael Jordan autograph card, while limited edition prints and original pieces from artists featured in the recent Art Issue of Beckett Sports Card Monthly will be on display and available for purchase.
Look for online coverage and exclusive multimedia from the show right here on Beckett.com/news.
—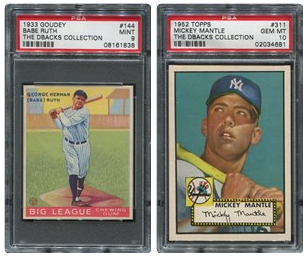 Memory Lane Inc. to display Kendrick collection
One of the world's finest baseball card collections — that of Arizona Diamondbacks owner Ken Kendrick — will be on display at The National this year with Memory Lane Inc. Among the cards will be a PSA 10 Mickey Mantle 1952 Topps card — one of only three in existence — a PSA 8 T206 Eddie Plank, PSA 9 T206s for Cy Young, Christy Mathewson and Ty Cobb as well. Collectors who visit the booth can pick up a free calendar showing these cards.
—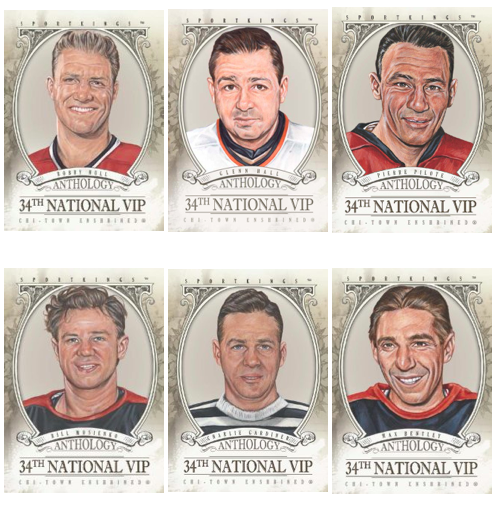 More VIP cards & promos from In The Game/Sportkings
In The Game/Sportkings will have a nine-card ITG set of cards for all VIP attendees who bring their coupon to the company's booth. This Sportkings Anthology set will include Bobby Hull, Stan Mikita, Glen Hall, Pierre Pilote, Tony Esposito, Charlie Gardiner, Max Bentley, Bill Mosienko and Roy Conacher.
The company also will have a wrapper redemption program that will include a multi-piece memorabilia card for breaking a single box of Sportkings Series F at the booht and a 1/1 "Spectacular Patch" card for anyone who opens a 16-box case at the booth.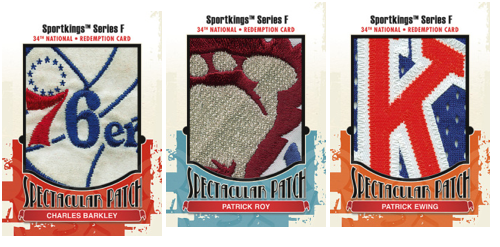 —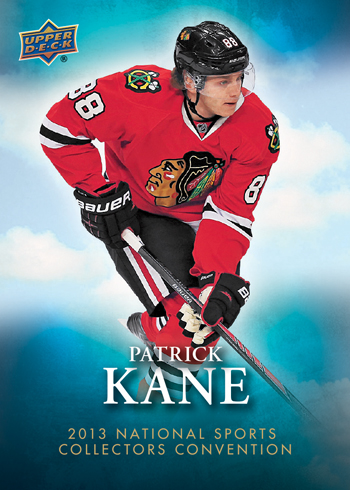 More promo cards & promotions
Upper Deck, Press Pass and Leaf previously announced their plans for wrapper redemptions (info at link) with no new information since those announcements.
—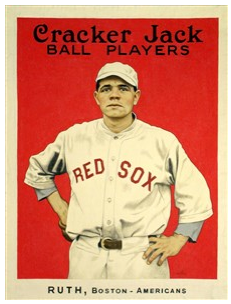 PSA to display pricey Cracker Jack sets
Collectors interested in seeing high-grade cards from the 1914 and 1915 Cracker Jack sets will have their chance at the company's booth — a collection that is valued at nearly $2 million. The company will also be giving away copies of a new book, The Cracker Jack Collection, to those who sign up for the PSA Collectors Club or renew their membership. The first 500 people to do so will receive a PSA-slabbed "what-if" card of a 1915 Cracker Jack Babe Ruth. The cards will be serial-numbered on their labels.
Chris Olds is the editor of Beckett Baseball magazine. Have a comment, question or idea? Send an email to him at colds@beckett.com. Follow him on Twitter by clicking here.