First look: 2014 U.S. Olympic and Paralympic Team & Hopefuls (w/ preliminary checklist)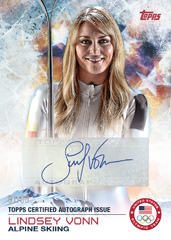 By Susan Lulgjuraj | Beckett Sports Card Monthly Editor
Topps is getting in the Olympic spirit.
As athletes prepare for the 2014 Winter Olympics, Topps is giving fans a look at those who are striving for gold in its newest product, 2014 U.S. Olympic and Paralympic Team & Hopefuls. There will be 24 packs in each box with eight cards per pack.
There will be three hits in every box including one U.S. Olympic Team Autograph and two U.S. Olympic Team Relic or Commemorative Relic cards.
The autograph checklist will feature up to 50 names including figure skater Evan Lysacek and skiers Bode Miller and Lindsey Vonn. Topps will also include on-card autographs of some of the greatest members of Team USA in the Winter Olympics such as Bonnie Blair, Scott Hamilton and Mike Eruzione. The autographs will also come in four parallel versions.
There are three different commemorative cards: Team Patch Cards, 2014 Patch Cards and Team Logo Pins.
Inserts will include Games of The XXII Winter Olympiad, Venues of the 2014 Winter Olympic Games and Olympic Heritage.
The base set will contain 100 athletes with three parallel versions.
2014 U.S. Olympic and Paralympic Team & Hopefuls is scheduled to come out in early November.
Susan Lulgjuraj is an editor of Beckett Sports Card Monthly. You can email her here with questions, comments or ideas. Follow her on Twitter here. Follow Beckett Media on Facebook and Twitter.
---
Base Cards
Max Aaron, Figure Skating
Jeremy Abbott, Figure Skating
Eddy Alvarez, Short Track Speed Skating
Jamie Anderson, Snowboarding
Lowell Bailey, Biathlon
Allison Baver, Short Track-Speed Skating
Gretchen Bleiler, Snowboarding
Brittany Bowe, Speedskating
Maddie Bowman, Freeskiing
Erika Brown, Curling
Bobby Brow,n Freeskiing
Tim Burke, Biathlon
Heath Calhoun, Alpine Skiing
J.R. Celski, Short track speedskating
Kelly Clark, Snowboarding
Julia Clukey, Luge
Stacey Cook, Alpine Skiing
Emily Cook, Freestyle Skiing
John Coughlin, Figure Skating
John Daly, Skeleton
Meryl Davis, Figure Skating
Shani Davis, Long Track- Speed Skating
Billy Demong, Nordic Skiing
Patrick Deneen, Freestyle Skiing
Caydee Denney, Figure Skating
Simon Dumont, Freeskiing
Susan Dunklee, Biathlon
Katie Eberling, Bobsled
Grete Eliassen, Freeskiing
Kaityln Farrington, Snowboarding
Jazmine Fenlator, Bobsled
Pete Fenson, Curling
Dylan Ferguson, Freestyle Skiing
Bryan Fletcher, Nordic Combined
Taylor Fletcher, Nordic Combined
Travis Ganong, Alpine Skiing
Christina Gao, Figure Skating
Lana Gehring, Speedskating
Nick Goepper, Freeskiing
Gracie Gold, Figure Skating
Chas Guldemond, Snowboarding
Erin Hamlin, Luge
Keri Herman, Freeskiing
Elena Hight, Snowboarding
Steven Holcomb, Bobsled
Nate Holland, Snowboarding
Lindsey Jacobellis, Snowboarding
Lolo Jones, Bobsled
Hannah Kearney, Freestyle Skiing
Gus Kenworthy, Freeskiing
Hilary Knight, Women's Hockey
Scott Lago, Snowboarding
Jocelyne Lamoureux, Ice Hocky – Wmn
Monique Lamoureux, Ice Hocky – Wmn
Steve Langton, Bobsled
Ted Ligety, Alpine Skiing
Evan Lysacek, Men's Figure Skating
Devin Logan, Freeskiing
Julia Mancuso, Alpine Skiing
Chris Mazdzer, Luge
Alice McKennis, Alpine Skiing
Heather McPhie, Freestyle Skiing / Moguls
Elana Meyers, Bobsled
Bode Miller, Alpine Skiing
Andy Newell, Cross Country
Alana Nichols, Alpine Skiing
Steve Nyman, Alpine Skiing
Noelle Picus, Pace Women's Skeleton
Amy Purdy, Snowboard
Kikkan Randall, Nordic Skiing
Justin Reiter, Snowboarding
Heather Richardson, Long Track- Speed Skating
Rico Roman, Para – Sled Hockey
Laurenne Ross, Alpine Skiing
Maia Shibutani, Figure Skating
Alex Shibutani, Figure Skating
Jessica Smith, Speedskating
Leanne Smith, Alpine Skiing
Evan Strong, Snowboard
Marco Sullivan, Alpine Skiing
John Teller, Freestyle Skiing
Hannah Teter, Snowboarding
Curt Tomasevicz, Bobsled
Katie Uhlaender, Skeleton
Danelle Umstead, Para – Alpine Skiing
Lindsey Van, Nordic Skiing
Louie Vito, Snowboarding
Lindsey Vonn, Alpine Skiing
Ashley Wagner, Figure Skating
Jeremy Wagner, Para – Nordic Skiing
Tom Wallisch, Freeskiing
Seth Wescott, Snowboarding
Charlie White, Figure Skating
David Wise, Freeskiing
Torin Yater-Wallace, Freeskiing
Agnes Zawadzki, Figure Skating
Ashley Caldwell, Freestyle Skiing/Aerials
Bree Schaaf, Bobsled
Jessica Schultz, Curling
Nick Baumgartner, Snowboarding
Autograph and Relic Cards
Max Aaron, Figure Skating
Jamie Anderson, Snowboarding
Allison Baver, Short Track-Speed Skating
Gretchen Bleiler, Snowboarding
Erika Brown, Curling
Heath Calhoun, Alpine Skiing
Kelly Clark, Snowboarding
Meryl Davis, Figure Skating
Shani Davis, Long Track- Speed Skating
Billy Demong, Nordic Skiing
Simon Dumont, Freestyle Skiing
Jazmine Fenlator, Bobsled
Pete Fenson, Curling
Nick Goepper, Freeskiing
Gracie Gold, Figure Skating
Erin Hamlin, Luge
Steven Holcomb, Bobsled
Lindsey Jacobellis, Snowboarding
Hannah Kearney, Freestyle Skiing
Hilary Knight, Women's Hockey
Scott Lago, Snowboarding
Steve Langton, Bobsled
Ted Ligety, Alpine Skiing
Evan Lysacek, Men's Figure Skating
Julia Mancuso, Alpine Skiing
Elana Meyers, Bobsled
Bode Miller, Alpine Skiing
Alana Nichols, Alpine Skiing
Noelle Picus, Pace Women's Skeleton
Amy Purdy, Snowboard
Kikkan Randall, Nordic Skiing
Heather Richardson, Long Track- Speed Skating
Maia Shibutani, Ice Dancing
Alex Shibutani, Ice Dancing
Evan Strong, Snowboard
Hannah Teter, Snowboarding
Curt Tomasevicz, Bobsled
Katie Uhlaender, Skeleton
Lindsey Van, Nordic Skiing
Louie Vitto, Freestyle Skiing
Lindsey Vonn, Alpine Skiing
Ashley Wagner, Figure Skating
Tom Wallisch, Freeskiing
Seth Wescott, Snowboarding
Charlie White, Figure Skating
David Wise, Freeskiing
Torin Yater-Wallace, Freeski
Agnes Zawadzki, Figure Skating
On Card Autographs
Bonnie Blair 5x Gold Medal , 1 Bronze Medal Olympian, Women's Speed Skating
Brian Boitano Gold Medal Olympian, Men's Figure Skating
Dick Button 2x Gold Medal Olympian, Men's Figure Skating
Mike Eruzione Gold Medal Olympian, Men's Hockey
Peggy Fleming Gold Medal Olympian, Women's Figure Skating
Scott Hamilton Gold Medal Olympian, Men's Figure Skating
Dan Jansen Gold Medal Olympian, Men's Speed Skating
Nancy Kerrigan Silver & Bronze Medal Oylmpian, Women's Figure Skating
Picabo Street Gold Medal Olympian, Women's Alpine SkiingKristi Yamaguchi Gold Medal Olympian, Women's Figure Skating
Jim Craig Gold Medal Olympian, Men's Hockey