First Look: 2015 Upper Deck Goodwin Champions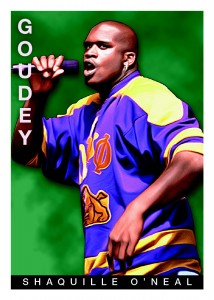 By Stephen Laroche | Beckett Media
A quirky collector favorite is back again this year as early details have surfaced regarding 2015 Upper Deck Goodwin Champions. Known as the place to find truly unique pieces of memorabilia along with a strong mix of athletes from a variety of sports, this brand has established a reputation all of its own for delivering the kind of cards you simply will not find in other releases.
With three hits in every box, the potential of finding a strong card is always present and the company noted that all of the Autograph cards will be hard-signed. There are plenty of other interesting concepts returning once again and some new ones that may gather a following as well.
What can collectors expect to find in boxes of 2015 Upper Deck Goodwin Champions? Find out after the jump.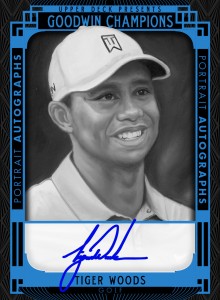 While a design for the 100-card base set was not provided by Upper Deck, it is likely that the subjects will once again be shown in either casual attire or in uniforms where logos have been removed. There will be 10 shortprinted Black & White High Series cards per box as well and they are split into regular and portrait versions with 25 cards of each type completing the set. In terms of parallels, each box should contain a total of five Goodwin Champions Minis and two of those will be of either the Leather, Canvas, Cloth or Wood variety.
As expected, Goudey insert cards are back again and there will be five per box. Goudey Sport Royalty cards will be a tougher pull and there will be Goudey Autographs with big names like Tiger Woods, Mike Tyson and Wayne Gretzky. The rest of the autograph lineup has also been bolstered by a strong assortment of new signers that includes sports stars such as Shaquille O'Neal, Marcus Allen, Kurt Warner, Mike Ditka, Johnny Manziel, Maria Sharapova and Teemu Selanne along with pop culture icons like Stan Lee. Upper Deck has also added Goodwin Cut Signatures to the brand, but the sales sheet did not indicate who the subjects would be outside of noting that they would be from the worlds of history and entertainment. There will also be plenty of memorabilia hits that have either one or two swatches.
Museum Collection Relics are back in 2015 and this time, the theme is the Roaring 20s. Relive a wild decade through some intriguing artifacts that include such items as an Al Capone wire photo, a Model T ignition key, political pins, a Louis Armstrong 78 rpm record, a signed Elliott Ness check and even a Tommy Gun shell casing attributed to the St. Valentine's Day Massacre.
New to Goodwin Champions this year is a pair of intriguing concepts that may generate interest from collectors. Historical Rhetoric Audio Booklets are two-panel cards which bear a wide image of a famous event and will play an audio clip of the speech related to the image. Game of Chance is something truly different for a trading card release as collectors can put together a deck of 54 lenticular playing cards that fall four times per case. The challenge becomes even greater with the Artist Autograph parallels that are limited to 25 copies each.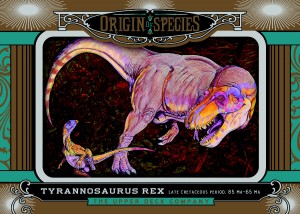 Returning for 2015 are the Origin of Species cards and there will be an average of five per case. This year, the theme will be Age of Dinosaurs and is split into six different subsets that sees 100 different cards seeded at varying rates. Next year, the 300-card set will be completed with Age of Mammals.
The popular Goodwin Masterpieces Art of the Ages cards will return again in 2015, but it will be their final appearance in the product and close a memorable three-year run. There will be up to 300 different hand-painted one-of-one cards and some of the artists that will be honored include Claude Monet, Paul Gaugin and Edvard Munch.
Stephen Laroche is the editor of Beckett Hockey and Beckett Basketball magazines. Have a comment, question or idea? Send an e-mail to him at SLaroche@beckett.com. Follow him on Twitter @Stephen_Laroche.