Oyo SportsToys heads to The National with projects for kids, free limited-edition figures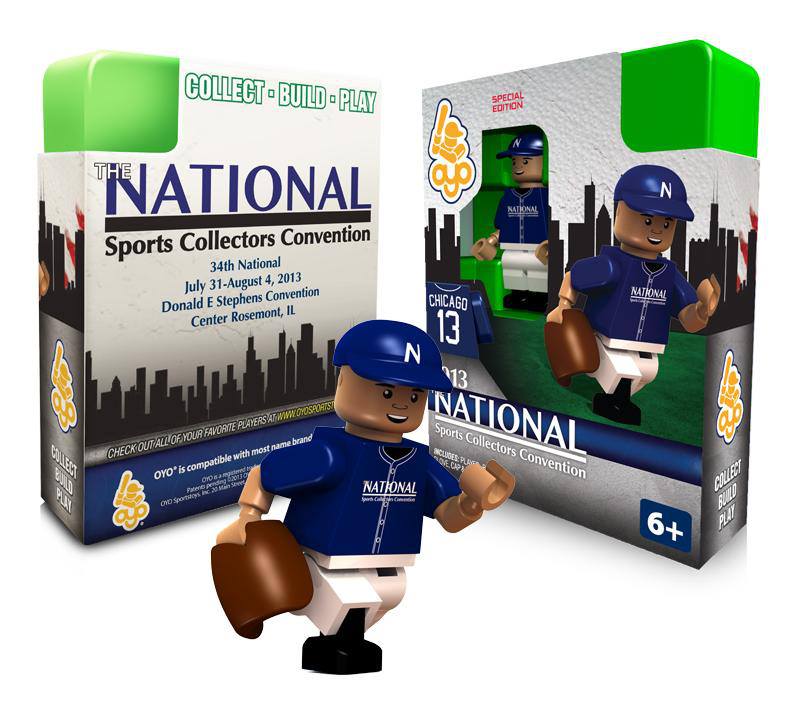 By Chris Olds | Beckett Baseball Editor
Oyo SportsToys hopes it can build a little fun into the National Sports Collectors Convention.
The Acton, Mass.-based company will be at the showcase of all shows starting next week in Chicago with a limited edition NSCC-branded collectable for some collectors to pick up. The first 100 collectors — 50 adults, 50 kids — who visit Booth No. 670 each day of the show will receive one of the miniature baseball figures.

Oyo launched its full baseball line last year and is licensed by MLB, Minor League Baseball, the NFL, the NHL and the NCAA to showcase actual players on figures that come with appropriate uniforms and accessories. They are compatible with another popular childhood staple, Legos. There will be some Chicago team logos built entirely out of Legos on display at the show as well.
In addition, starting on the Thursday during the show, Oyo will have sessions for a dozen kids to build a baseball field and receive a gift bag from Never Enough Sports along with possible other items. The field sets are among new releases from the company, which has also released figures for special events such as the MLB All-Star Game as well as lines for team mascots and even Hall of Famers.
To reserve a spot for a child in a session at the show, email OYONationalPromo@aol.com and include the child's name, day to attend and a phone number for any questions. The sessions run from 11 a.m. to 1 p.m. each day.
Chris Olds is the editor of Beckett Baseball and Beckett Sports Card Monthly magazines. Have a comment, question or idea? Send an email to him at colds@beckett.com. Follow him on Twitter by clicking here.