Topps Heritage hooked me in its first week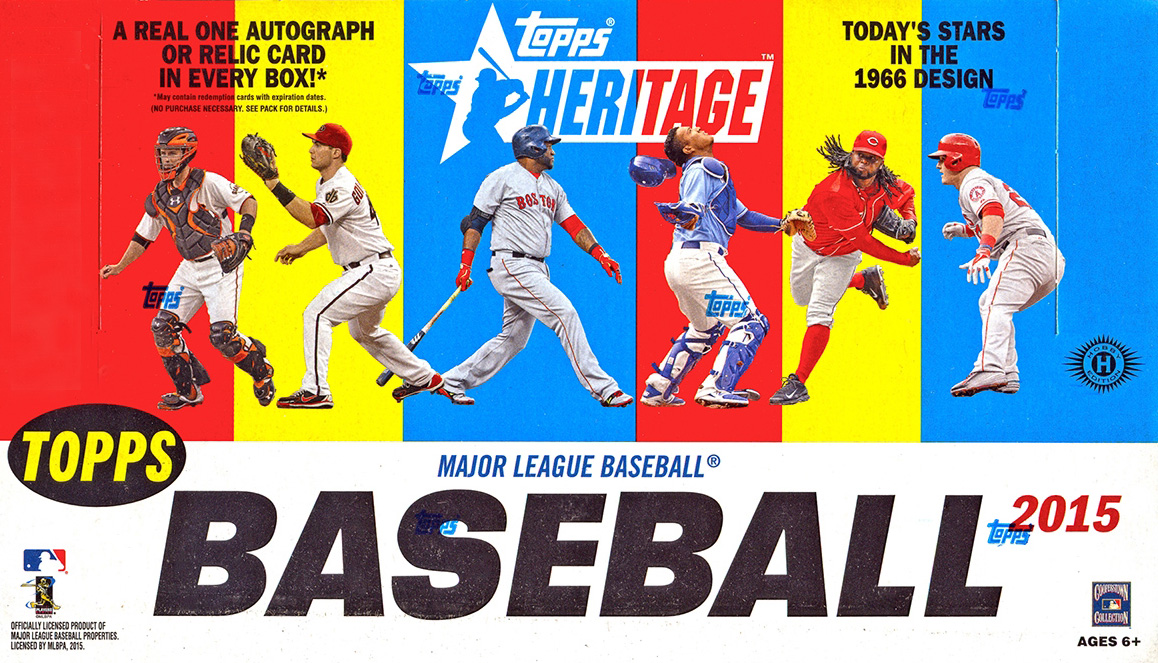 By Chris Olds | Beckett Baseball Editor | Commentary
At the beginning of this baseball card season, I told myself that I was going to be more selective about how much wax I rip into, making sure that at least a few of my bigger-picture focuses were justified by ripping into a wax box.
That notion lasted for two products. (What can I say, willpower is something I've not had a lot of when it comes to cardboard — and I'm missing the ol' sorting and organizing gene, too.)
My favorite player didn't make an appearance in 2015 Topps Series 1, so it was easy to limit my buying to a jumbo box and a small quantity of loose retail packs — enough to get a feel for the brand's inclusions and improvements but not so much that I had issues of where to put stuff when I was done ripping packs.
Topps Heritage, though?
Loading ...
—
For the first time in five years, I found myself interested in the brand (that's normal) but not necessarily feeling the design of 1966. One good price and a Purple Refractor Hot Box later, though, Heritage was on my radar even though hours before I had said I wasn't going to do much this year.
After that, I'd shredded a total of three hobby boxes, two blasters and enough retail loosies to wallpaper part of my office with their wrappers — and that was just in the first six days of release.
Why? It's what I do — and Heritage has always been more of a "flagship" brand to me as I prefer sturdy cardboard to the skinny bright-white, glossed and foil-stamped most of the time. (Why? It's what I started with back in 1987.) It didn't hurt that Heritage had my player — and that it has some seriously pricey potential with singles because of master set collectors who pick off any and every rarity they can find early on in the cycle of Heritage's existence.
Heritage isn't the rarest brand with the most hits per box or case. It's simply one that's collected — and that's apparent with the product's rarer inclusions that get chased and paid for quite well. That's something the hobby needs more of with a seemingly constant flow of new stuff — and collectors — coming and going.
Heritage is one of those brands that can draw people in and keep people around — for a few reasons. In the next issue of Beckett Baseball, you'll find a few pieces on Heritage — something we can do now with more real estate in the magazine than we had a year ago — and that's not an accident.
I like it. Many of you like it. I decided that the issue should reflect that, though the main overall item for the issue is another hobby staple — the Rookie Rolodex. (Need the prospects' lists? Hit Beckett.com any day of the week.)
Heritage drew me in heavily in its first few days on the scene. Here's hoping what's inside of the issue does, too.
Chris Olds is the editor of Beckett Baseball and Beckett Sports Card Monthly magazines. Have a comment, question or idea? Send an email to him at colds@beckett.com. Follow him on Twitter @chrisolds2009.