First look: 2014 Topps Triple Threads Football cards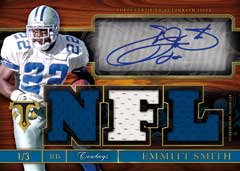 By Susan Lulgjuraj | Beckett Football Editor
Topps Triple Threads is popular product among football Rookie Card collectors. It's a high-end release that showcases autographs and relic cards.
The 2014 Topps Triple Threads edition is no different, but times Topps is calling it "high-end redefined." Each mini box will contain six or seven cards – depending on the mini box – with two hits inside each. There are two mini boxes in every master box.
The Base Rookie Auto Relics will feature one signature, one patch and two swatch pieces on every card, numbered to 99. There will be Purple (numbered to 70), Emerald (numbered to 50), Gold (numbered to 25), Ruby (numbered to 15), and Sapphire Patch (numbered to 10) parallels.
However, Topps is adding 1-of-1 parallels with foil changes as well such as Onyx Silver Foil, Onyx Gold Foil, Onyx Silver Rainbow Foil, and Onyx Gold Rainbow Foil, Pigskin Silver Foil, Pigskin Gold Foil, Pigskin Silver Rainbow Foil, Pigskin Gold Rainbow Foil and "White Whale" Printing Plates. These variations cards will also include pieces of glove, football, hats and socks.
This product is nothing without the Triple Threads die-cut windows that collectors have become accustomed to throughout the years. These relics include Triple Threads Auto Relics, Triple Threads Auto Relic Trios, Triple Threads Auto Relic Pairs Triple Threads Auto Relic Double Combos, Triple Threads Jumbo Plus Autograph Relics and Triple Threads Rookie Autograph Relics.
Other hits include Triple Threads Relics, Triple Threads Relic Trios, Triple Threads NFL Shields, Triple Threads Jumbo Patch Combos (three-panel book card), and Triple Threads Rookie Jumbo Relics.
This year's case hits include Hand-Stamped Autograph Cards, and Triple Threads Transparencies. The Transparencies will feature autographs on clear acetate.
The 100-card base set will be numbered to 930 or less with seven parallels: Purple (#'d to 299), Emerald (#'d to 150), Gold (#'d to 99), Ruby (#'d to 50), Sapphire (#'d to 25), Onyx (1-of-1), and Printing Plates (1-of-1).
2014 Topps Triple Threads is scheduled to come out October 29.
Susan Lulgjuraj is an editor at Beckett Media. You can email her here with questions, comments or ideas. Follow her on Twitter here. Follow Beckett Media on Facebook and Twitter.