Jake Guentzel Rookie Card Rankings
The 2016-17 NHL season was more than half done by the time the first Jake Guentzel Rookie Card arrived. Debuting more than a month into the season — and not with a ton of fanfare — several checklists had already been set.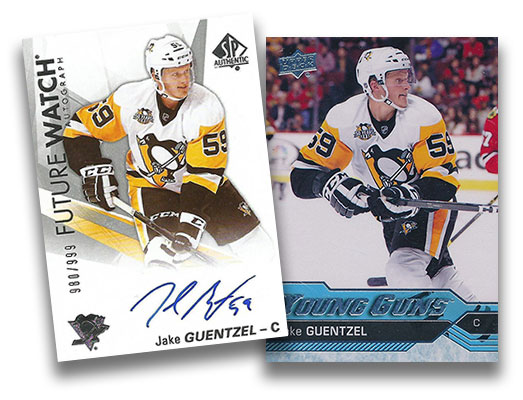 Simply put, there won't be the same number of Jake Guntzel Rookie Cards as the likes of Auston Matthews, Patrik Laine and Mitch Marner. But that should create a little more interest and clout in those that do exist.
Drafted by the Pittsburgh Penguins in the third round of the 2013 draft, Guentzel made a quick impact with the Penguins scoring a pair of goals in his first NHL game. In 40 games in the 2016-17 regular season, he racked up a very respectable 16 goals and 17 assists.
Things got even better in the playoffs where Guentzel has been an integral part of getting Pittsburgh to the Stanley Cup Finals once again. He has 13 goals so far and should be part of the Conn Smythe conversation if the Penguins outlast the Predators.
Jake Guentzel Rookie Card Rankings
Want to know all about which Jake Guentzel Rookie Cards are the most valuable? We've ranked them all based on the Beckett Hockey Card Database and Price Guide. Only base cards with the RC tag are listed, not inserts and parallels.
With more 2016-17 hockey card sets yet to come, expect this list to expand. We'll continue updating until the final product of the season is released.
5. 2016-17 O-Pee-Chee Jake Guentzel RC #675
2016-17 O-Pee-Chee Hockey came out before the start of the season. As a result, you're not going to find this card in those packs. Rather, it's one of the set's updates found in 2016-17 Upper Deck Series 2. Everything about it, though, is just like the original cards including old-school stock and no-frills approach.
Parallels: Rainbow, Red, Retro, Black (/100)
Buy on: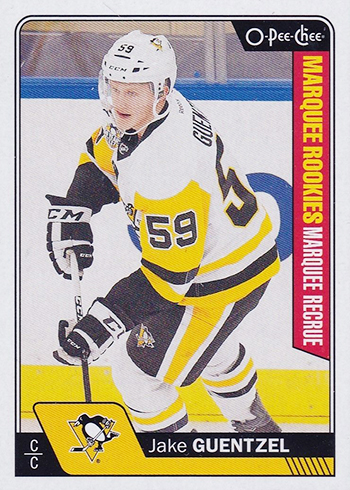 ---
4. 2016-17 Fleer Showcase Jake Guentzel RC #123 /399
Although 2016-17 Fleer Showcase has a lot of autographed Rookie Cards, Jake Guentzel isn't one of them. It may not be particularly fancy, but with a modest 399 copies, there aren't a ton of them to go around. Guentzel also appears in the product's retro-themed Ultra and SkyBox insert sets.
Parallels: Red Glow (/25), White Hot (/5)
Buy on:
---
3. 2016-17 Upper Deck Ice Jake Guentzel RC #117 /1299
At 1,299 copies, the 2016-17 Upper Deck Ice Jake Guentzel Rookie Card is one of the most common ones in the set. Printed on acetate, it comes with a distinct design. The Ice Premieres subset also has a strong following with collectors giving this card another boost. It's also a rare instance where there aren't any parallels.
Buy on: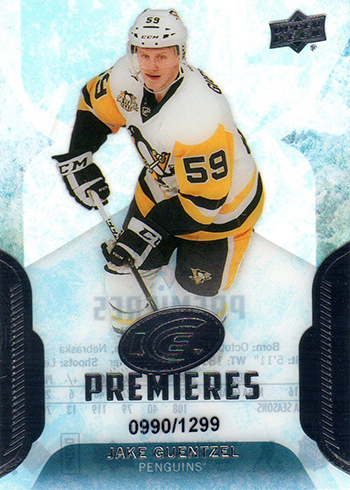 ---
2. 2016-17 Upper Deck Jake Guentzel RC #525
To find the Jake Guentzel Young Guns card you're going to bust packs of 2016-17 SP Authentic Hockey. He didn't make the cut for Upper Deck Series 2 but was one of a handful of updates added to the late-season SP release. When it comes to design, everything is the same as the other Young Guns. It may prove to be a little tougher to get hold of, in part, because SP Authentic isn't part of Upper Deck's ePack program like Upper Deck Series 1 and Series 2 were.
Parallels: Exclusives (/100), High Gloss (/10)
Buy on: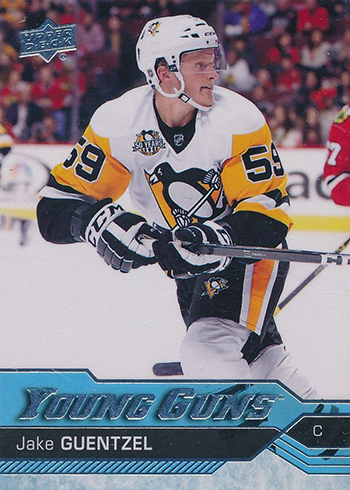 ---
1. 2016-17 SP Authentic Jake Guentzel RC #182 Autograph /999
Not only is the 2016-17 SP Authentic Jake Guentzel his first autographed Rookie Card, but it's his autographed card, period. At 999 copies, it's hard to use the word "rare" to describe it. But given the lasting popularity of the SP Authentic Future Watch cards, it's not a lot. Look to this being one of the cornerstone Jake Guentzel cards for years to come.
Parallels: Black
Buy on: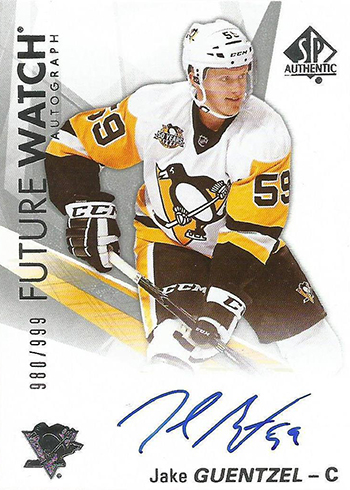 ---