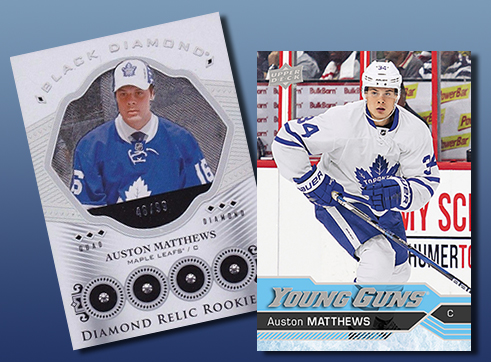 By Ryan Cracknell | Hobby Editor
Now that he's made his NHL debut, Auston Matthews Rookie Cards are here. It started officially with his 2016-17 Upper Deck Series 1 Hockey Young Guns card and will continue throughout the season.
But even before that, there were a few options for Auston Matthews cards in the form of promo sets and redemptions.
Because the NHL and NHLPA have hard rules about players being able to appear on cards only after their first NHL game, it means that Upper Deck isn't able to give full details on their plans for players. For early sets that come along before the season starts, it also means mystery redemptions in a variety of forms. But until those names are made official, we can only speculate.
The first Auston Matthews card arrived not long before he strapped up for Toronto for the first time and proceeded to make history, scoring four goals in his debut. And it might be one of the greatest things to come out of the 2016 World Cup of Hockey.
If you look on eBay, you'll likely find several other Auston Matthews cards. While it's possible some of these may have been released in conjunction with his time in Switzerland with the ZSC Lions, most of these appear to be what are essentially homemade cards with no secondary market appeal beyond novelty status. So be careful if you're going this route.
Below is a breakdown of Auston Matthews Rookie Cards, early cardboard appearances and some sets you can expect him to appear via redemptions. Stay tuned and bookmark this page as more cards are announced and released.
Auston Matthews Rookie Cards
2016-17 Black Diamond Auston Matthews RC #BDRAM /99
One of the earliest Auston Matthews Rookie Cards on the market, this will also likely be one of the most valuable even as other high-end sets hit the market. Highlighted by four small diamonds embedded into the card, it has just 99 copies. 2016-17 Black Diamond Hockey is also the first product to have live Auston Matthews autographs and memorabilia cards in packs.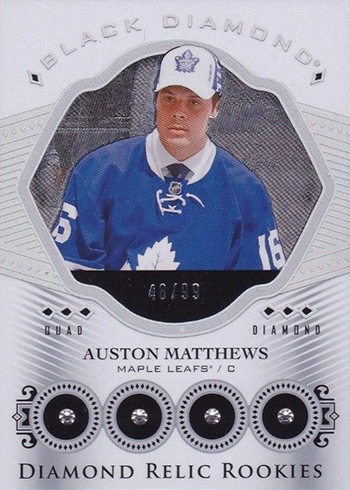 Parallels: Pure Black (1/1)
Buy on:
• eBay
2016-17 Exquisite Collection Auston Matthews RC #RAM
2016-17 Exquisite Collection is like a set-within-a-set. Exquisite packs will be added to a select high-end releases throughout the season. This card happened to be connected with 2016-17 Black Diamond. It may not be signed, but being numbered to 34 copies — Matthews' jersey number — is a big draw.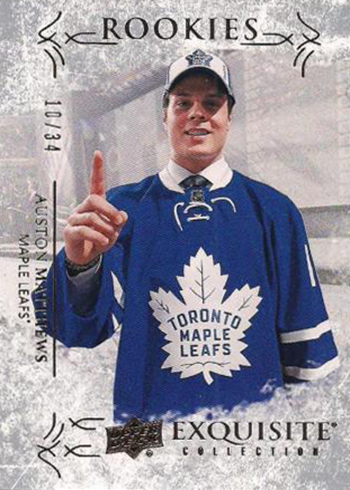 Buy on:
• eBay
2016-17 Fleer Showcase Auston Matthews RC #190 Autograph /99
2016-17 Fleer Showcase Hockey changed things up a bit with its key Rookie Cards. For the previous couple of years, major names had autographed patch cards. Those are still available but as parallels. Autographs are still in play, though. Matthews ties with teammate Mitch Marner for having the lowest print run at 99 copies. Other Hot Prospects autographs have at least 299 copies.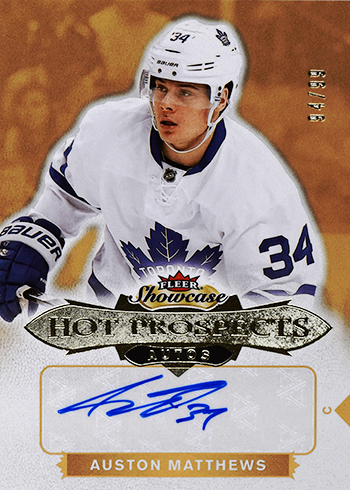 Parallels: Hot Prospects Autograph Patches (/35), Red Glow Autograph (/15), Hot Prospects Autograph Patches White Hot (/10), White Hot Autograph (/5)
Buy on:
2016-17 O-Pee-Chee Auston Matthews RC #694
Because the main 2016-17 O-Pee-Chee set came out before the season kicked off, Matthews wasn't included on the checklist. However, sticking with past years for the set, a group of update cards arrived in 2016-17 Upper Deck Series 2, expanding the checklist for rookies and traded players. Given the relatively easy insertion rates and the amount of Upper Deck Series 2 that's going to be ripped, this one shouldn't be too hard to track down.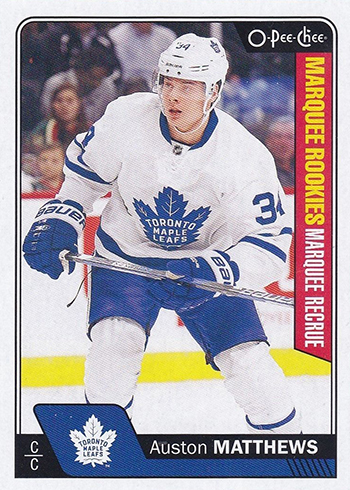 Parallels: Rainbow, Red, Retro, Rainbow Black (/100)
Buy on:
2016-17 Parkhurst Auston Matthews RC #370
Looking for a cheap Auston Matthews Rookie Card? This is one of them. Distributed exclusively at Walmart, 2016-17 Parkhurst Hockey comes with a cheap price tag. It's also a no-frills card that isn't even short printed. It is worth noting that Matthews has a similar looking Parkhurst Rookie Parade insert included in specially marked 2016-17 Upper Deck Series 1 blasters. This card shows him skating versus the main Parkhurst's close-up shot.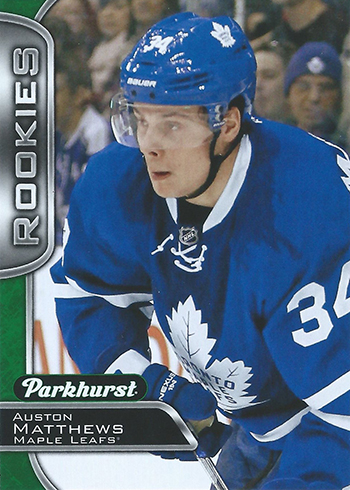 Parallels: Black, Red
Buy on:
• eBay
2016-17 SP Game Used Auston Matthews RC #101 /34
Base cards in 2016-17 SP Game Used Hockey are limited to the player's jersey number. For Matthews, that means just 34 copies. Needless to say, even without an overly premium look, it's worth a lot. Many of the parallels include autographs or memorabilia swatches. Because they're more plentiful, they can actually be found for less than the plain version.
Parallels: Autographs Blue, Red Auto Jersey, Gold Jersey (/399), Rainbow Player Age (/219), Orange Rainbow Draft Year (/116), Gold Spectrum Patch (/49), Red Spectrum Patch Autograph (/25), Autographs 1/1 (1/1), Snow Storm (1/1)
Buy on:
• eBay
2016-17 SPx Auston Matthews RC #75 /249
The 2016-17 SPx Auston Matthews Rookie Card is done with a shadow box format. Limited to 249 copies, it has a layered look that mixes acetate and other high-end elements. Autographed versions can be found among the parallels. This is a big departure from the autographed memorabilia cards SPx has used in the past for big-name rookies.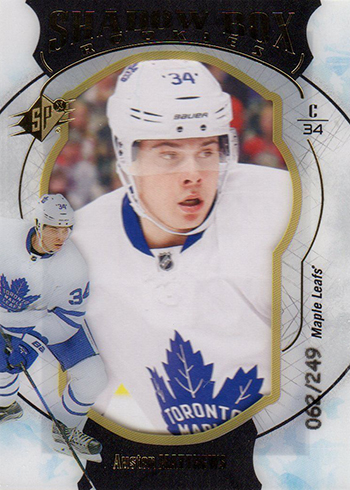 Parallels: Red Jersey (/75), Gold Autograph Patch (/99), Blue Autograph (/25)
Buy on:
• eBay
2016-17 Upper Deck Auston Matthews RC #201 Young Guns
Similar to Connor McDavid in 2015-16, Auston Matthews headlines the Upper Deck Series 1 checklist. He's one of 49 players to have Rookies in the product under the popular Young Guns banner. The card is significant for a couple of reasons. It's the first official Auston Matthews Rookie Card. It's also his first in-pack card to have him in a Maple Leafs uniform.
Like all Young Guns, it is a short print, but not to a level where it's terribly hard to get. That said, it does add to the price tag versus similar cards that aren't serial numbered.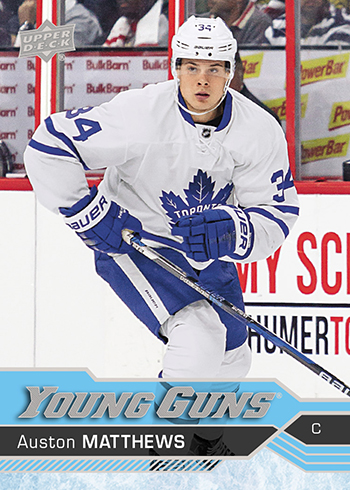 Parallels: Clear Cut, Exclusives (/100), High Gloss (/10)
Buy on:
2015-16 Upper Deck Trilogy Auston Matthews #51 /999
Trilogy gets its name for having three tiers of cards. The Level 1 Auston Matthews Rookie Card is numbered to 999 copies and comes on a fairly basic foil stock. The rarer Level 2 and 3 cards are much rarer at 99 and 25 copies respectively. They also come autographed.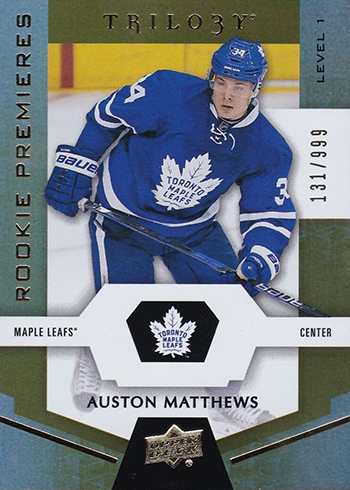 Parallels: Rainbow Green Jersey (/399), Rainbow Black (/99)
Buy on:
• eBay
Other Early Auston Matthews Cards
2016 Upper Deck World Cup of Hockey Auston Matthews #WCH27
Here it is. The first official Auston Matthews hockey card from a major manufacturer. The 2016 Upper Deck World Cup Auston Matthews hails from a promo set released in conjunction with the tournament. Traditionally, these sorts of sets have niche appeal over the long-term. However, without any other cards to choose from beforehand, this may be an exception. It certainly will be over the short-term until Upper Deck releases his first NHL cards. On the very rare side, the card has four different Printing Plates, each being a one-of-one.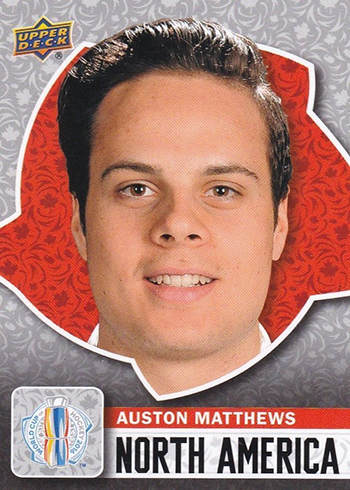 Buy on:
• eBay
Auston Matthews Mystery Redemptions
The following is a list of 2015-16 and 2016-17 mystery redemptions that have been confirmed as being Auston Matthews.
2015-16 Upper Deck Portfolio XRC Redemptions
One of the selling points for 2015-16 Upper Deck Portfolio Hockey was redemptions good for 2016-17 rookies. There appear to be six different players, three of which were announced when the set originally released. They were late-season call-ups. The other half of the checklist wasn't announced until the start of the 2016-17 season. Not surprisingly, Auston Matthews is all versions of Rookie #1.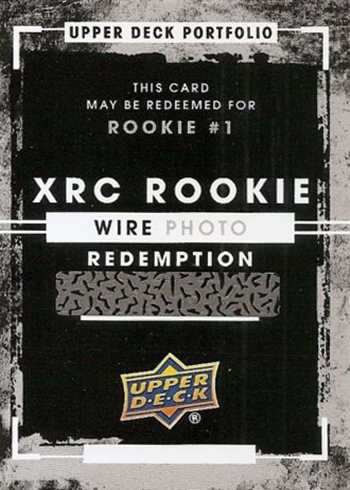 Buy on:
• eBay
2016-17 Upper Deck Artifacts Rookie Redemptions Toronto Maple Leafs #RED207
If you pull the Toronto Maple Leafs Rookie Redemption from 2016-17 Upper Deck Artifacts, you've got yourself an Auston Matthews Rookie Card. At least you will once the cards are produced and sent out. This will likely happen in the spring of 2016. 2016-17 Upper Deck Artifacts Rookie Redemptions have Emerald parallels.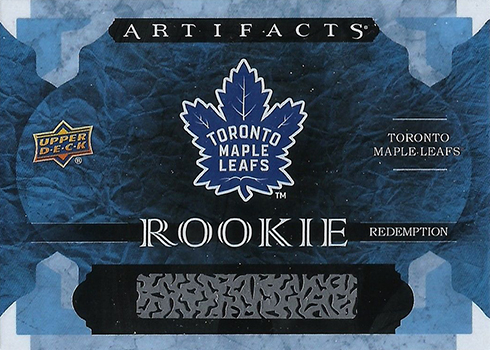 Buy on:
• eBay
2016-17 Upper Deck Artifacts Rookie Autograph and Relic Redemptions I
In addition to the basic Rookie Redemption, Matthews headlines the Rookie Autograph and Relic Redemptions in 2016-17 Upper Deck Artifacts. The card, which is Roman numeral I, has several versions and parallels: Autographed Rookie, Rookie Relic Silver, Rookie Relic Emerald, Rookie Relic Gold Spectrum, Rookie Relic Black, Autograph Rookie Relic Silver, Autograph Rookie Relic Emerald, Autograph Rookie Relic Gold Spectrum and Autograph Rookie Relic Black.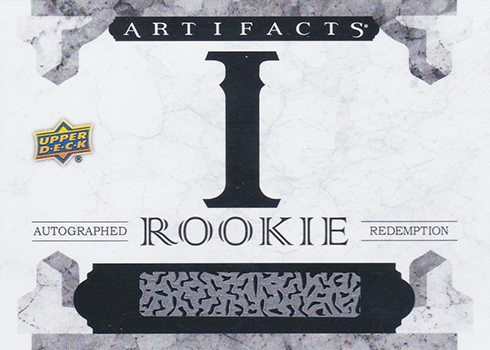 2016-17 Upper Deck MVP NHL Draft Pick #1 SP Redemption
Well, Auston Mattews was the #1 pick in the 2016 NHL Draft. And now that he's an NHLer, Upper Deck has confirmed he's the 2016-17 MVP Draft Pick redemption. The base version is a tough pull in 2016-17 Upper Deck MVP Hockey at 1:1,250 hobby packs and e-packs, and 1:12,500 retail packs. There's also an autographed version that's 1:12,500 hobby and e-packs.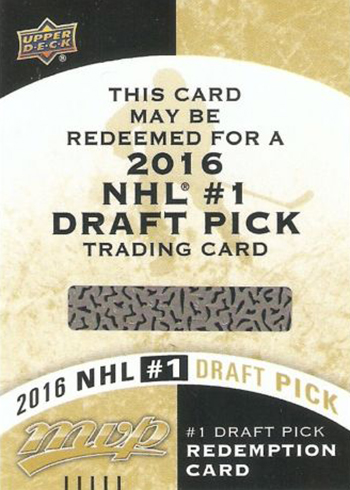 Buy on:
• eBay
2016-17 Upper Deck Tim Hortons 2016 #1 Draft Pick Redemption
The situation here is exactly the same as the Upper Deck MVP redemption. At 1:18,000 packs, this is an extremely tough card to pull. Despite this, the odds, more than nine million packs of 2016-17 Upper Deck Time Hortons Hockey were produced. This puts the print run somewhere around 500 copies.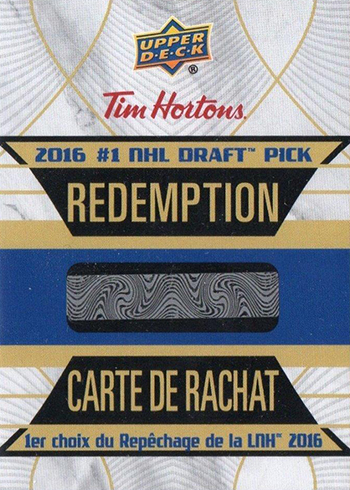 Buy on:
• eBay
Digital Cards
Topps NHL Skate 17 Auston Matthews Digital Cards
For starters, Topps NHL Skate 17 cards don't exist in the physical sense. Rather, it's an app on your smart phone. It's a different concept that isn't for all collectors. But they aim to recreate the collecting experience, at least as much as you can in a phone, with packs, trading, inserts and more. And there are some advantages. Within hours of Matthews' debut, he already had a handful of cards highlighting his first game. It's likely there will be plenty more throughout the season as the app is constantly updating with new inserts. Besides a base card (with parallels), his first inserts can be found in the Topps Now and Milestone Moments insert sets. The Milestone card is limited to 250 copies. Expect plenty more inserts throughout the season as well.
Just because they're digital, doesn't mean there isn't a market for them. It might not be massive or particularly high-dollar, but there is one.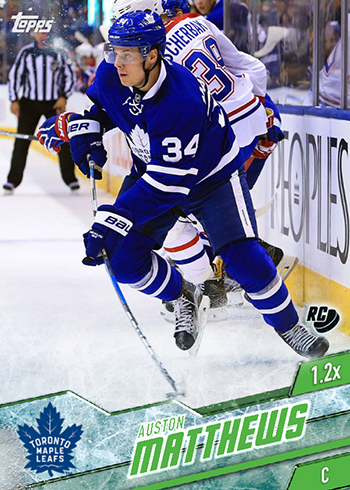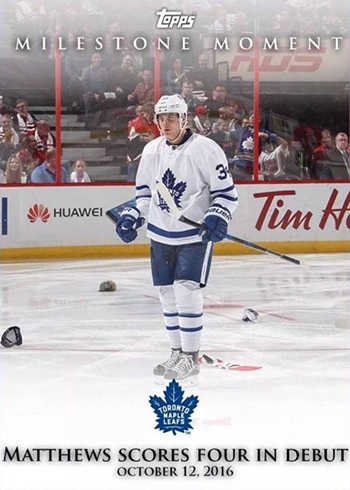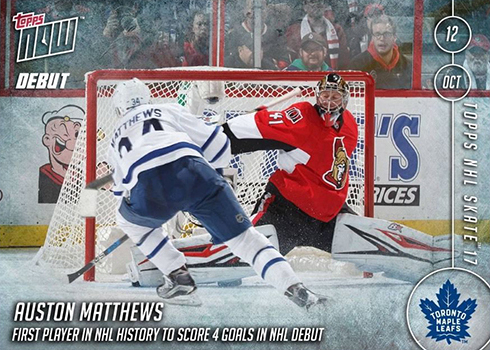 Buy on:
• eBay
Comments? Questions? Contact Ryan Cracknell on Twitter @tradercracks.